When heading to Estonia I had very little actual knowledge of the country. In my head I thought, former Soviet Country, probably dreary maybe not westernized. Man was I wrong. When my cab dropped me off at my apartment building I was shocked, The city was so modern looking. I was staying at the Storytellers Nest with Visit Tallinn.
My one bedroom apartment was so cute and spacious, over looking old town.
I also had the idea the food might not be too interesting. I thought very wrong about a lot of things. But that is the great thing about travel right? Experiencing new things, realizing preconceived notions were wrong.
Food tour
My first full day there I needed to get a lay of the land. In the morning I did an Old Town walking tour and explored the medieval city. It is one of the best intact in Europe. The walls and forts are still perfectly preserved. I felt like I was walking around the set of Game of Thrones. Before I could enjoy all the food the city had to offer I wanted to learn about what happened here. From the Germans in the distant and Soviet Union in the recent Estonia has a varied and complex history.
I was fascinated by the KGB and what it was like living under the Iron Curtain.
I joined Food Sightseeing Tours for an afternoon culinary experience.  They did a good job of lacing the history of food in Tallinn with current trends.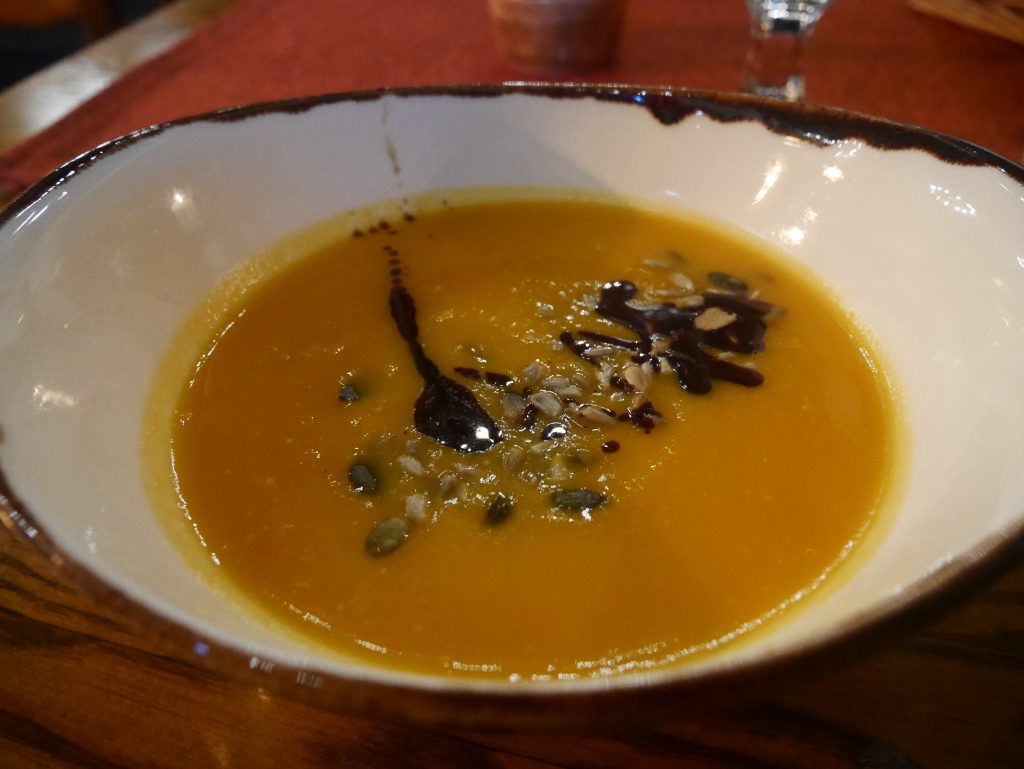 They took us thru an array of bites. Starting with Pumpkin Soup in Peppersacks. The restaurant is in one of the oldest building in Old Town and is themed for the medieval ages. The place seems touristy but the food is solid if you want traditional Estonian fair served with some kitsch.
We went to the oldest working cafe, Maiasmokk (est. in 1864) for Potato salad. The cafe is known for its marizpan creations in all sorts of animals and shapes! They have displays to check out when you walk in. I had no idea potato salad was such a staple for Estonians but apparently it is what is served at birthday parties.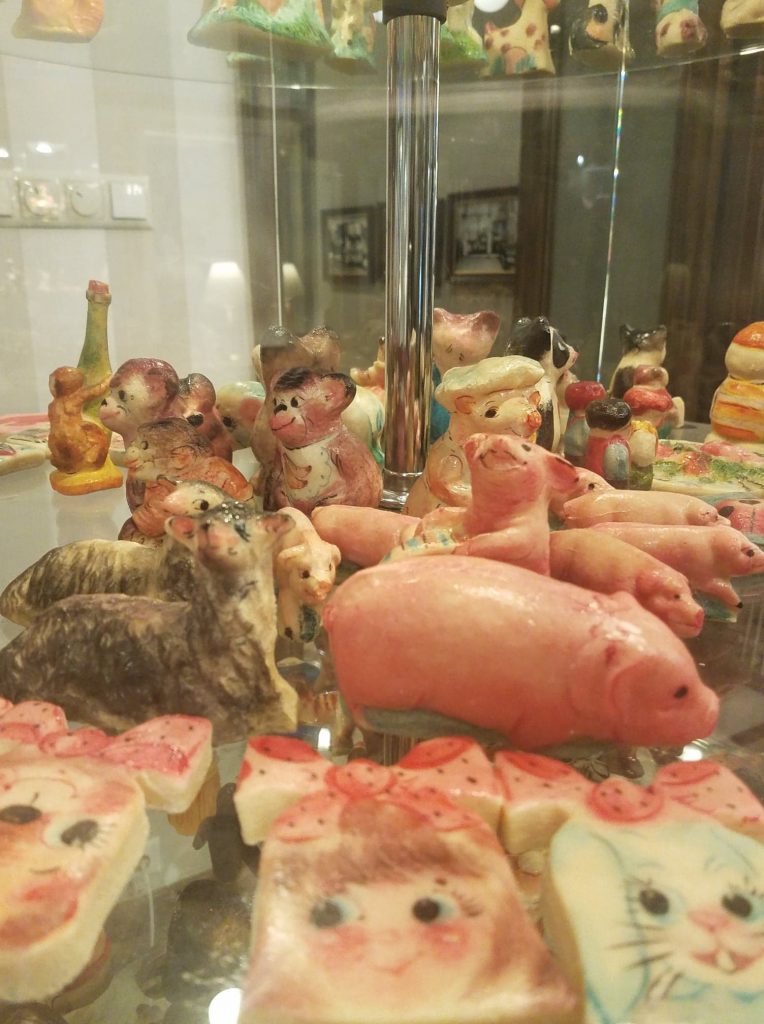 The last stop we made for coffee and a dessert that looked deceptively like ice cream BUT in actuality was sweet curd in a waffle cone was at a local market. Food markets are all the trend these days and have not escaped Tallinn. This one, Balti Jaam, is pretty new and located near the train station. Worth taking a walk thru to check out all the stalls and grab a meal.
For the full restaurant/food info and all of its delights join a tour!
Best Restaurants in Tallinn
Obviously I couldn't make it to every restaurant in the city. But I was able to make it to a few so these are my suggestions for good meals in the city.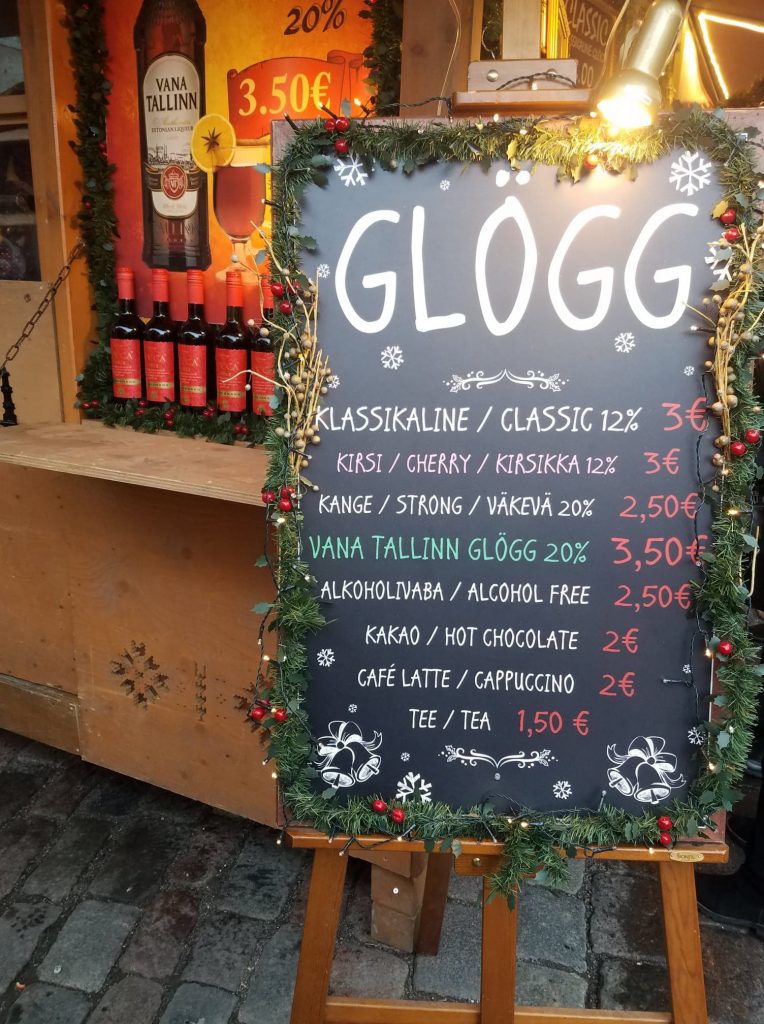 I was lucky enough to be in Tallinn during the holiday season and walk around the Christmas market. Nearly every stall overs Glogg, which is a hot spiced wine. Obviously you must try many different kinds. After my historical walking tour I went straight to the market to drink several cups of Glogg and try the Russian dumplings. A great way to warm up and try local food. Glogg or versions of it are served all over Europe. Some stalls over interesting flavors like Blueberry or non alcoholic versions. The dumplings can have potato or meet in them. I say try both.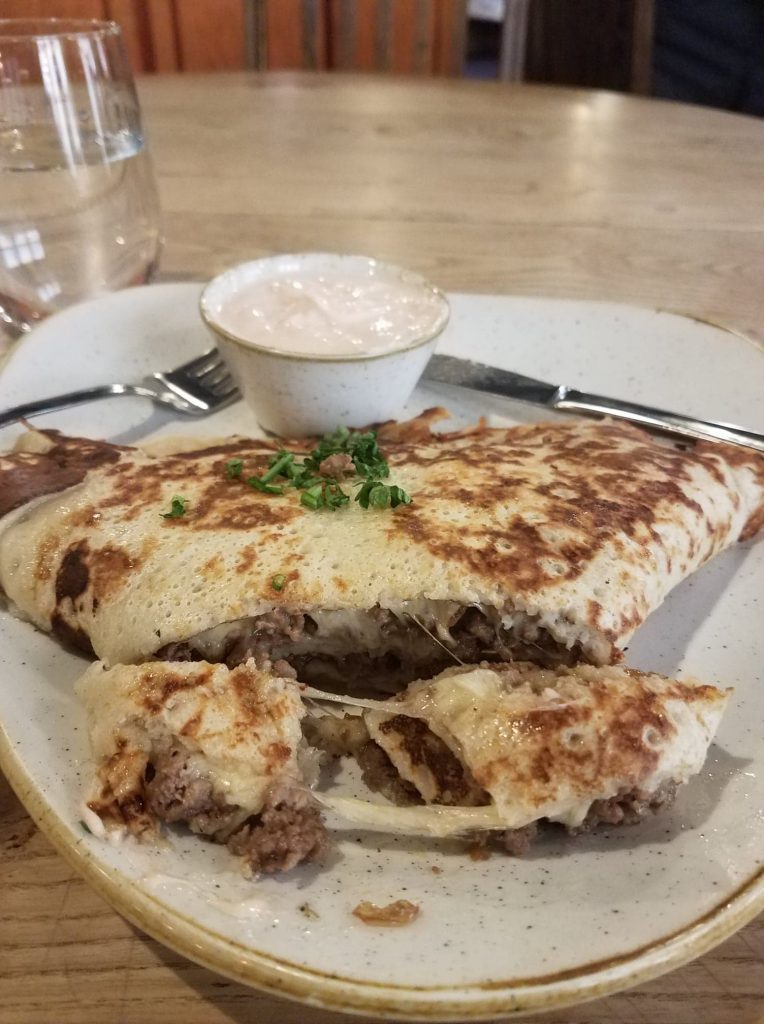 Kompressor was recommended by locals and mostly filled with them. The menu serves only pancakes sweet or savory. I always opt for savory. I got one stuffed with ground beef and cheese. It was the size of my head. The portion sizes are huge and the price is very cheap. You walk in order and sit at a table and wait for your food. The restaurant is plain but the food is out of this world. If you go to one restaurant in Tallinn this should be it.
Italian Restaurants Every Where
The first thing I noticed when I got to Tallinn was a lot of Italian restaurants. Every other restaurant seemed to be Italian. After a long day of travel and an upcoming night of drinking I settled into one for pasta. Amalfi was tucked in a corner and filled with locals. Seemed like a decent choice for a Saturday night. My Carbonara did not disappoint.
I was later told by a tour guide that Estonians loved Italian food. He thought it stemmed from the lack of choice while the Soviets were in control. Food rationing and limited choices were how people lived for decades. Once they could Estonians branched out.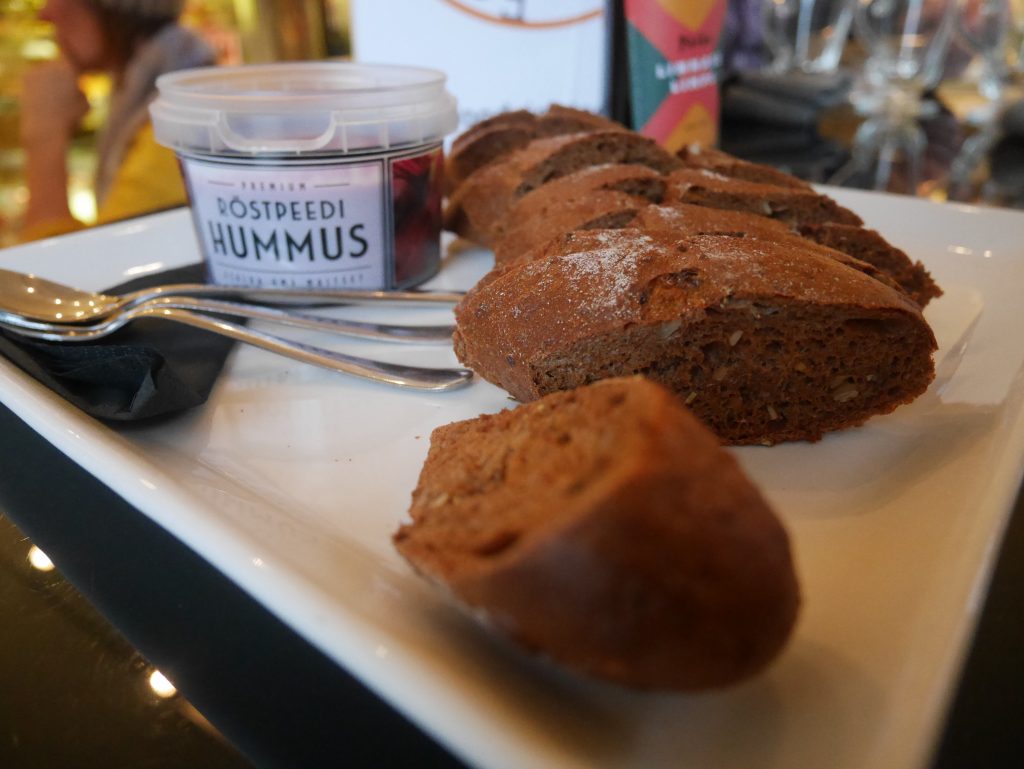 Vegans on the Rise
The most sought after restaurant in Tallinn is Vegan Restoran V. It is impossible to get a walk in table and is booked often way a head of time. It is a tiny place in old town but people love it. It is popular among locals. Price wise it is very reasonable, way cheaper than most restaurants in old town. V may be the most popular but it isn't alone. Vegan/ vegetarian restaurants are popping up all over Tallinn. The chefs are creative and the prices are low. Maybe this has something to do with it's popularity.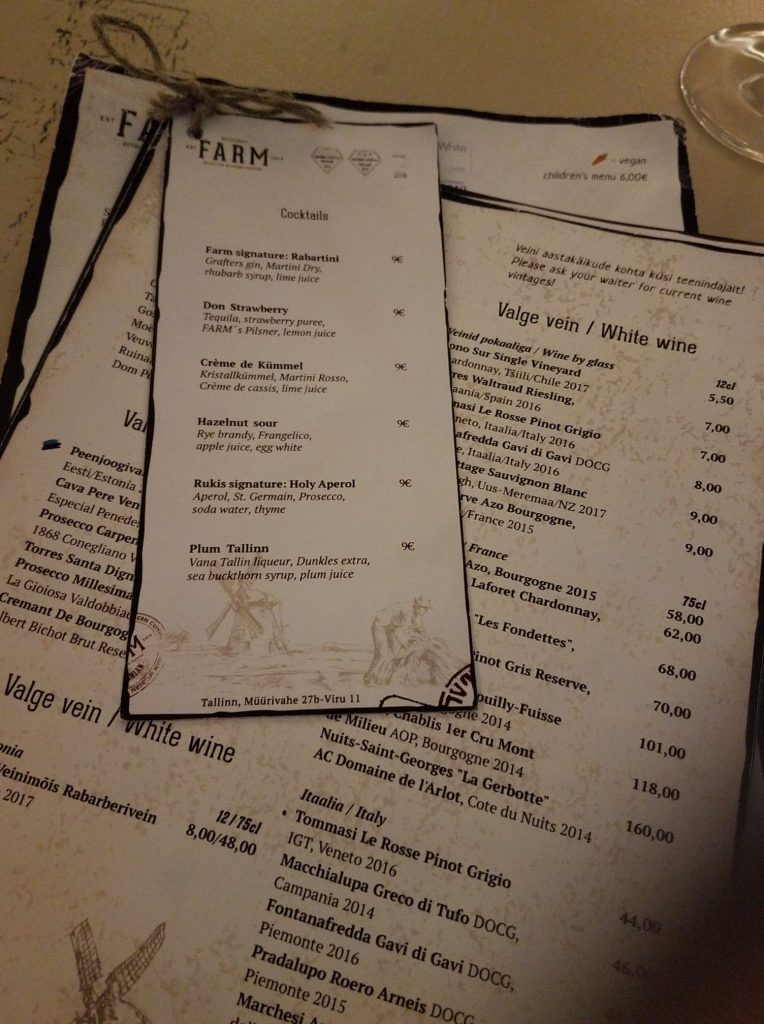 Most restaurants have good vegetarian/vegan options even if they aren't strictly so. One night I went to Farm. The restaurant interior was so pretty and the atmosphere was perfect for a date. Since I was alone I would have to make due. I enjoyed the fresh brown bread with a tomato and lentil soup. It was so good I ignored the child running through the restaurant causing a ruckus while his mom sipped her wine and ignored him. I also had the cauliflower steak with a smoke beet root and vegetable sauce. It was just like it sounded grilled cauliflower. So simple yet so wonderful.
My Last Estonian Meal
Oliver is also located in Old Town. I did all of my eating in Old Town. It is such a lively place to be at night. Oliver's is a meat and potatoes kind of place. They have nightly specials and large portions. Perfect comfort food for the cold winter nights. I had a Estonian style pork chop with stewed sauerkraut and a wild mushroom sauce. German inspired dishes are very common in Estonia. You will find a lot of sauerkraut and pork. Which is my favorite meat so I am not complaining.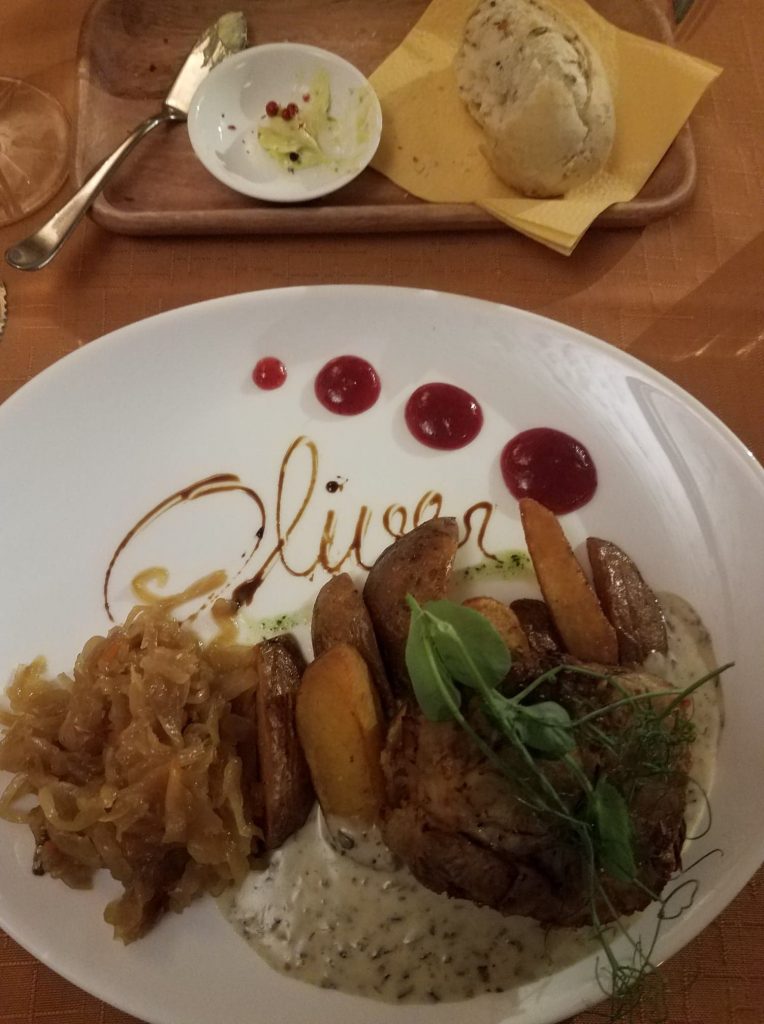 It was a great meal to end the time in Tallinn.
I could not possibly get to all the places in Tallinn I would want to eat at. Have you been? Do you have suggestions?