Did you know Wichita is the largest city in Kansas? Or that it's the 48th largest city in the U.S.? The population is now around 650,000. But this Mid-West city has roots that date back all the way to the 1860's when it was once a trading out post during the "Wild West". Nicknamed the "Cow Town" due to its location on the cattle drives traveling north from Texas, then became (and still is) prominent in the aerospace industry due to all the successful aircraft manufacturing plants. It also has deep roots in the First Nation culture who continue to be important to the modern-day community.
When I was heading to Wichita people kept asking "What is in Kansas?" I said I didn't know but I wanted to find out and what I discovered is a city rich in history but totally ready to embrace the future of tourism. To its clever art community to the Indigenous Tribes preserving their history and culture this is a great American city to explore.
What is there to do in Wichita? Well, I will help you discover that with a three day itinerary.
Friday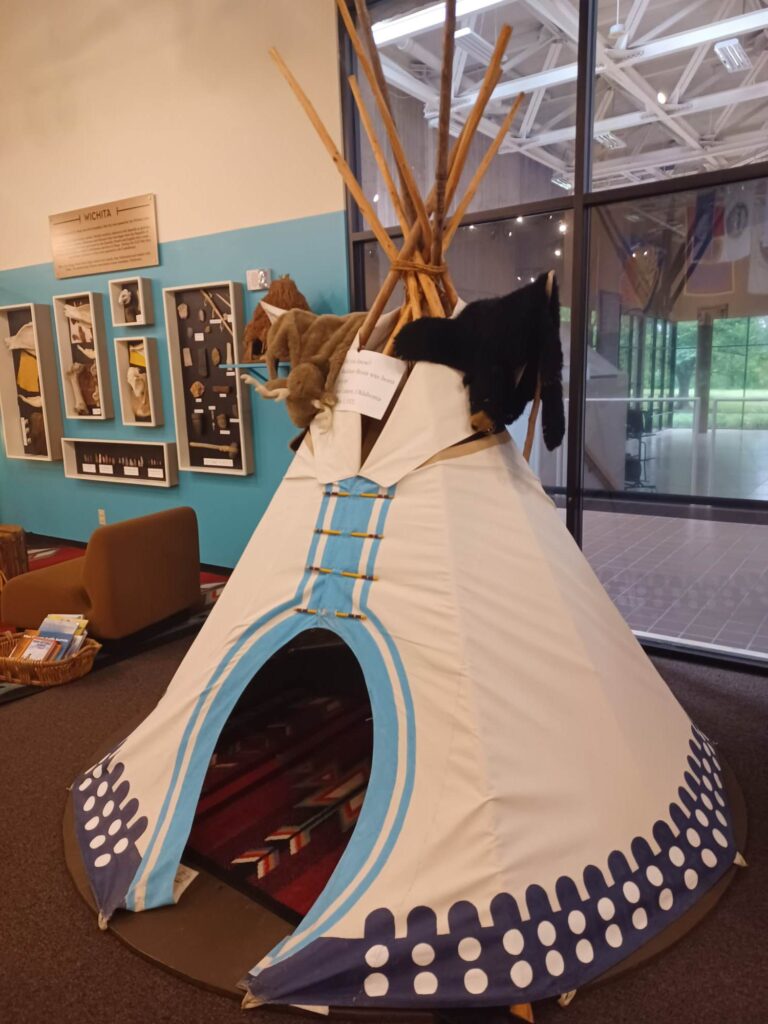 I recommend coming in early on Friday and heading to the Mid-American All-India Museum since it is closed on both Sundays and Mondays. The center isn't too large and it is easy to do in an hour but a great way to get acquainted with not only local Indigenous tribes but Indigenous tribes across the country. You can learn all about Blackbear Bosin, the artist behind the Keeper of the Plains before you go see it. He was a fantastic artist and activist. This museum blends both artifacts and contemporary Indigenous artists alike.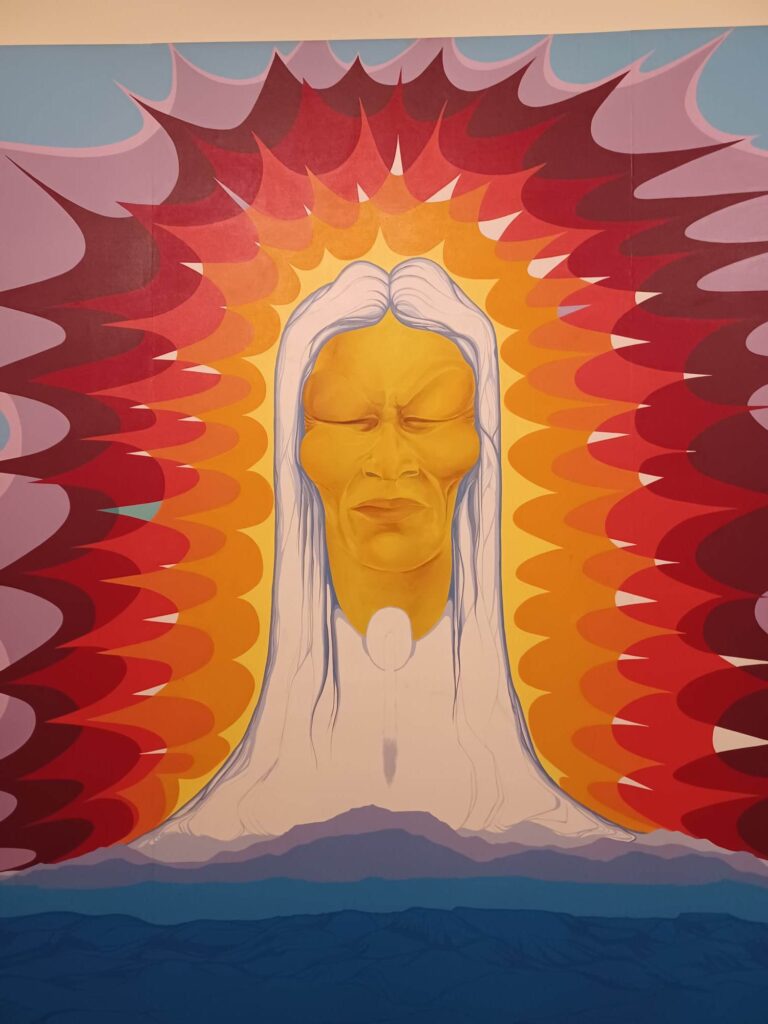 I checked into the Drury Plaza Hotel. It has the perfect location in downtown and sits right on the Arkansas River. You are within walking distance to most everything including the famous "Keeper of the Plains" but more on that shortly. The hotel offers a free happy hour, free dinner and free breakfast. EVERY DAY! If you are on a budget, with a family or even travelling solo it is a great way to save some money.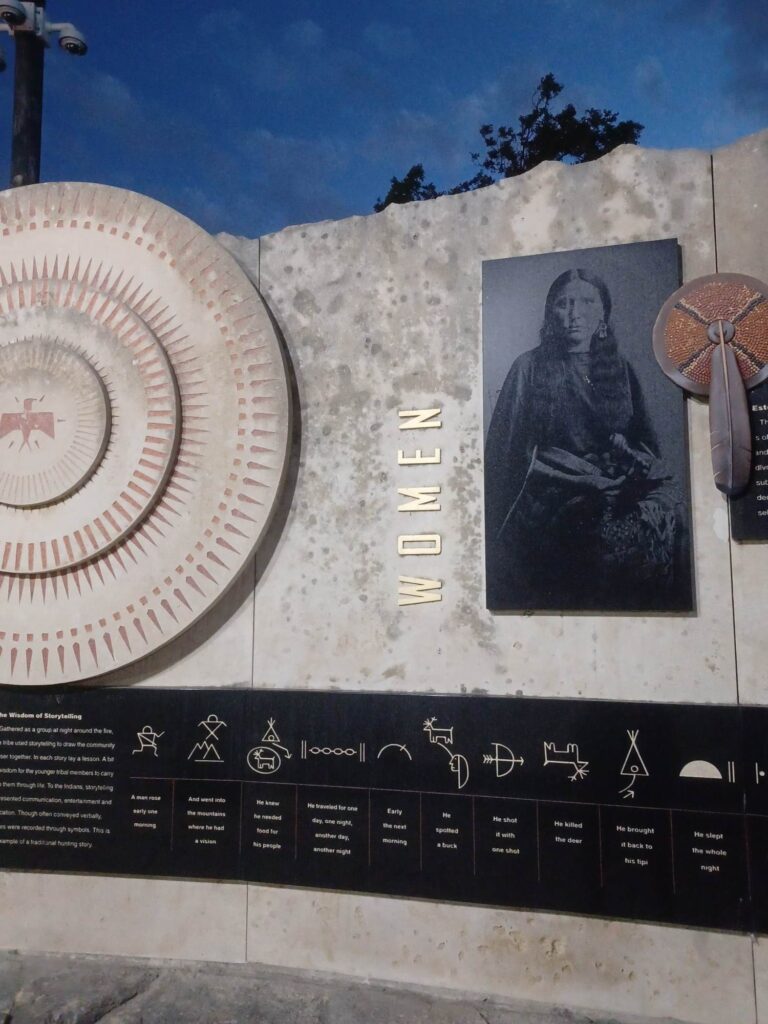 After you have your fill of happy hour stroll down to the Keeper of the Plains. The most iconic image in Wichita, the Keeper of the Plains stands at the confluence of the Big and Little Arkansas rivers. This 44-foot, 5-ton weathered steel sculpture was donated to Wichita by Native American artist Blackbear Bosin in 1974. It sits atop a 30-footpedestal overlooking the city. Every night there is a Ring of Fire show that is not to be missed. Then you can stroll down the river walk and look for the troll under the bridge. Yes, there is one!
Saturday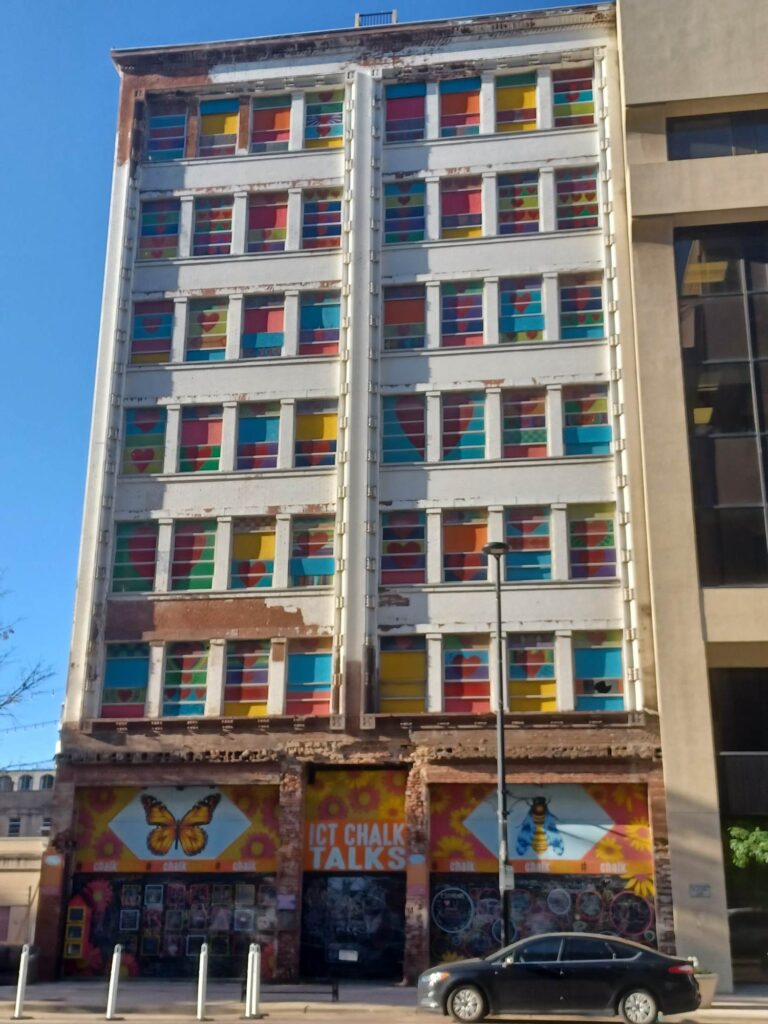 It is easy to explore downtown Wichita on your own. The Wichita Public Library offers the PocketSights App which allows you to learn about the history of the area on your own. Just download the app and explore the historical sites on Douglas Avenue. The app sends alerts to sites that have historical significance and includes images and a story! Get breakfast at one of the local eateries (more on the food later!) and spend the morning exploring.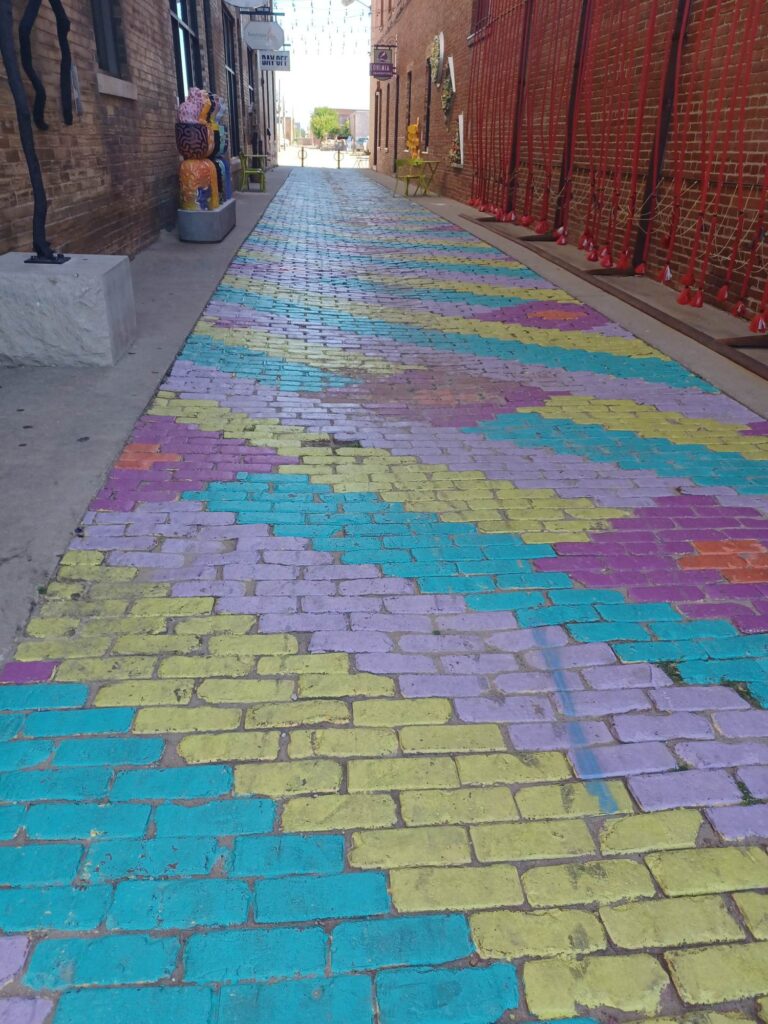 Next, I headed to the Botanica Wichita. The gardens have been open since 1987 and provide a beautiful, serene landscape to walk thru along with some fun activities along the way. Including a salvaged carousel! The Japanese Garden was my favorite static exhibit, but I loved the art installations. They had over a dozen aquatic animals made of plastics and garbage found in the ocean. It was very emotional to see what humans do to the earth.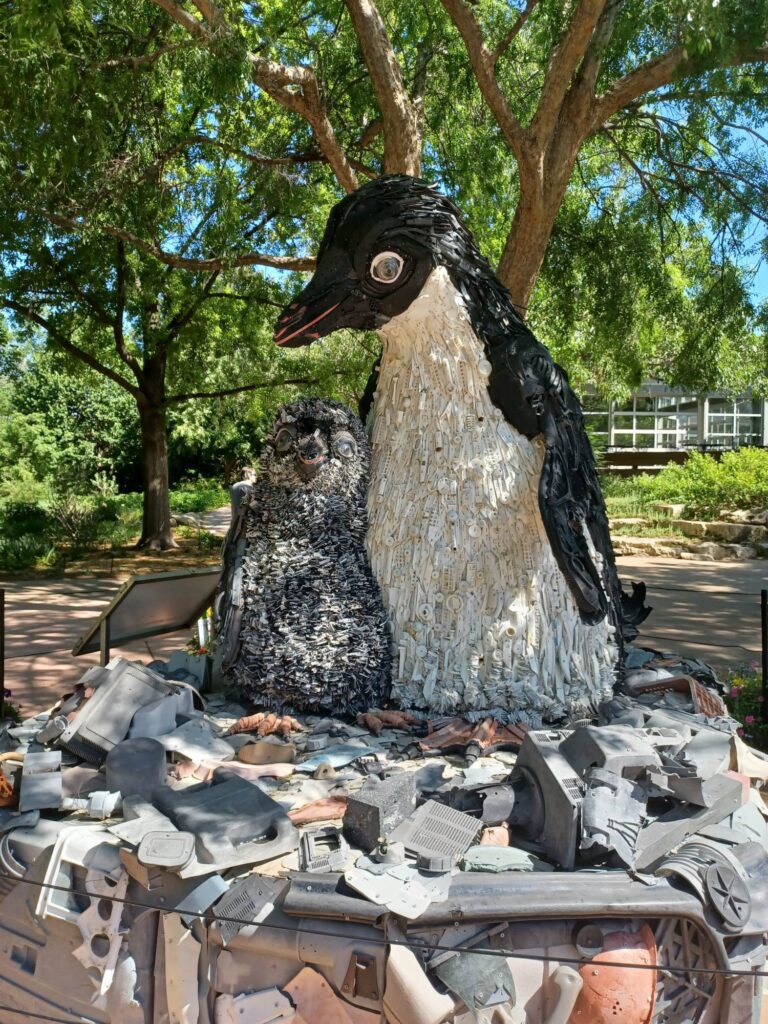 If you love art, then spend the afternoon exploring the Douglas Design District. The area has loads of great murals for your Instagram. Along with lots of artsy shops and coffee houses. We stopped into The Workroom which has great Wichita souvenirs and houses a lot of local art and artists working in the studio. Other great local shops to stop at are Bunglow 26, which is handmade home goods and health and beauty products. Hatman Jack's, Jack Kellog is a bit of a local legend and worth checking out.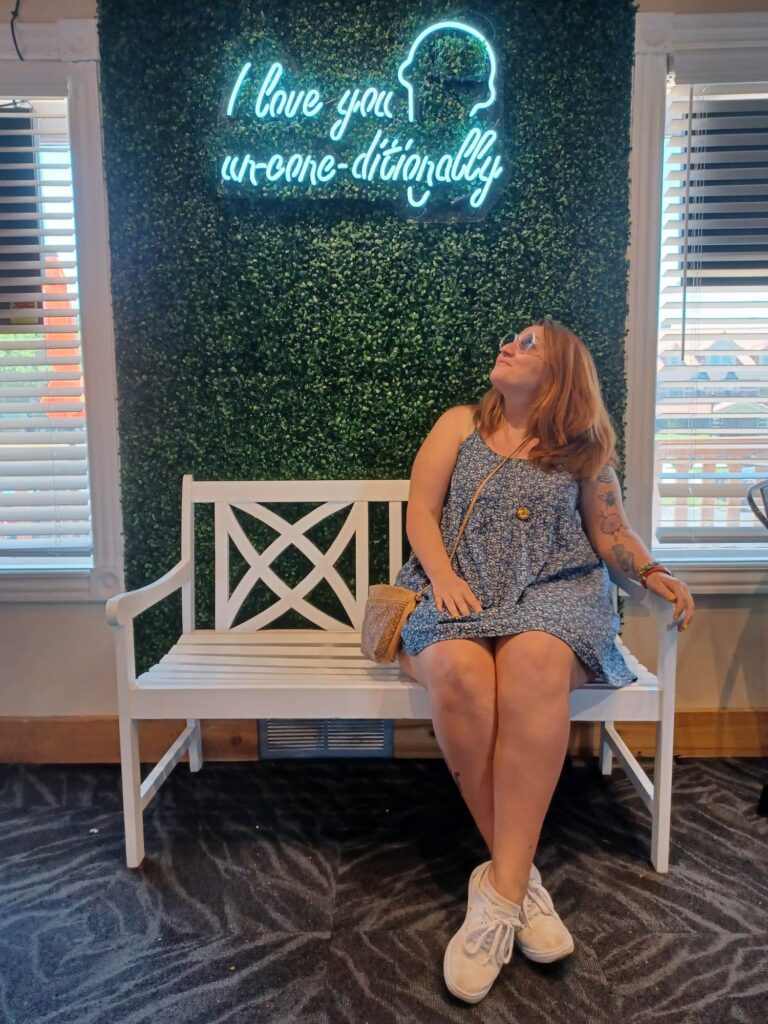 Then head back to Drury Plaza for your happy hour!
Sunday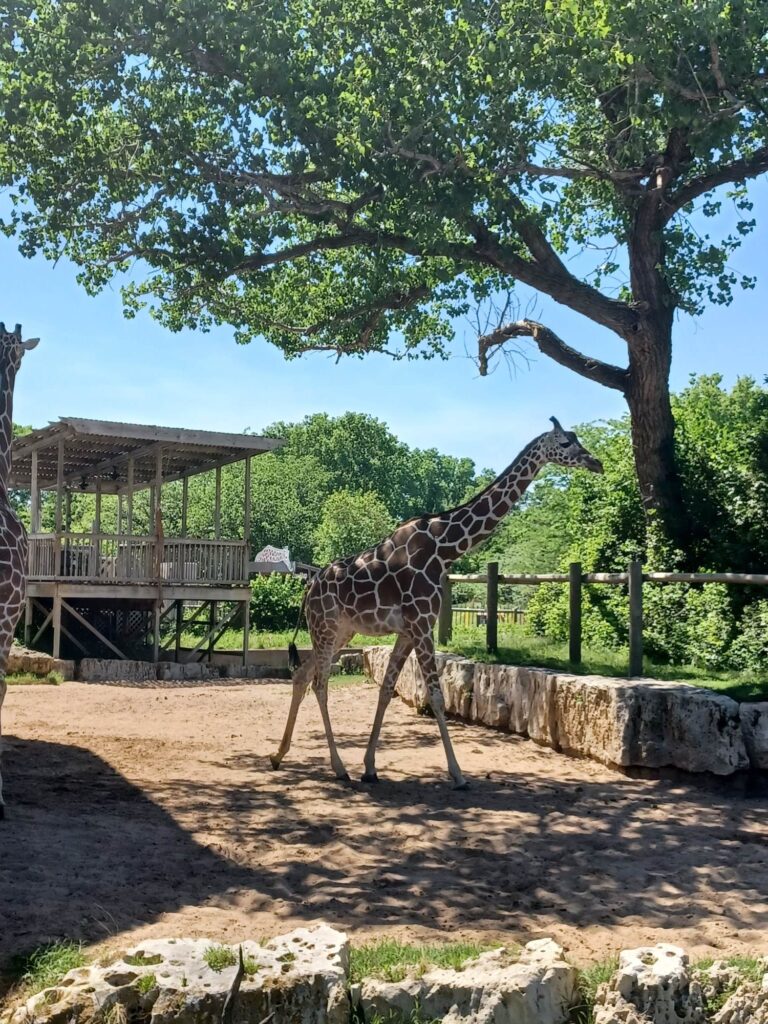 Sedgewick County Zoo is a great way to spend a Sunday morning. I would head there early and give yourself plenty of time to check out all the attractions, this is one of the top 10 largest zoos in the country after all. It was renovated in 2021 and has lots of new things to explore like the Slawson Family Asian Big Cat Trek, Stingray Cove and an electric train. The new space also allows the zoo to house enough leopards to participate in the Species Survival Plan. This is a breeding plan for Amur Leopards who are critically endangered.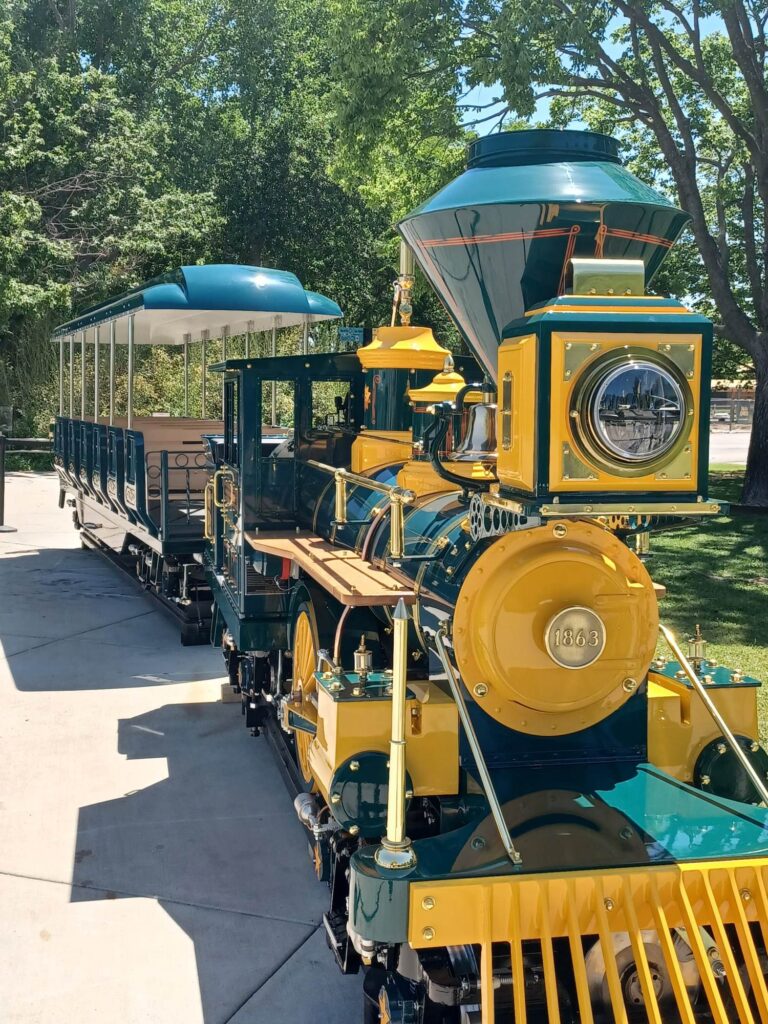 Wichita has some great museums to check out. I really loved the Wichita Art Museum. Not only does it have an impressive American Art Collection but an outdoor Art Garden surrounds the museum with plantings and pathways highlighting all the sculptures. Admission is free on Saturdays if you wanted to swap activities.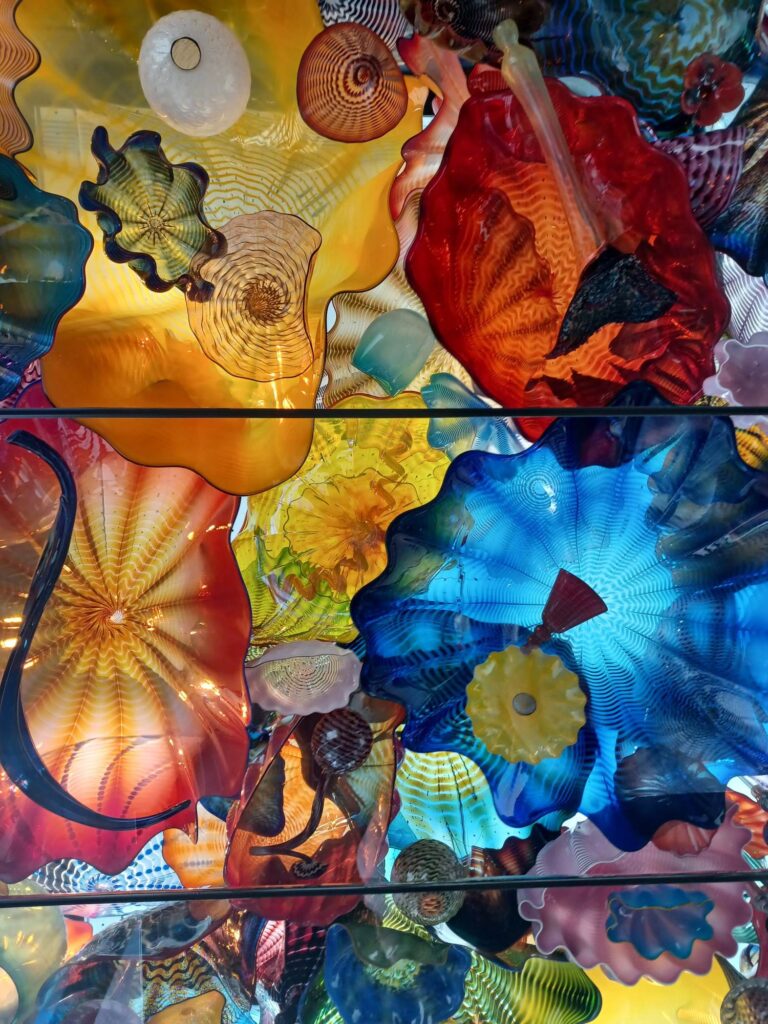 Where to eat?
There are a lot of tasty options to pepper in thru out your stay. Below are a handful of restaurants I tried and would recommend heading to.
Breakfast
HomeGrown Wichita is located right near all the art in downtown. It is a great place to stop in before or after checking out all the shops/art. This was one of my favorite restaurants in town. The food is locally sourced and so fresh. The breakfast food was hearty just like I love. They are also known for their homemade pop tarts!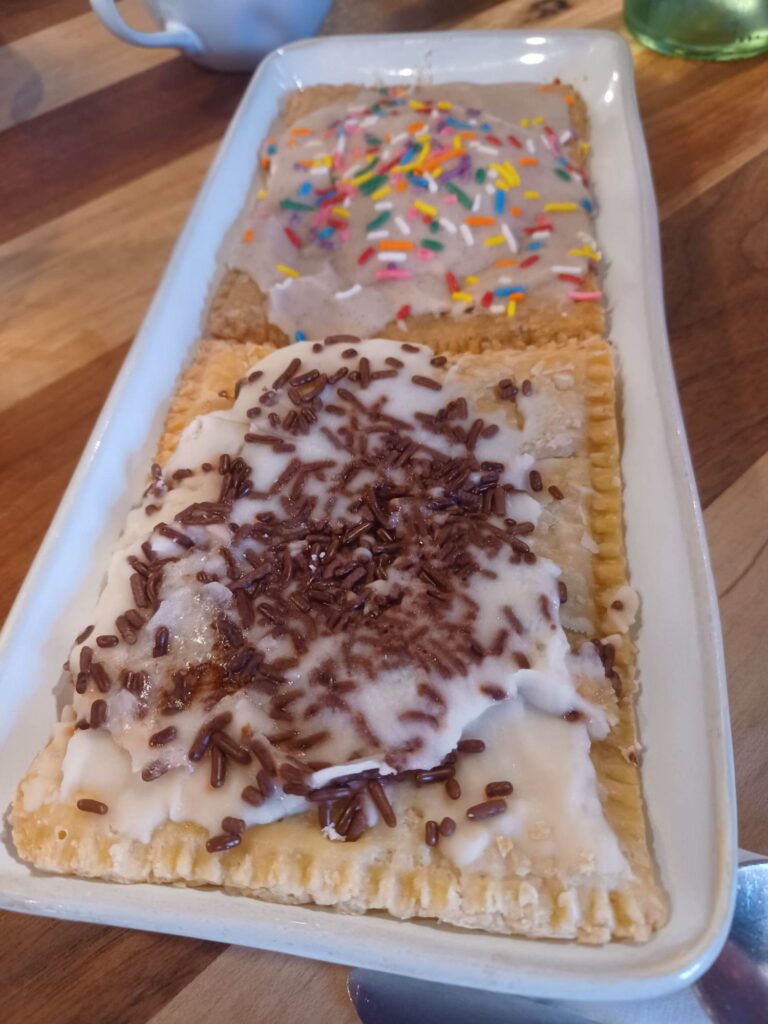 Mokas Café – This place is great for breakfast or a quick lunch. The coffee is excellent and they have everything from biscuits and gravy to soups and salads.
Leslie Coffee Co. – another great coffee shop. The breakfast menu is very vegetarian friendly and even offers salads. The inside looks like a greenhouse with lots of plants!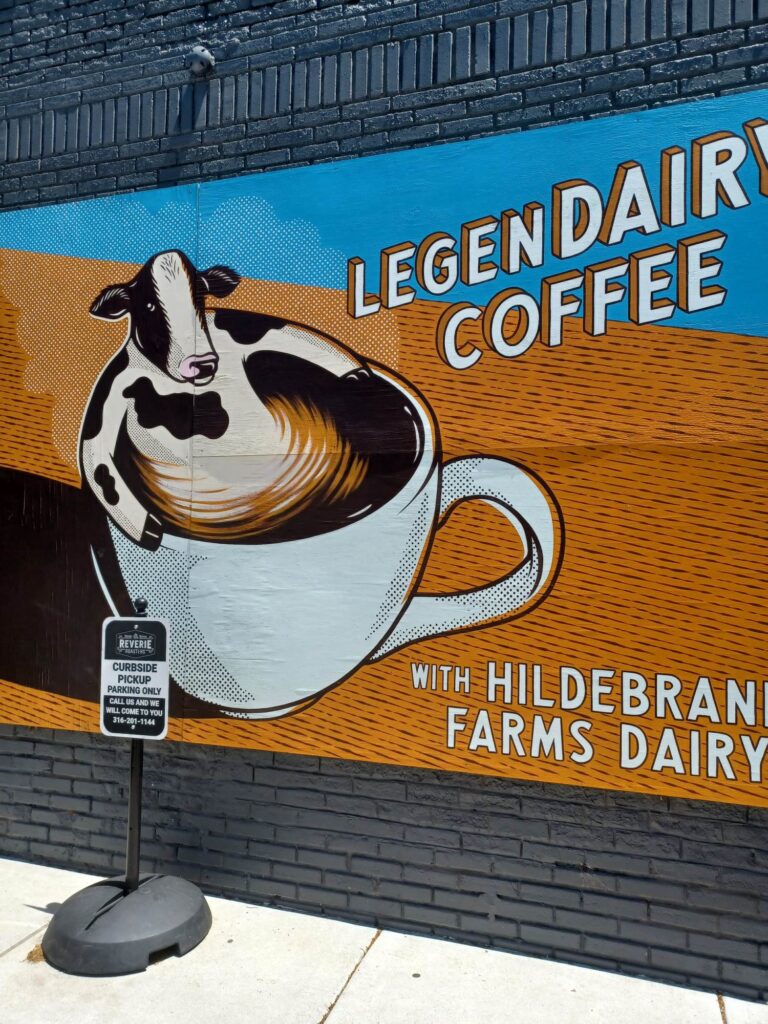 Lunch
Dempsey's – located right next to Ziggy's in a cute shopping village. I bought an amazing pair of sunglasses in one of the shops! This is the place for burgers. Whether you want beef, chicken or vegetarian. They have daily offerings too so I recommend going with the burger of the day. Highly recommend going with the truffle fries as well. But if those aren't for you their fry menu has plenty of choices!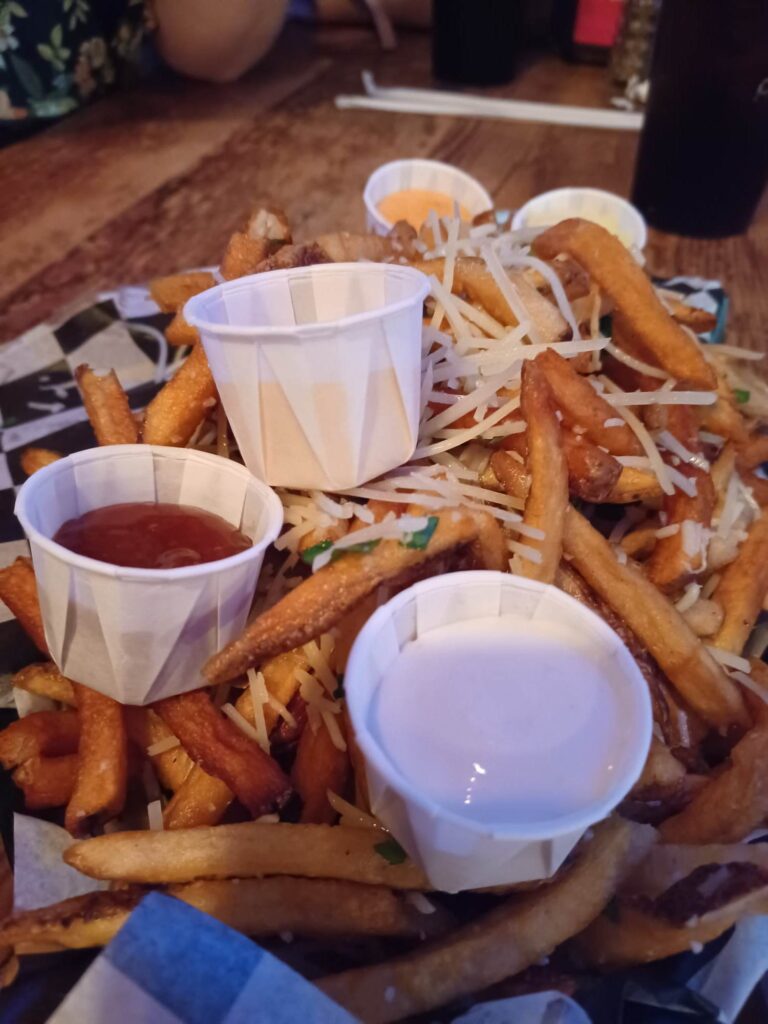 Ziggy's Pizza – not feeling a burger? Walk next door for some pizza. I love eating pizza in other states (or countries) even though I am from New York, and I am supposed to hold ours superior. This place has fun pies and sandwiches.
Meddy's – a quick service Mediterranean restaurant. I am a sucker for good falafel. Also, a great option if you don't eat meat. Healthy and Vegetarian friendly
Dinner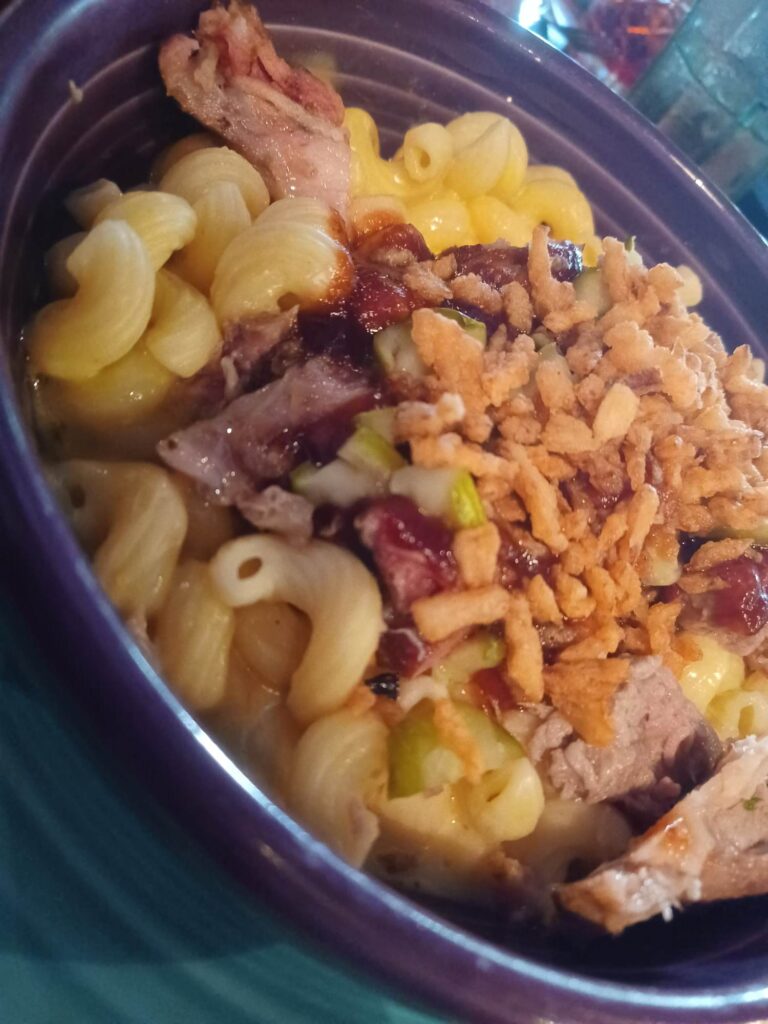 Monarch – This place is a casual restaurant with good bar food and an excellent bourbon selection. Flatbreads, burgers, and fun appetizers make this a great place to grab dinner or a great bar to grab drinks. Check out that Mac and Cheese bowl with BBQ Pork!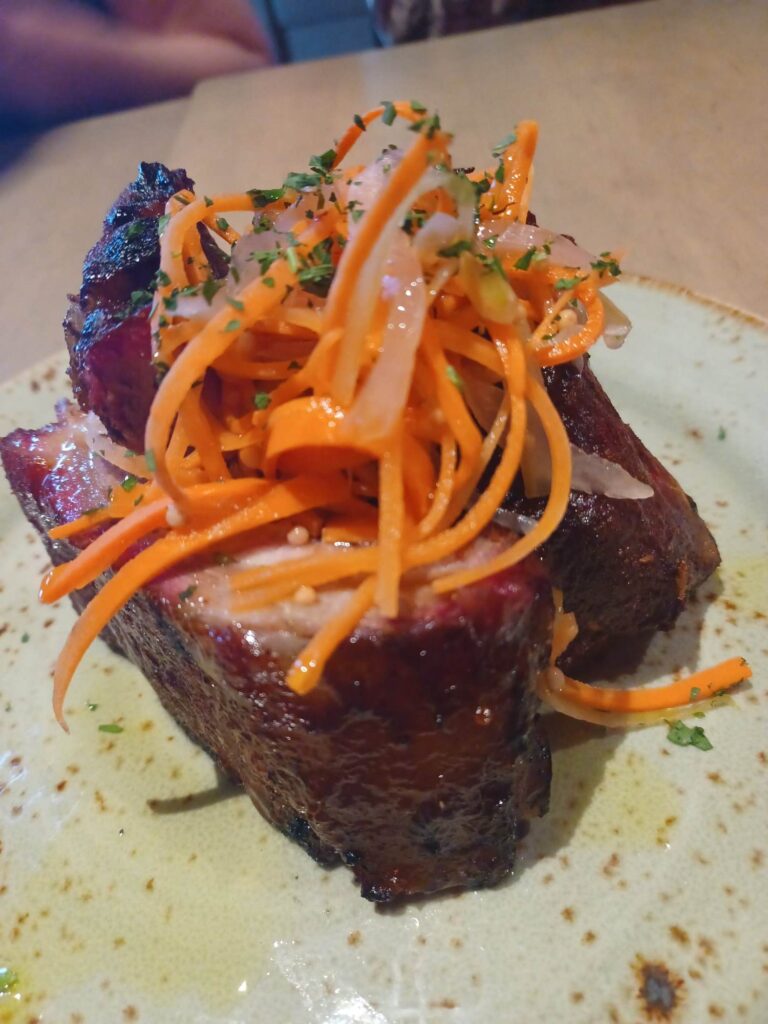 Doma – this was my favorite dining experience while in Wichita. It is the first Tapas restaurant in Wichita and it is well worth the visit. The food and the space is Instagram worthy. I recommend coming with people but if you are traveling solo you can still order 3 dishes and try a few things. Make sure to order a fun cocktail while you are at it.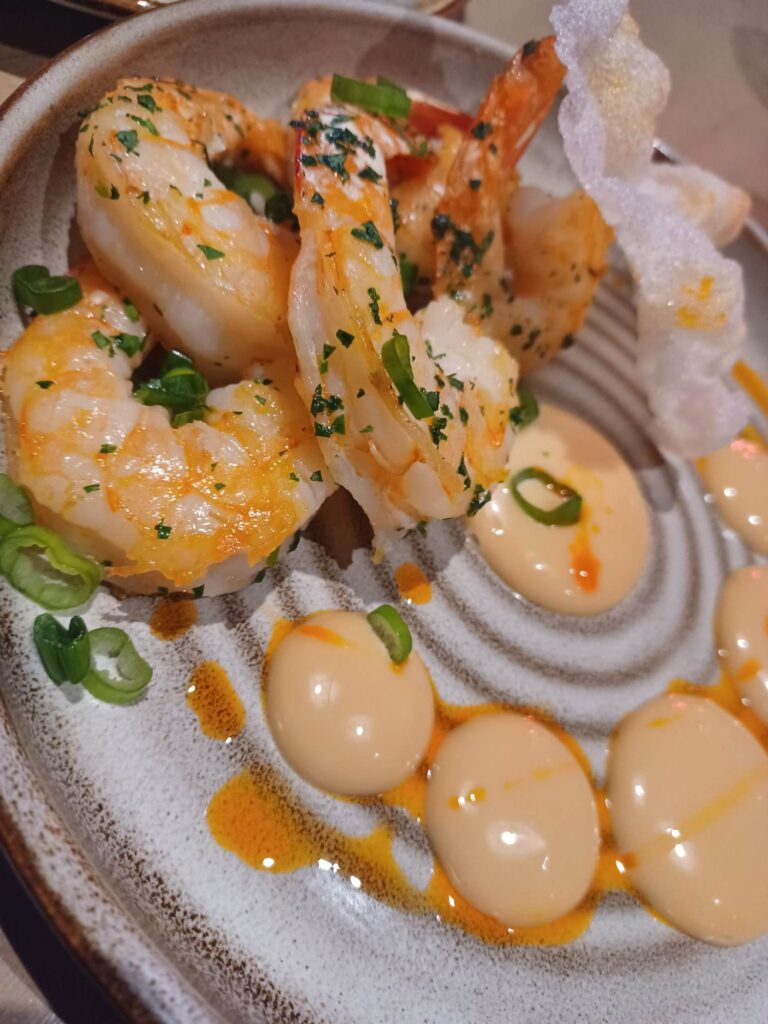 After Dinner: Morts – if you are looking for an after-hours spot, this place is hot. Impressive martini menu with more than 160 amazing martinis and a full bar. They are also a cigar bar and have a big selection if you are into that sort of thing.
I want to thank Visit Wichita for hosting me and as always all opinions are mine.