There is this place in Montana where a river runs through it.
A place you can have it all. Arts, culture, diversity, outdoors and incredible food and drink.
This place is called Missoula. I sadly dismissed Montana as a destination. I knew it would be beautiful but I felt like it wouldn't have anything to offer besides outdoor activities. I love hiking and taking in the scenery but in the end I am a city girl. I need diverse experiences when I select a destination. Missoula has it all.
Missoula is a small city. Approximately 70,000 people live there. It has a big university with Divison 1 sports teams which immediately makes it a mecca for students. Big colleges often bring in diverse students. When young people move in to a neighborhood things often change for the better. This is easy to be seen just from walking around the town. Flyers are every where inviting people to protests, refugee meetups, art installations, and more. This isn't just a great city to visit but also a great city to live in.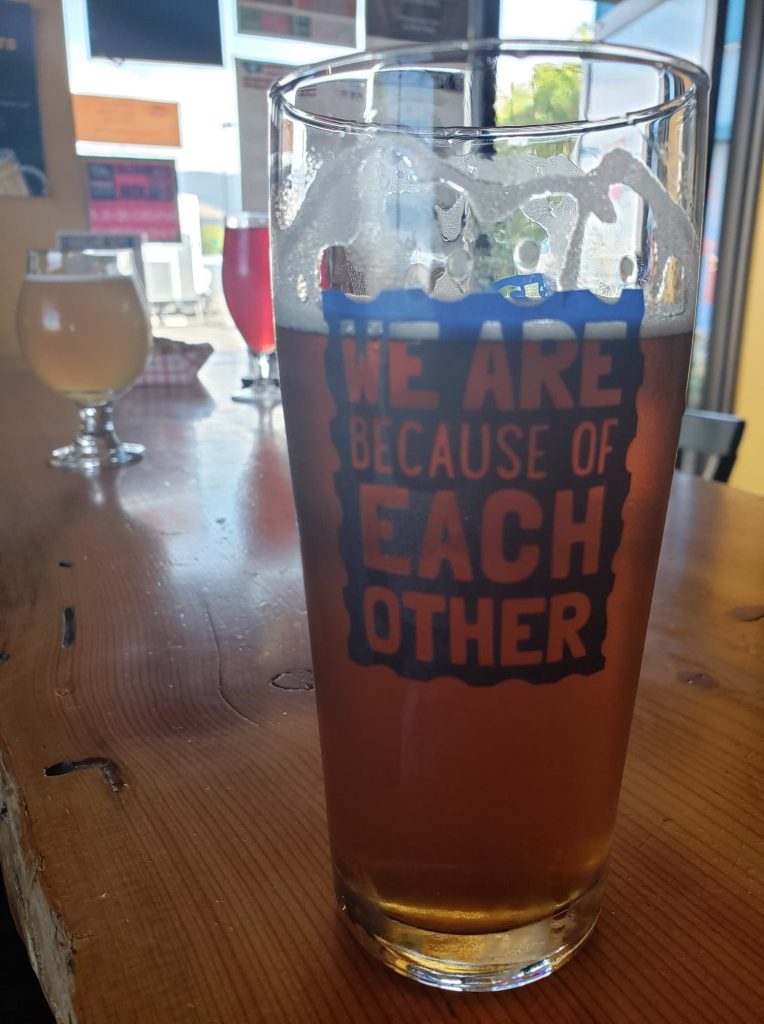 What is there to do in Missoula?
I am sure when you think of Montana you immediately think the outdoors. The landscapes are breathtaking. It almost doesn't feel real. While I was there I got to do a variety of outdoorsy things. Some outside of my comfort zone.
Fly fishing is a very popular activity in these parts. If you ever saw "A River Runs Through It" then you know what I mean. I had visions of Brad Pitt. Although he never showed up it was still a great time.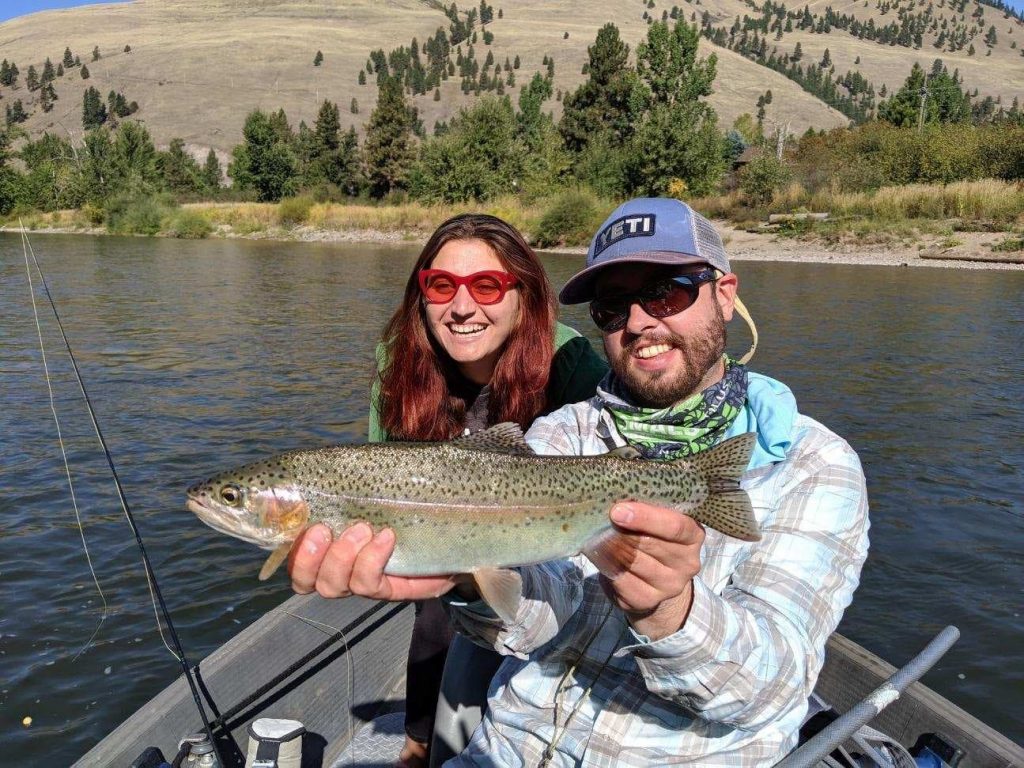 We took boats out into the river and relaxed. A lot of fly fishing is patience. It is perhaps not as action packed as other types of fishing but it is equally rewarding. I caught a really big fish and it was only my second time ever fly fishing. Check out Grizzly Hackle for all your needs. They have gear, guides and will get your licence for you on the spot.
Horseback Riding: I vowed to never get on a horse again after my time on the ranch last summer. Not because the experience was bad but it turns out I don't like horseback riding. However sometimes when you are working you have to do things you don't want to do. I didn't want to back out even though my anxiety was sky high getting back onto a horse.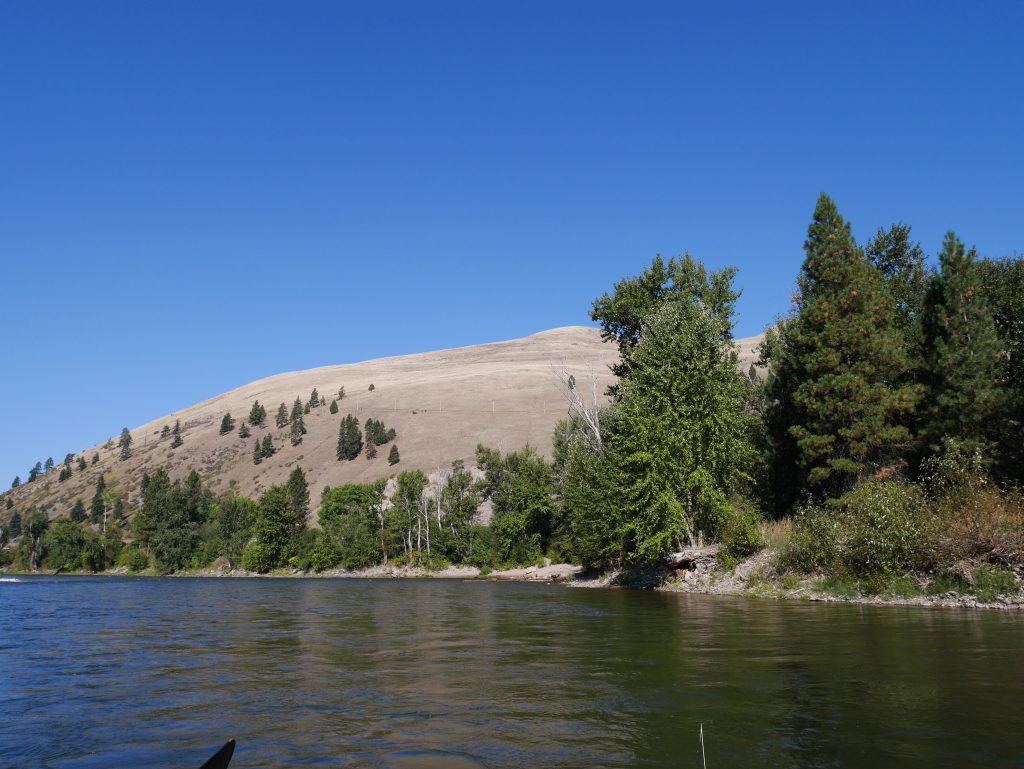 We went to Dunrovin Ranch. I do have to say that despite how anxious I was our guide was remarkable. She was understanding and kind and made me feel at ease. Even when I could not get on the horse. They have trails around the ranch as well as a riding arena for younger or beginners.
Rafting was probably my favorite experience out of everything. I have been a few times but the views in the Alberton Gorge were exceptional. We were at low tide so the currents weren't too extreme. However if you go earlier in the summer it is a very different experience and can be quite intense. You can have a different experience each time you go out. I'll take my low intensity.
I used Montana River Guides. Our guide was young but very knowledgeable. Not just about navigating the currents but about the surroundings as well as the plant life.
Culture 
If you aren't up for the outdoors or if you want to mix it up it is easy to never leave the city limits and still have a great experience.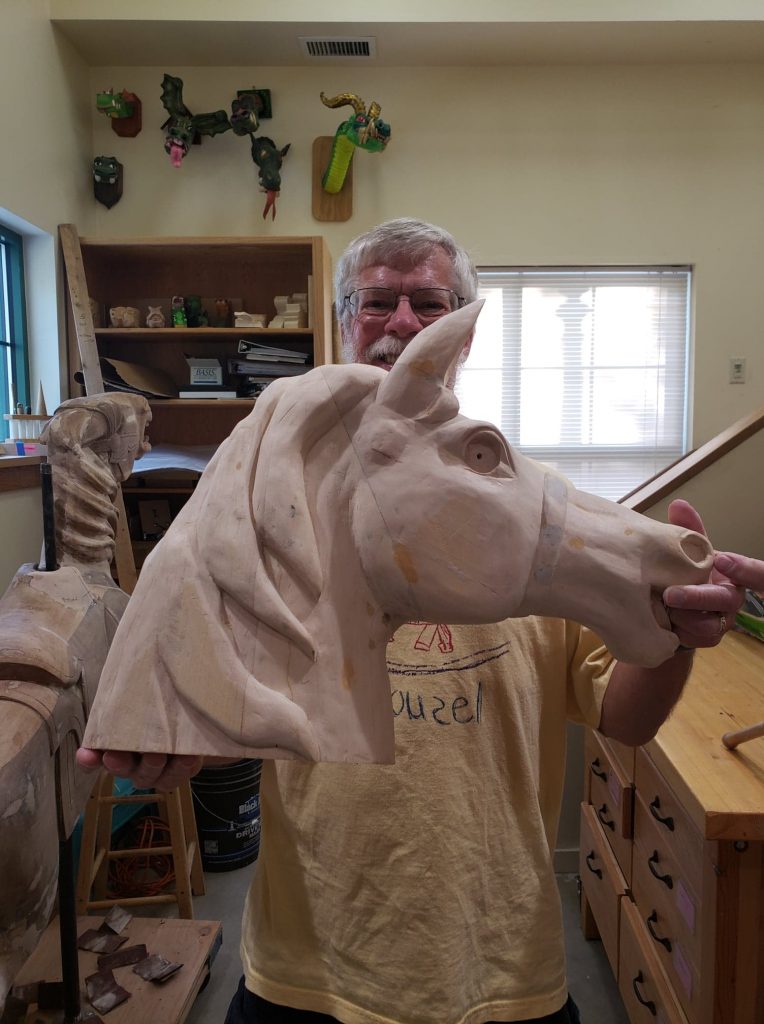 Check out the Missoula Carousel. This fully operational carousel is filled with hand made horses and other creatures to ride on. John Thompson, the creator, has crafted quite an experience. It is the fastest carousel which is exciting and you can peek into the workshop to see how they make each of the carousel pieces.
Caras park which is directly next to the carousel always has events going on to check out. I popped into the Montana Fall Brewers Festival. However on a weekly basis there is always something going on whether it is a gathering of food trucks or live music. You can spread out on the grass just like a local.
Jump on the Montana Adventure Shuttle and do a brewery tour. There are over 15 breweries in Missoula. My personal favorite was Imagine Nation Brewing. Besides the fact that their tasting room is filled with books the message behind the beer is one of peace and unity. In these divisive political times the one thing we can agree on is, we like beer. The owner, who spent years in the peace corps with his wife, got the idea and message behind his  beer from his years seeing sometimes the worst of humanity but also the best of it. They host green peace parties, LGBTQ nights and other events as a common space that all are welcome in.
Along with Missoula's huge college scene comes an art scene. They have several Art based museums with different initiatives. Montana Museum of Arts & Culture doesn't just have art exhibits but produces theater as well. It hold lots of different exhibits for local artists both from the past and contemporary.
Missoula Art Museum had one of the most moving exhibitions I have ever seen. Sonic Border Cantos blended both photos, installations and sound to submerge the viewer into the journey of forced migration and dislocation.
The exhibitions rotate and there is always a room dedicated to local Native American artists.
EAT
There are so many great restaurants in Missoula. I barely broke into the food scene in the few days I was there.
For a fancy dinner check out The Pearl. The building looks like an old farmhouse and the food is splendid. Known for their bison dishes any cut of meat is extraordinary. I was also able to sample their mushroom bisque, oysters, and a variety of desserts. If you are looking for a date night or want to splurge this is a good place to do it.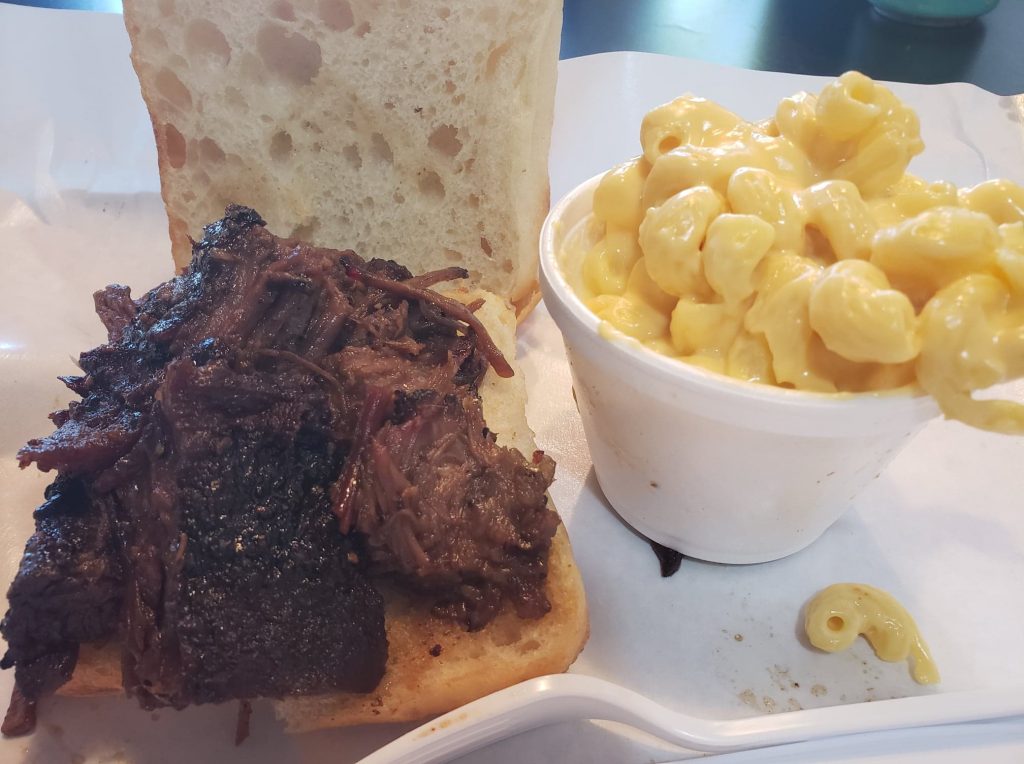 Notorious P I G: if the name doesn't inspire you to go in the food will. This is a great bbq joint. They have such a great selection of homemade sides like Smoked Gouda mac n cheese, Deviled Egg potato salad and cole slaw among others. I am a sucker for pulled pork but Burnt Ends is the way to go.
Scotty's Table is another nice night out. The restaurant is underneath the Wilma, a live music venue and you can hear the music from inside. Setting a pretty cool vibe. The menu is filled with interesting cheese plates, great wines and my personal favorite the brussel sprouts. Try the local pork chop it is the house specialty and I guarantee you can get two meals out of it.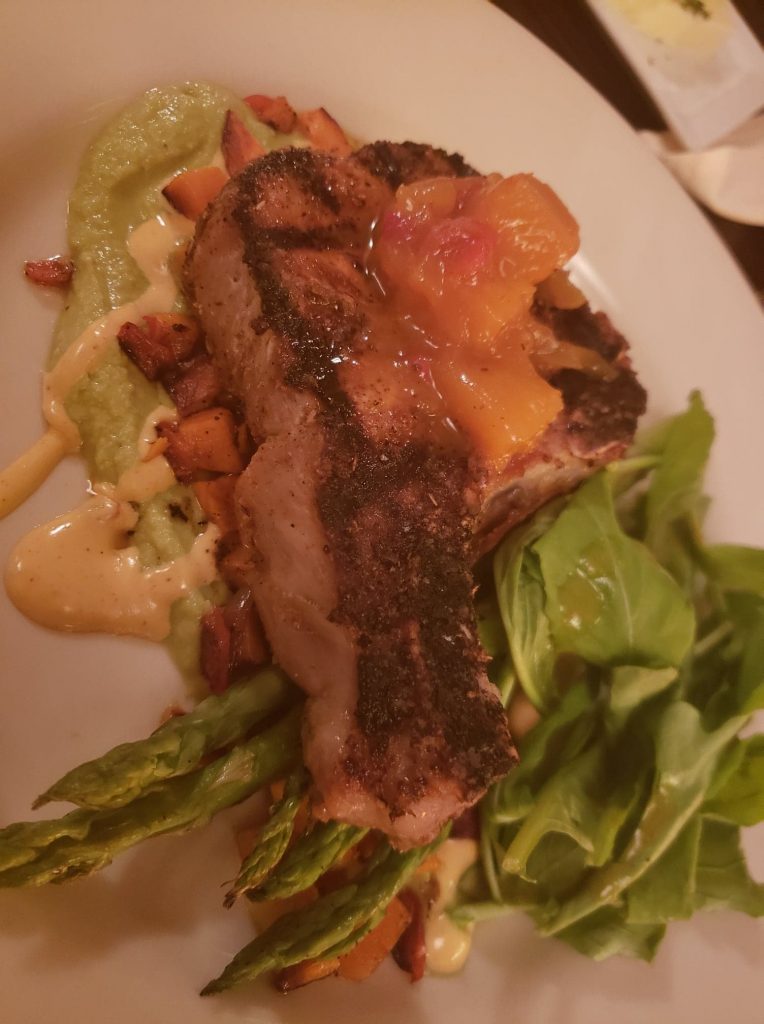 Plonk– Sure the food is great. Loads of interesting small plates and tasty snacks. However the cocktails really steal the show.
Biga Pizza– the locals were raving about Biga the entire time I was there. As a New Yorker I was intrigued by the quality of this pizza and needed  to see it for myself. It was really hard to decide on a pie. I always was taken with the salad menu. In the end I ordered way too much food but it was worth it. The chopped Mediterranean salad was so fresh and pretty. The Sicilian pizza had sausage and marscapone. Bye New York pizza I am done.
Also a shout out to Montgomery Distillery with some of the most beautiful drinks I have ever seen. We went for cocktails before dinner and I wanted to try everything just because of how they look. This place closes early so it is perfect for pre dinner drinks or a fancy cocktail before a show or night out.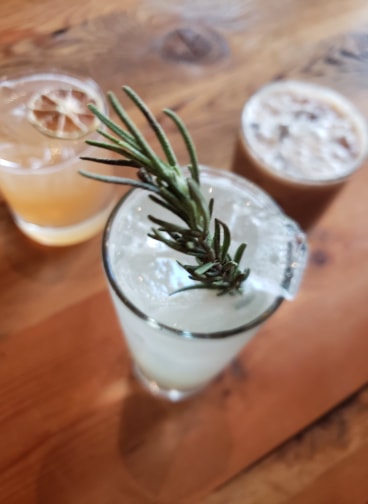 This is barely the tip of the iceberg when it comes to the food scene in Missoula.
Maybe you are wondering where I stayed during my time in Missoula? I was lucky enough to stay at the Residence Inn by Marriott. My room was more like an apartment. I had a living and a bedroom. Perfect for couples or families because it is so spacious AND has a full kitchen.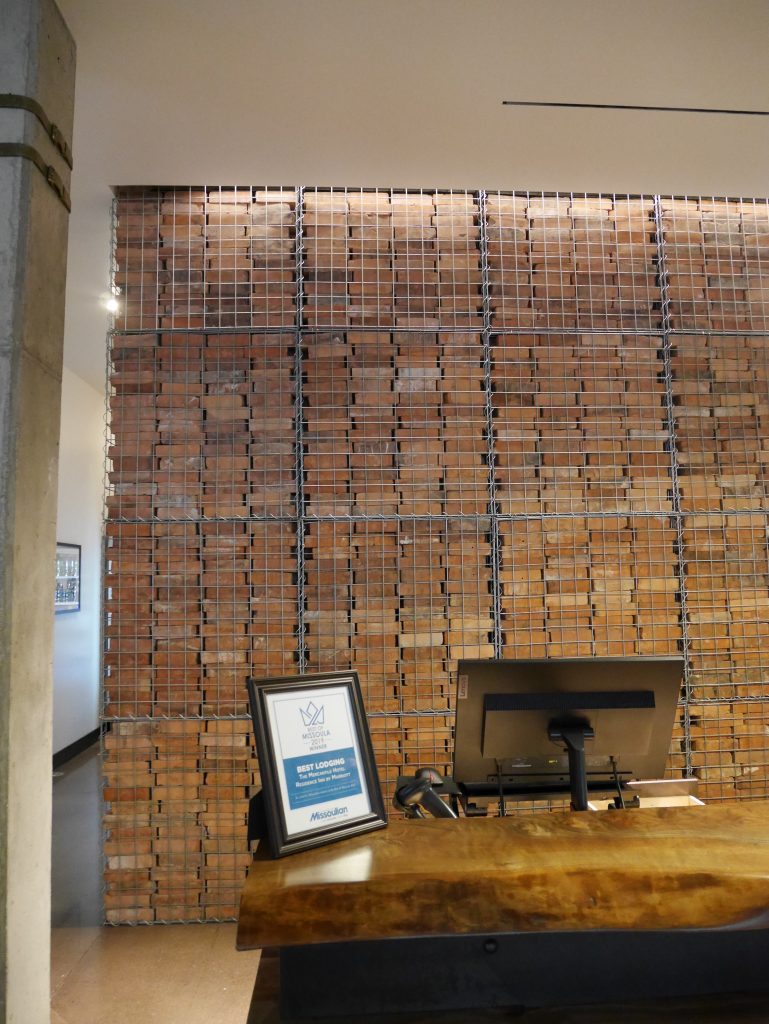 I love properties with history. This building used to be the old Mercantile Building. Even though it looks like a Marriott now it has so many pieces saved from the old building. The decorations are both modern and pieces from the original. The original brick is behind the reception area, old doors decorate the lounges, it is a perfect blend of old and new.
Check it out here!
Have you ever been to Missoula? What are your favorite things to do and eat?