Following in Anthony Bourdain's footsteps I chose Cartagena as my first destination in Colombia. Colombia has been on my radar for a few years now. I had been meaning to explore more of South America and I fell in love with arepas a few years back. I wanted to follow my stomach to this place.
Cartagena is undergoing massive change in the years since Pablo Escobar terrorized this beautiful country. For a long time this was not a city a tourist would venture to. Colombia has been hard at work to revitalize and change the perception of its country.
I randomly decided to stay in Getsemani and was glad I did. The culture is a vibrant one. The streets of Cartagena feel alive in a way that not many places I have been to do. At any given time there are so many people on the streets. Performing, cooking, socializing, peddling their wares. It is hot and it is loud but it captivating.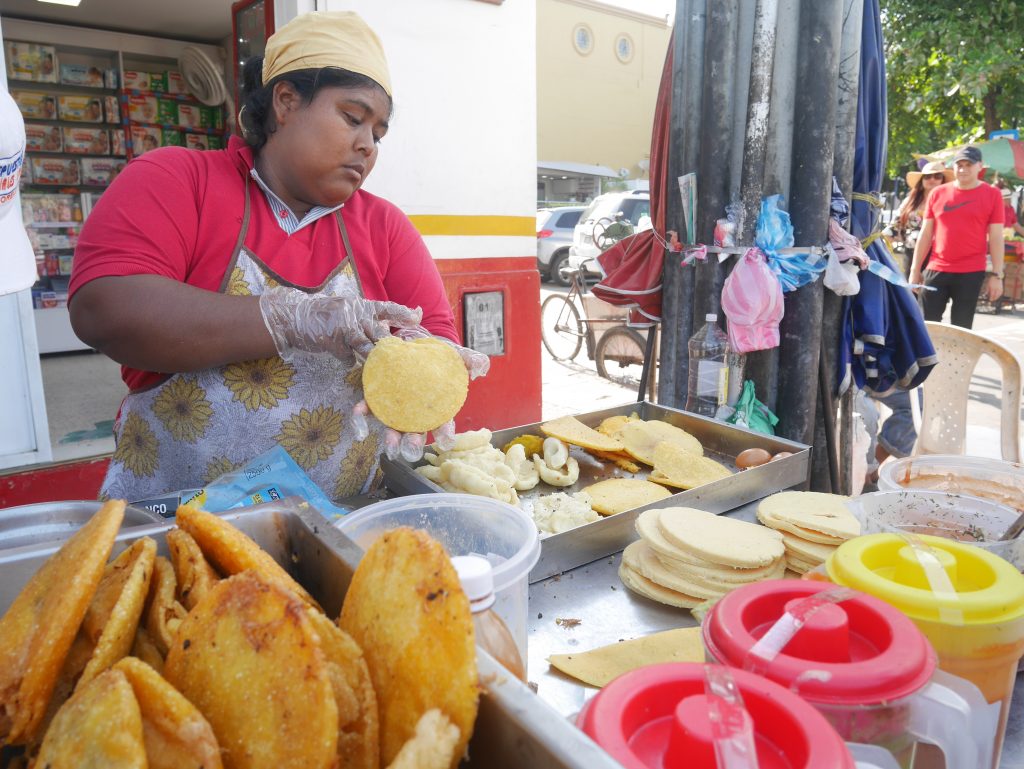 I was determined to eat as much delicious things as possible in my time there. Street food reigns king in my opinion in Cartagena but it also has its fill of great restaurants to choose from.
STREET FOOD
My favorite type of food when I travel is street food. I want to eat what the locals eat every day. That's the good stuff. Colombia has some of the best street food I have ever eaten. It is also the cheapest and most convenient way to eat. There are delicious options on every corner.
Arepas, my first love.
I went to Cartagena with the intention of eating my weight in Arepas. They did not fail to impress me. Arepas are made of cornmeal. Some are sweet, some are more savory. Filled with cheese and butter they are not exactly the healthiest option but they are too good to stop eating. It is for sure why Colombians have such high cholesterol. I prefer the savory ones. With a large influx of Venezuelan immigrants comes their food. Vying for attention are the Venezuelan Arepas. Where Colombian ones have only cheese the Venezuelan ones usually have meat inside as well.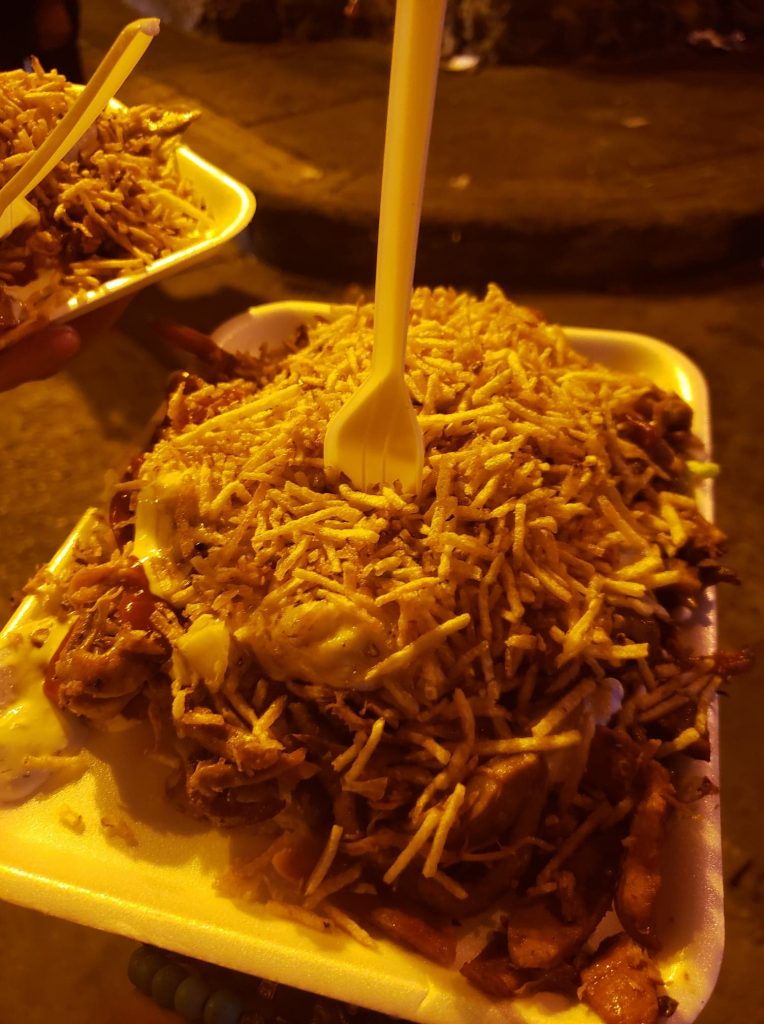 Patacones con todo
Discovering Patacones was life changing. What is a patacone? It is a plantain smashed and fried. On day one I had them with guacamole. Then later that night we happened upon a food cart in the middle of Plaza de Trinidad and what proceeded was out of this world. The dish was patacones, grilled meat, cheese, white sauce and a spicy red sauce topped with fried potato shreds. I ate it multiple times when I was there.
Another popular way to eat it is with a hunk of cheese on top. It is a common snack for locals.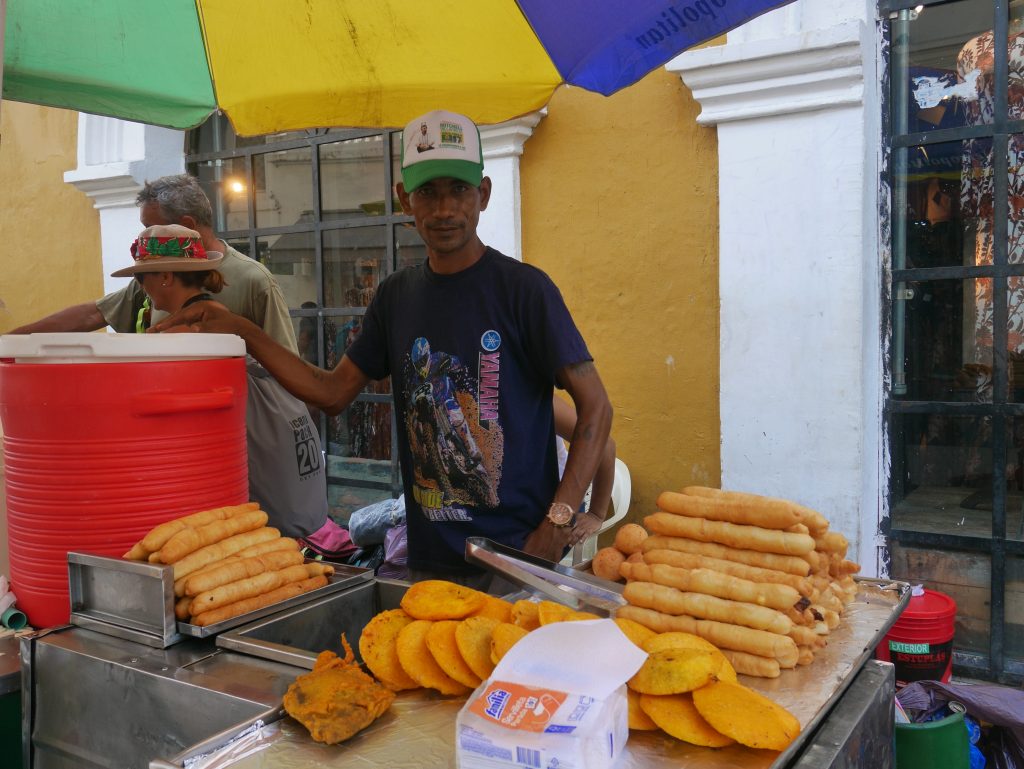 Food Tour
If you know me than you know I love to do food tours. I wanted to taste everything I could. The tour starts inside the walled city and ends in Getsamani. You get to try everything from Arepas to spicy mangoes. It covers not just food but local culture and current events. Covering everything from drug issues to the renovations of the neighborhoods. If you are interested in taking a food tour with Cartagena Connections check out their website here!
DRINKING
Colombia is a city that feels very much alive. As you walk down the streets there is a palpable energy. People are dancing, singing, selling their goods, performing and more at all hours of the day. Every night is a party in the streets. You dont need to find a bar you just need to find a lively square.
People sell beer out of coolers for less than one US dollar. You can run into the local stores to buy alcohol and snacks or partake in the various street food carts.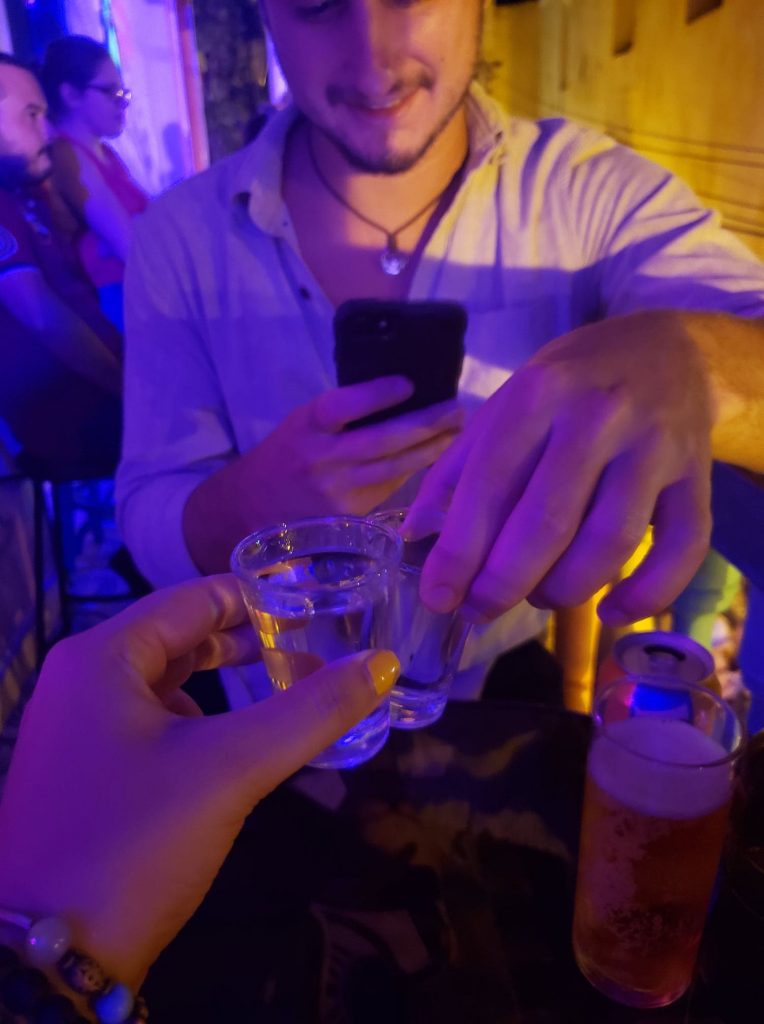 Aquadiente is the Colombian liquor of choice. It tastes a bit like licorice and is better served chilled. Buying a bottle and sharing it in the streets with your friends is a common occurrence. Many a night I partook in this even though I was not a fan of the liquor because when in Colombia do as the Colombians do. It is an exiting experience to be part of the local nightlife in the streets.
DINING
Although street food is my main love I of course want to explore all aspects of the food. I did research on restaurants to try and find the best of the best!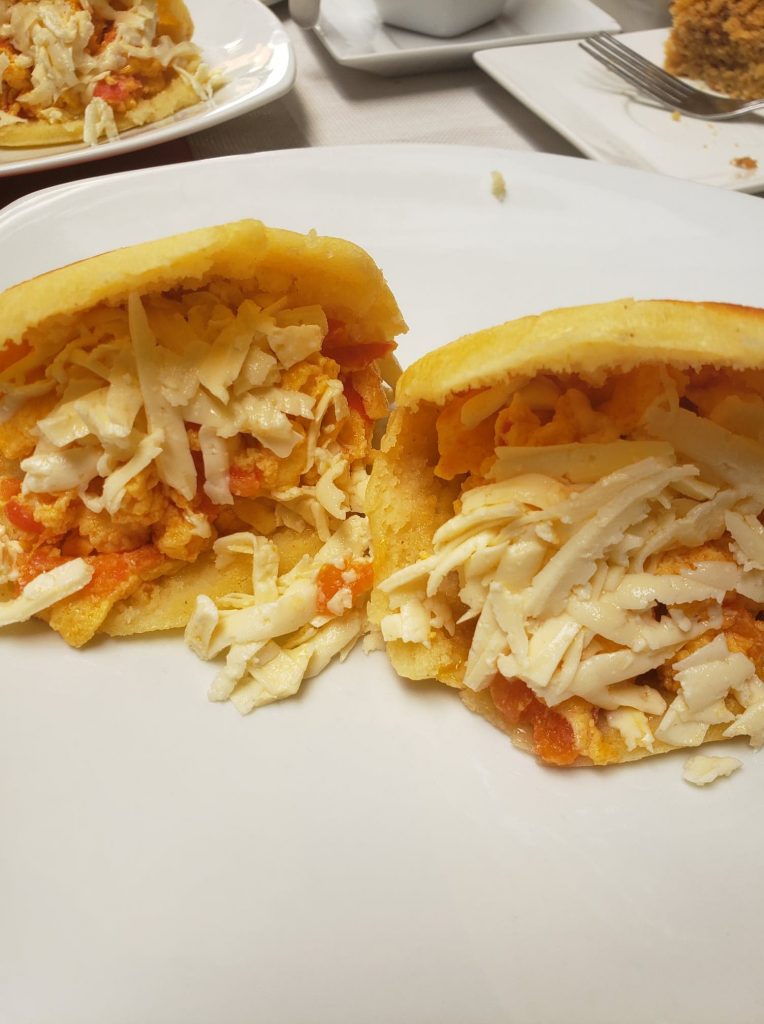 I stayed at a small local hotel called Hotel de Balcones. Every morning a fresh breakfast was made personally for you. From homemade arepas stuffed with eggs to fresh omelets it was never a disappointment.
Below is a list of restaurants I tried and would recommend!
La Cevicheria – Anthony Bourdain featured this restaurant in his show when he went to Cartagena back in 2008. To this day they still have lines out the door. I have to say it was worth it. Expensive for Cartagena but not in comparison to most seafood places. I had the Shrimp Diablo and the Lobster Ceviche and it was possibly the best meal I had in the city.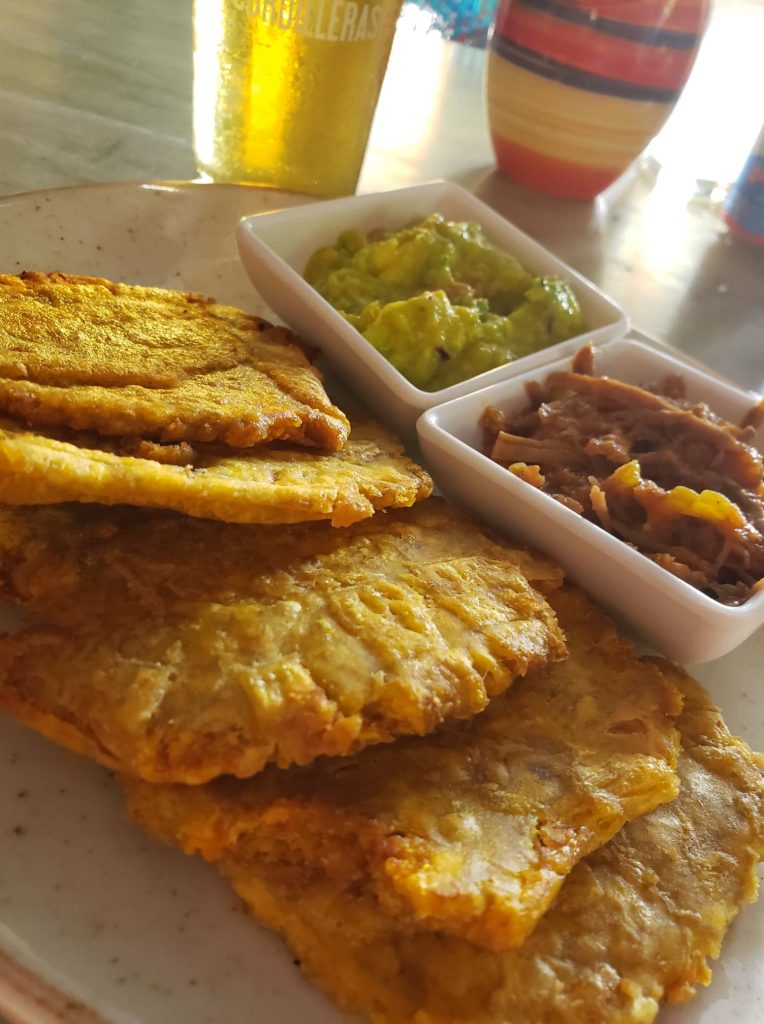 Demente – a hip tapas place in Plaza Trinidad. The menu is not necessarily Colombian but wonderful none the less. It had a good wine menu and interesting dishes such as shrimp with a corn salsa or lobster ravioli.
La Pepina Cocina – a tiny little place with a small menu tucked into a side street. Limited seating so be prepared to wait but the food is well worth it.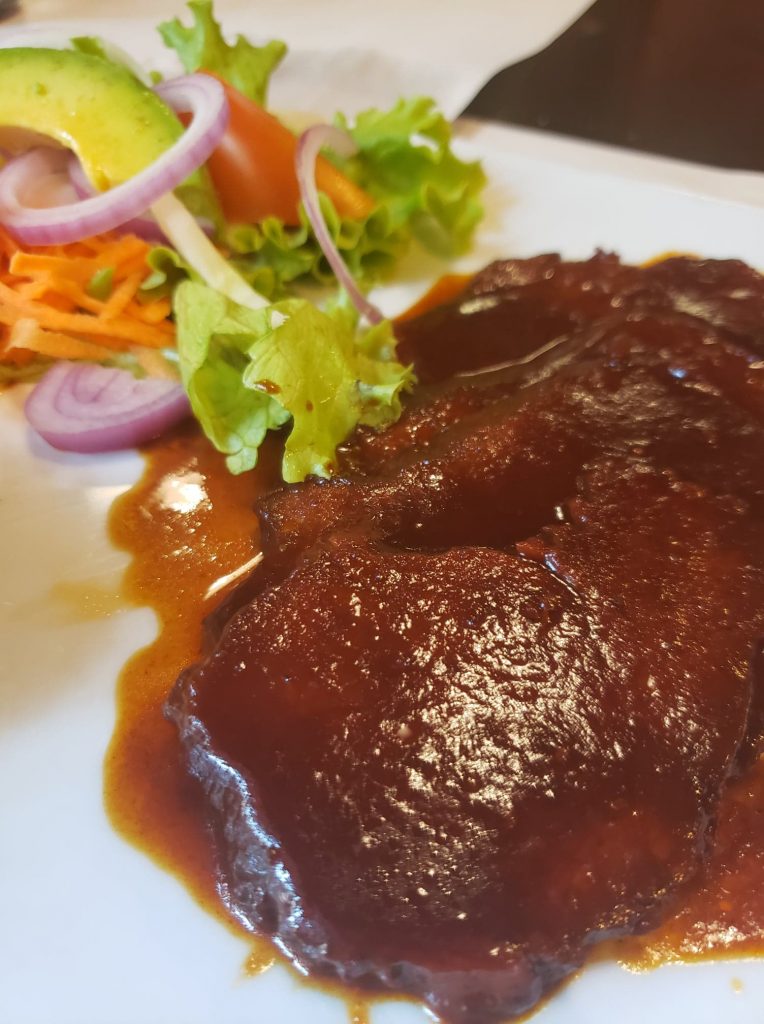 Ferdinand Madrid Pizza – Italian food in Colombia? I know generally I like to stick to local cuisine but one night wandering around for dinner we decided pizza and pasta hit the spot. There are loads of Italian restaurants to choose from but this place was a good choice. Large pies, good sauces on their pizza and a lot of space. The place overlooks a busy square as well for good people watching.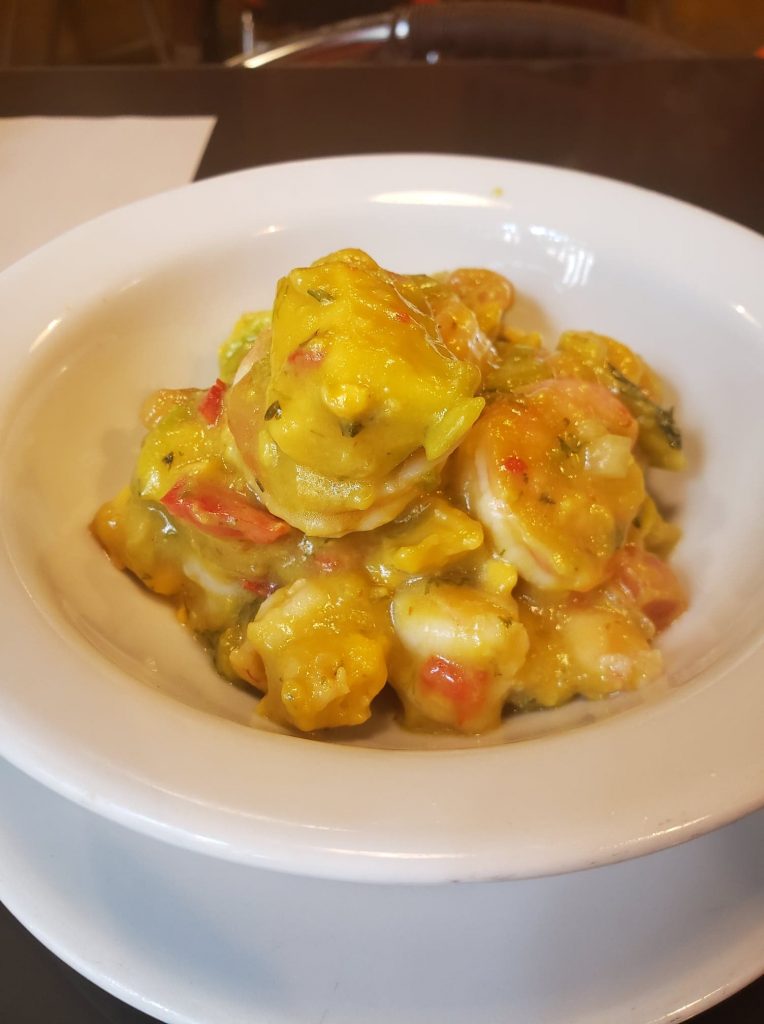 Maria Bonita Taquiera – again in Plaza Trinidad. You cant move without hitting a good place to eat. This trendy Mexican restaurant has great tacos and margaritas. It is dark and romantic on the inside with great food! A little pricey for Cartagena but worth the few extra dollars if you want nice ambiance.
Honestly the list can go on and on in this city. This isn't even every place I ate but these were my favorites.
Do you have favorites in Cartagena?