When I made Roanoke a stop on my road trip I didn't know much about it. I figured I would go on a few hikes and drink a few beers and that was that. I had no idea it was the mountain bike capital. It has an interesting culinary scene and a budding brewery scene. With all of this, it kind of makes the perfect getaway!
During these interesting times you want a place to feel safe. Outdoor activities are the perfect way to do so!
Where to stay: Tru by Hilton.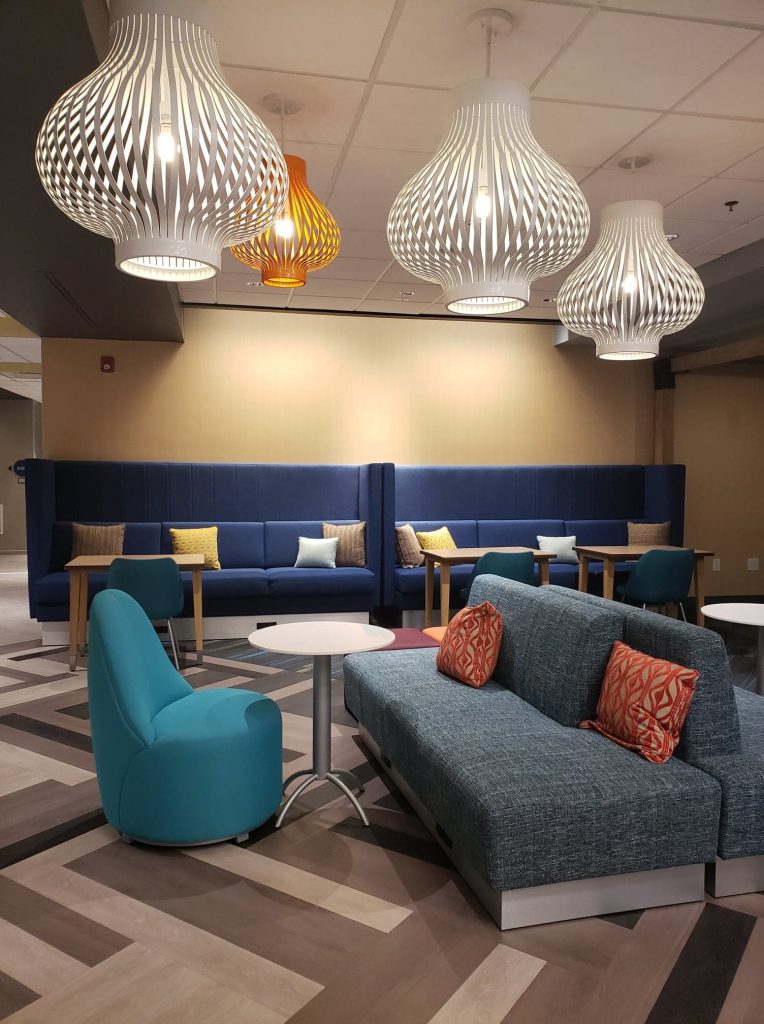 This was my first time staying in a Tru and now I want to stay in them all the time. My room was perfect for the weekend. The bed alone was worth the stay but the best parts of the hotel aren't even in the room.
The lobby is bright and colorful. It is perfect for remote work. There was so much space and lots of tables, outlets and free coffee and tea all day. When I need to work remotely I don't necessarily want to sit in my room all day. Even though there weren't many people around it was nice to spread out and work.
The hotel is located about 10 minutes from downtown in a quiet area. After spending my days hiking, biking and sight seeing it was nice to relax here.
Generally when choosing a place to stay I look for location and amenities. I love when places provide breakfast so I don't need to rush out in the morning. Their breakfast spread was great. Everything was individually packaged to avoid cross contamination. Thankfully there was a lot to choose from.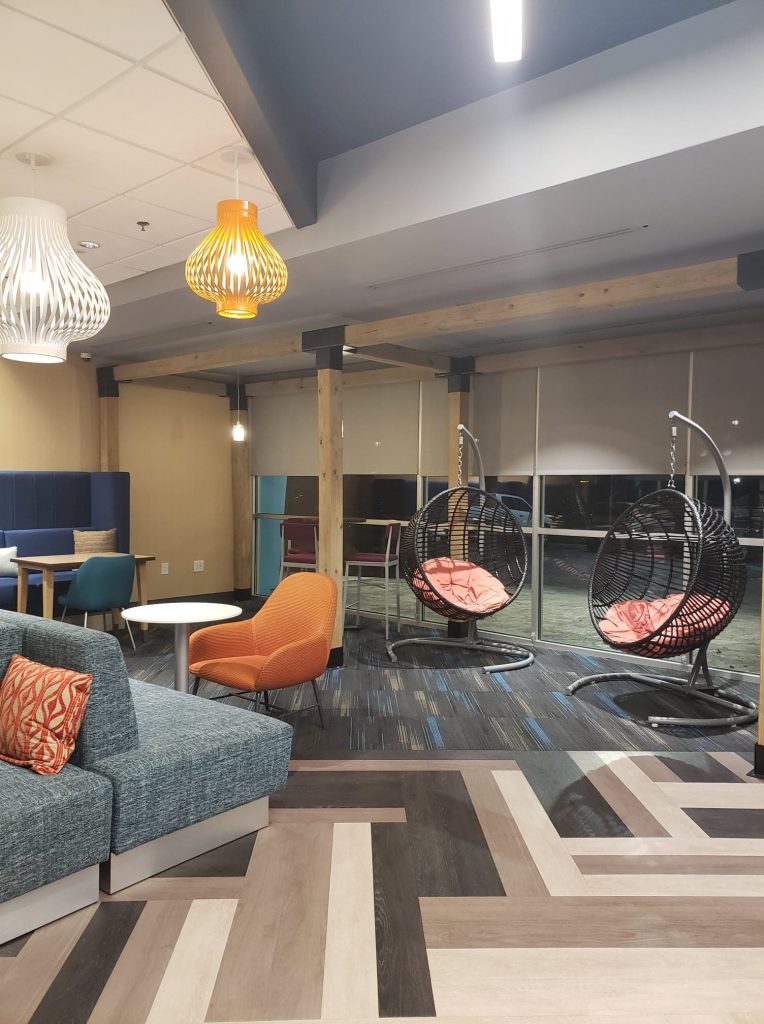 If you are interested in Tru by Hilton check it out here.
What to do in Roanoke?
You can start by exploring downtown. They have a really old market place. It has been there since 1882, although the kinds of shops there are surely different then they were back then, it was worth strolling around and snacking. Whether you like window shopping or actual shopping, you can pick up something here.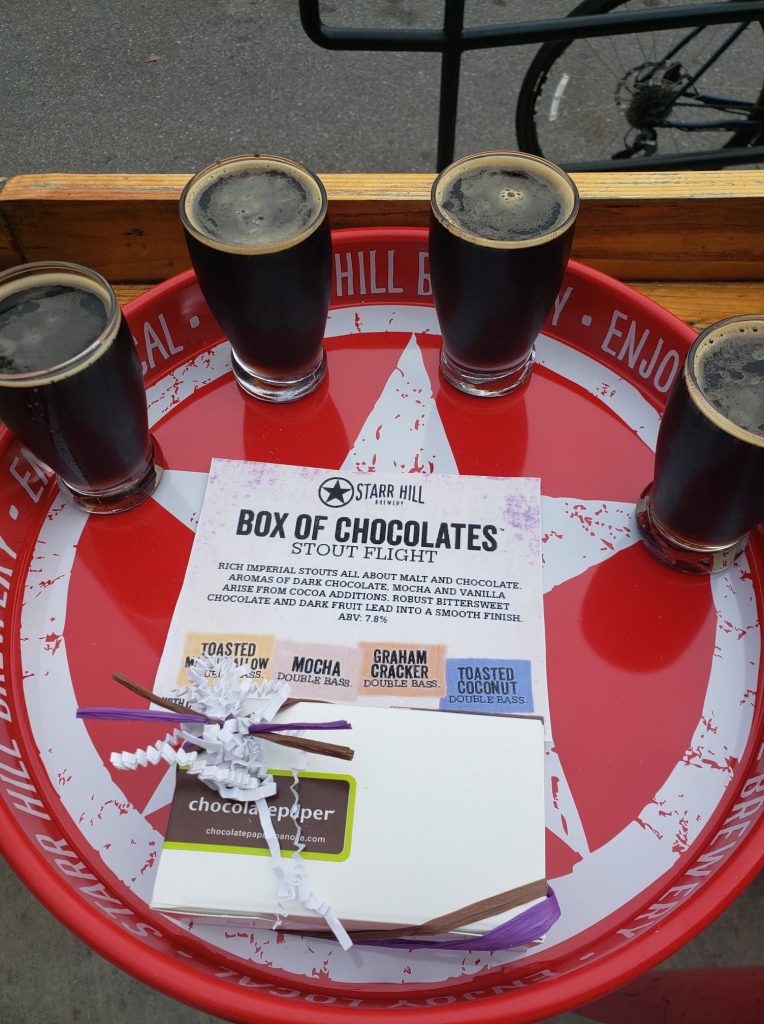 While I was downtown I joined a beer bike tour with Downshift tours. I am not exactly athletic enough for a mountain bike tour. Roanoke city is hilly enough for me. There are a few breweries throughout the city and it was a great way to explore with a local while sipping on the best of Roanoke. They cater the tour to your likes as well. Unlike a lot of beer tours which are picked for you they asked me what I liked and took me to the breweries that aligned best with it. I am a huge dark beer person. Stouts and Porters for me.
Once I figured out how to work my electric bike the ride got easier. I used to ride bikes all the time and try to do bike tours in most cities I went to. I highly recommend checking them out if you are in the city.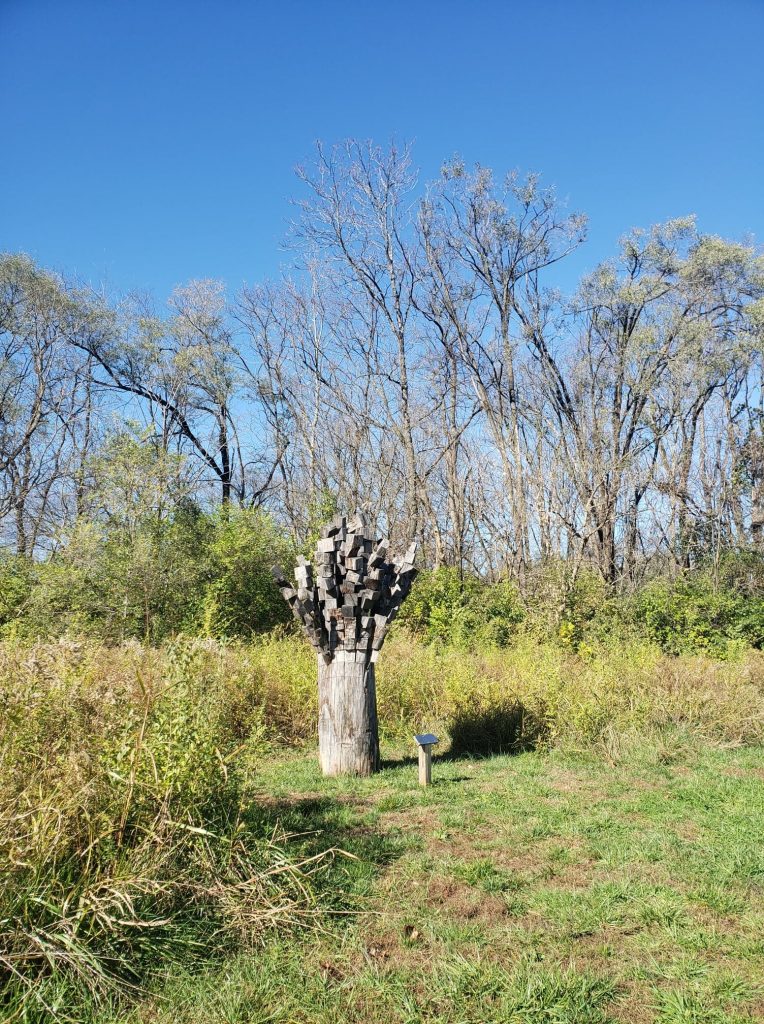 A really great(free) thing to do is check out the Greenway. It is a series of paths looping around the city. Takes you through the back of the town as well as through waterways and green space. You can spend as little or as much time exploring it and there are loads of entry points. I started my day at Scratch Biscuit( more on that later) which is right near Black Dog Salvage. A wonderful antique shop to explore and has a starting point for the Greenway right behind it. This is all located in Historic Grandin Village. It's easy to spend the better half of your day exploring this area.
Another great outdoor activity is the Mill  Mountain Star. You can drive to the top of the mountain and park. It is a short walk to the star and viewing area. However there are also a few trails at the top to spend time on and a small zoo.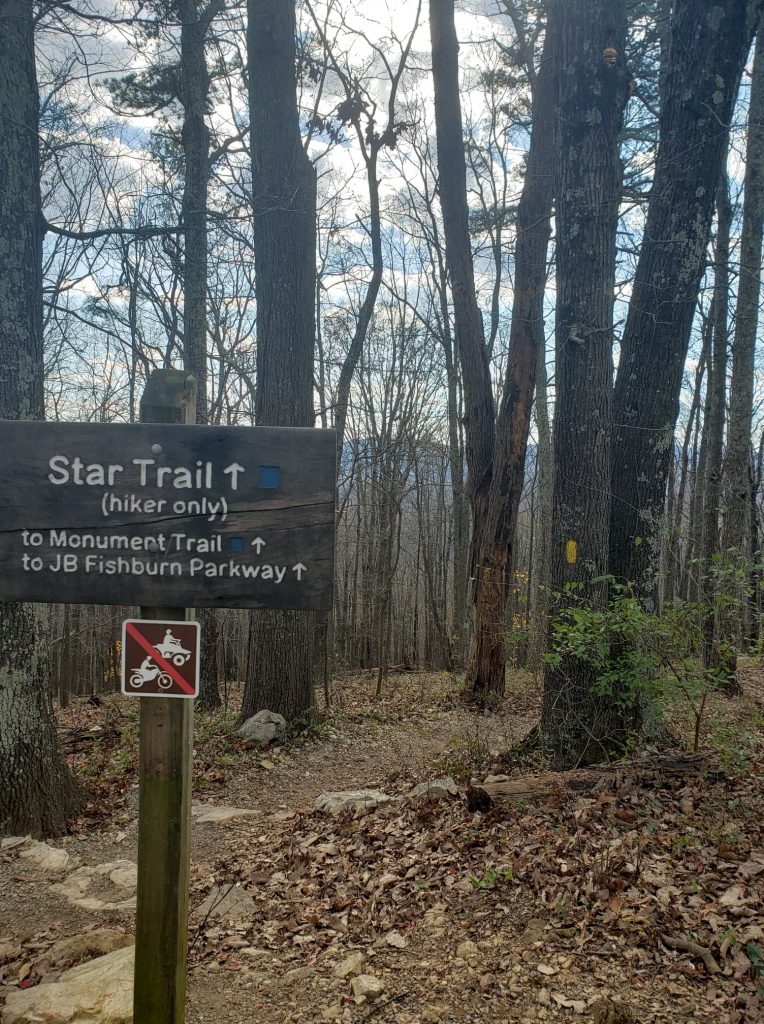 If you want to check out a museum then head over to the Virginia Museum of Transportation. This came highly regarded by locals. Roanoke made its mark by being a railroad town and this is a fun way to explore the history of transportation in the area and beyond.
Where to eat(and drink):
If you find yourself in Roanoke then you are going to want to go straight to Scratch Biscuit Company. This place was on every food list I found and locals kept telling me how great it was. They were right. This was hands down one of the best places I have ever eaten. I am a sucker for fried green tomatoes and I try to eat as much as possible whenever I am in the south. My biscuit was fried green tomato, bacon and chipotle aioli and I added an egg and grits on the side. My meal was under 10 dollars with a coffee and kept me full until dinner.  If you go anywhere in Roanoke, go here.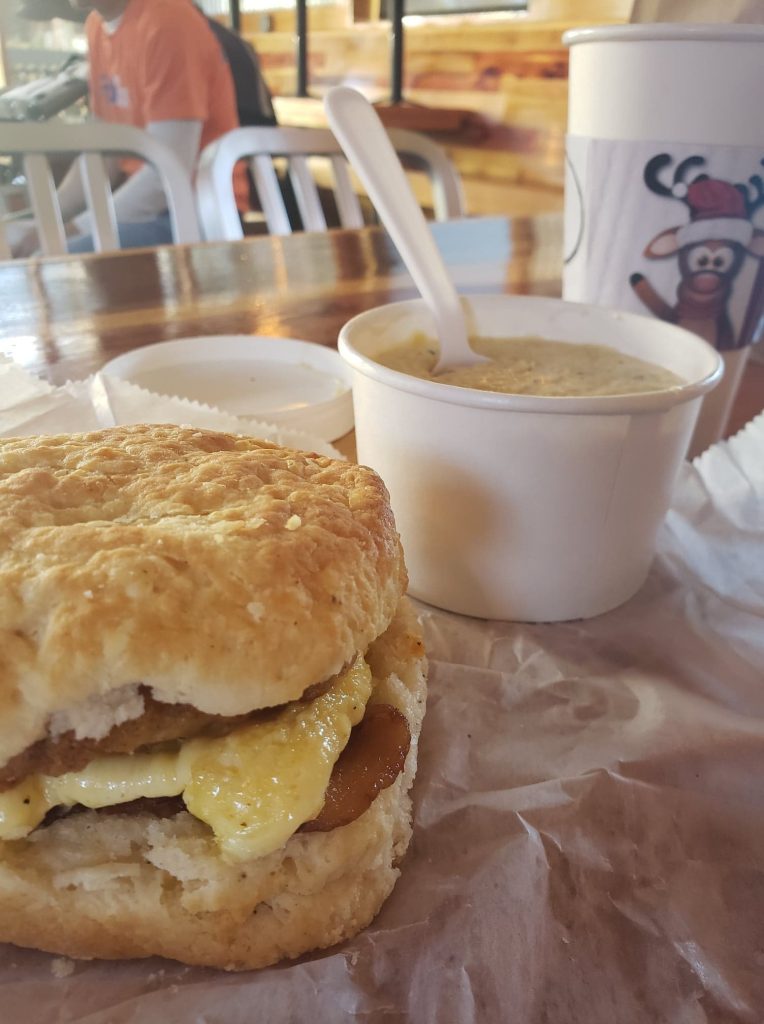 Hollywood's Restaurant and Bakery. Sounds cheesy but it isn't. Has the feel of a dinner with down home kind of cooking. Meatloafs and the like. The meal was great but the reason to go here is for the pies and cakes. The bakery is first class. If you want to skip dinner and just pick up a dessert you won't be disappointed.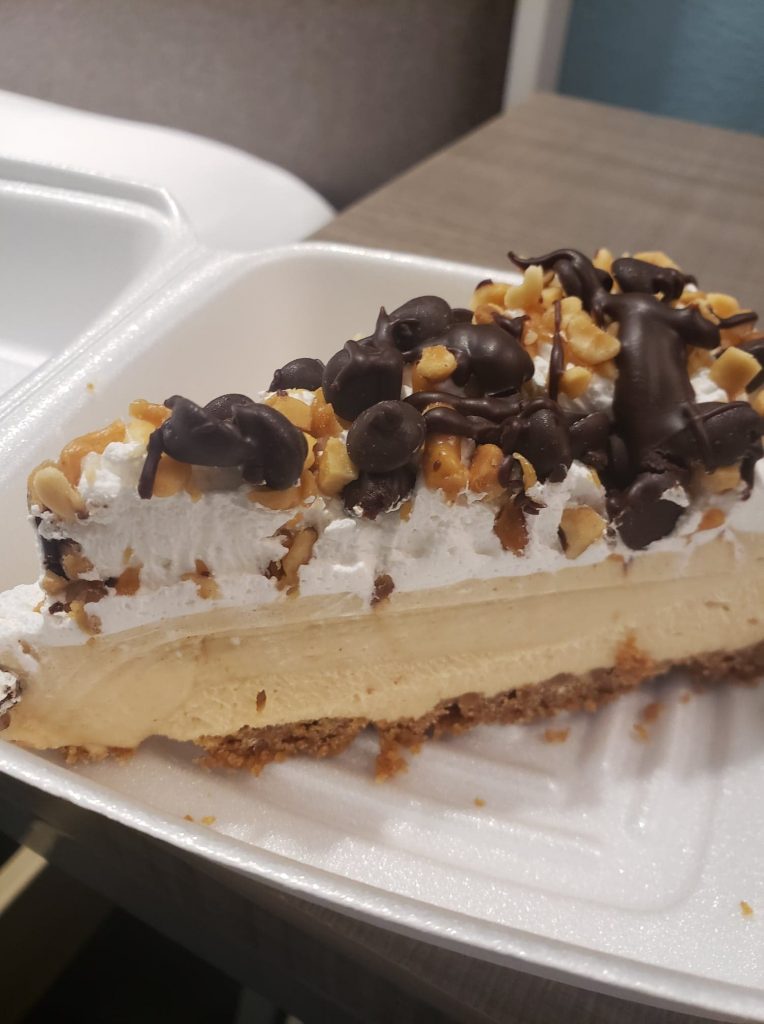 I did not think that Roanoke's cuisine would be so diverse but walk around the downtown area and you can't go wrong.  Cedar's is great Lebanese cuisine. Locals love this place. I loved the falafel, babagonoush, hummus, everything. I recommend getting the vegetarian platter.
Or if you are feeling Italian check out Leonore's which is Venezuelan and Italian dishes. Also Viet Sub has Bahn Mi and pho. I love Vietnamese. After a few weeks driving around it was great to find so much interesting and diverse food in one place.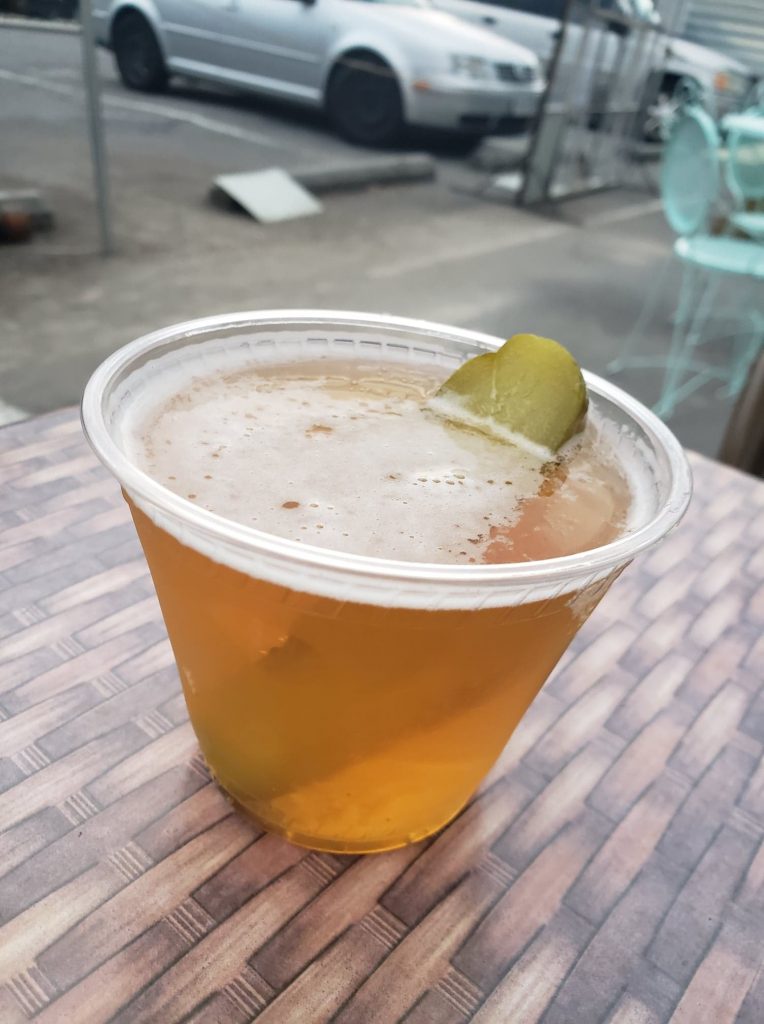 On my bike tour I went to three breweries starting with Starr Hill. They are a bit more well known and I actually visited their place in Richmond as well. Between the 2 weeks it took me to go from Richmond to Roanoke they did a major stout release. I did a fun chocolate and stout pairing. Then we went to A Few Old Goats which is worth it just for the name. It has a bit of an odd location as it's on the side of an apartment complex that also used to be a school. It looks as weird as it sounds but it has a great patio. Last but not least we went to Golden Cactus. They have less on tap then the other breweries but they have some fun stuff including a pickle beer, sounds like it would be gross but is actually refreshing.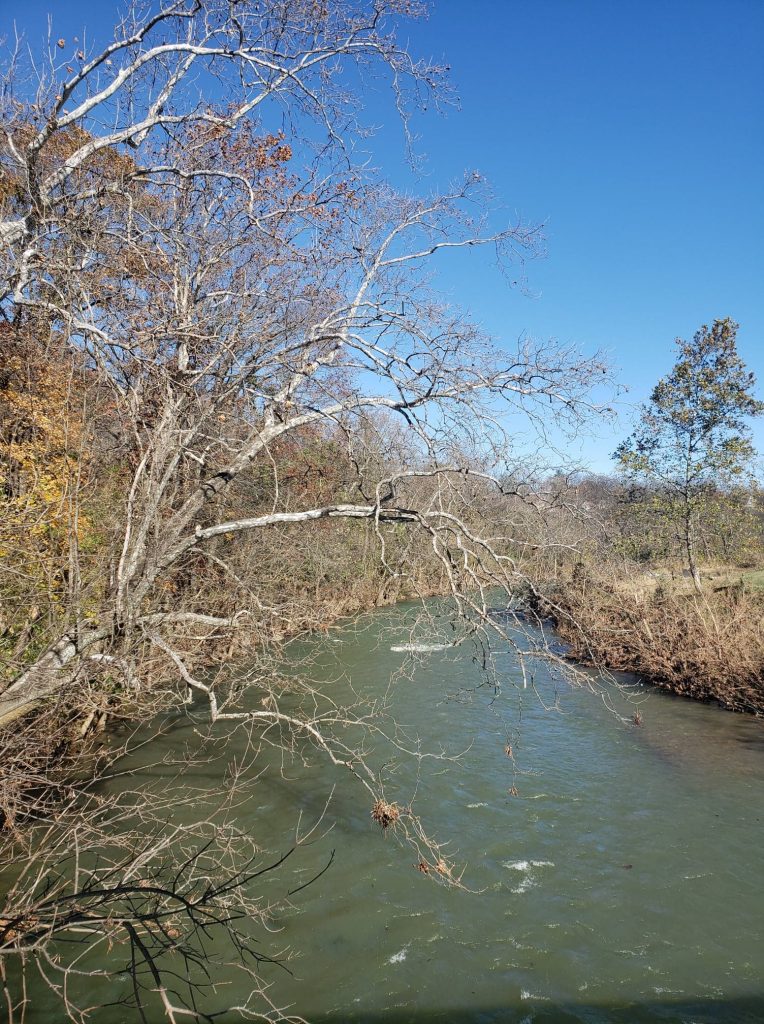 I would like to thank Tru by Hilton and Visit Virginia's Blue Ridge for partially hosting me while I was in Roanoke. All thoughts and opinions are my own.