Rarely do I get to stay at really nice places. It just is not in my travel budget. Since I generally travel quite a few times a year I try to watch what I spend and make the most of my dollar. I was ecstatic when TBEX offered complimentary hotel stay all over Thailand after the conference.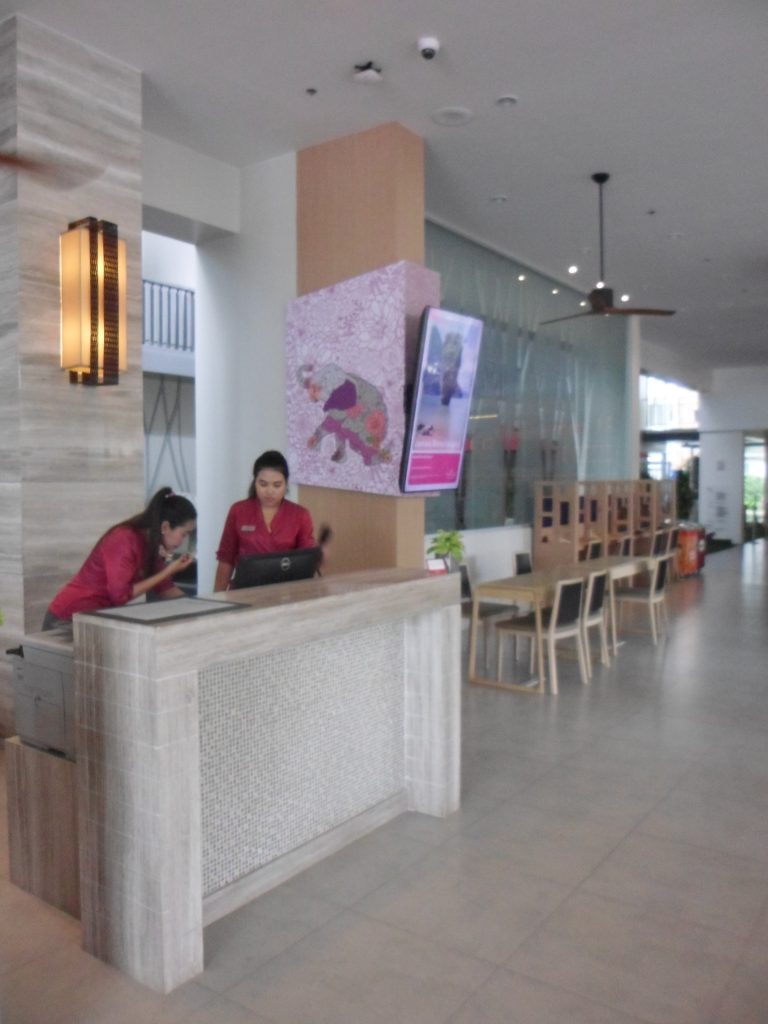 I had decided to travel to Phuket  and got to stay at the lovely Ramada Phuket Deevana.
     The first thing I was greeted with was the inviting reception area filled with different types of couches and beds to relax on  AND ELEPHANTS. The entire hotel has the most adorable elephants everywhere. Even in the room! My room had a beautiful elephant mural on the wall and the hotel delivered elephant shaped jello to me.
     The room was perfect. The bathroom spacious with great water pressure. As a person who stays in hostels I really appreciate great water pressure. The hotel provided free water, coffee and tea! Which I totally took advantage off since I have a coffee addiction problem.
My bed was like sleeping on clouds. After spending a week in a hostel  bed that felt like I was sleeping on a wooden plank it was a much needed luxury. I could have stayed in that bed forever.
The room even had a balcony that was perfect for lounging on and enjoying the views of the mountains in the distance.
My two favorite things about this hotel were
1) THE POOL.
I love a good pool. This one had a great view because it was located on the third floor and every day they had  a happy hour between 5p and 6p for buy one get one drinks! Lounging in the sun, sipping my pink elephant enjoying a relaxing day in the pool is one of my favorite moments of being in Phuket. The heat can be a bit exhausting, it was a great break.
2) BREAKFAST!
Complimentary breakfast is a big selling point for me when I am staying anywhere. But the spread at Ramada Phuket Deevana was crazy. Fresh fruit, western style choices, an omlette and smoothie station, full on Thai food buffet and pasteries galore. I never wanted
to leave.
3) LOCATION
The resort is located off the main street on a quiet side street. The noise from the busy bars and shops never infiltrated the hotel. It was  just a short walk to the beach and Bangla Road. If you are in Phuket and you are looking to party Bangla Road is the answer to that. Being able to walk there and back was perfect since taxi's can be quite pricey in Phuket.
The room would have been a huge splurge for me if I had booked it myself. However it would have been a worthy one. Every now and then it is worth spending the extra money for a few nights of luxury. I would say Ramada Phuket Deevana is one of those worthy splurges. Make sure to check them out if you head to Patong Beach in Phuket.