Just like every country, Iceland has cuisine that is unique to them. Some of it I loved and some of it not so much. Some of it was delicious and some of it was…interesting. Regardless of how I normally feel about a dish I love to try things when I am somewhere new. Basically that means how I feel about fish. I am not a fish fan but when in Rome.
Tours
I jumped onto a food tour and a craft cocktail tour to check out the food scene and the nightlife.
It is great to have a local tell you what to eat. I got to try a lot of things right off the bat. We went to the Iceland Bar for Lamb Stew which was amazing and generally I am not a fan of lamb. We got to try an array of cheeses and meats one of them being horse. I probably would not have paid for horse alone just because I would be afraid I wouldn't like it and things are far too expensive in Iceland to gamble on like that. It wasn't my favorite thing but I am glad I tried it.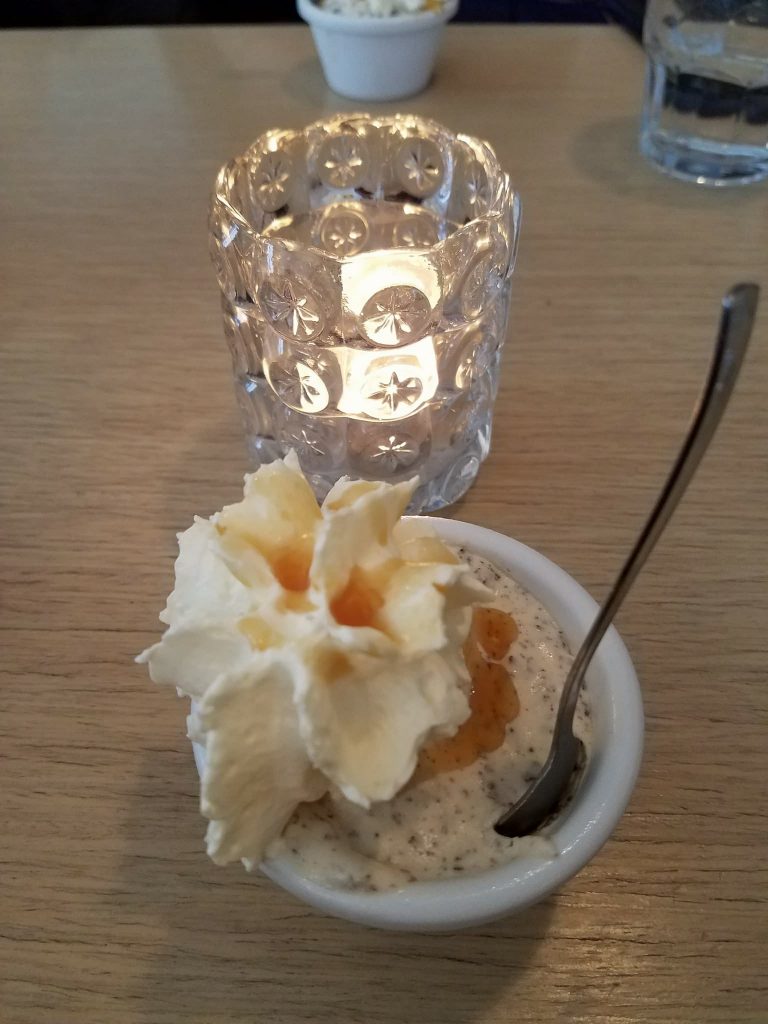 There was ice cream which is obviously always a highlight for me. Rye ice cream. Sounds weird tastes like a dream.
We also got to try fish pans which vary in what they are. Every day they change because it is basically whatever the cook has lying around. There was a spicy pan and a creamy lemon pan. For a person who doesn't eat fish I enjoyed them both.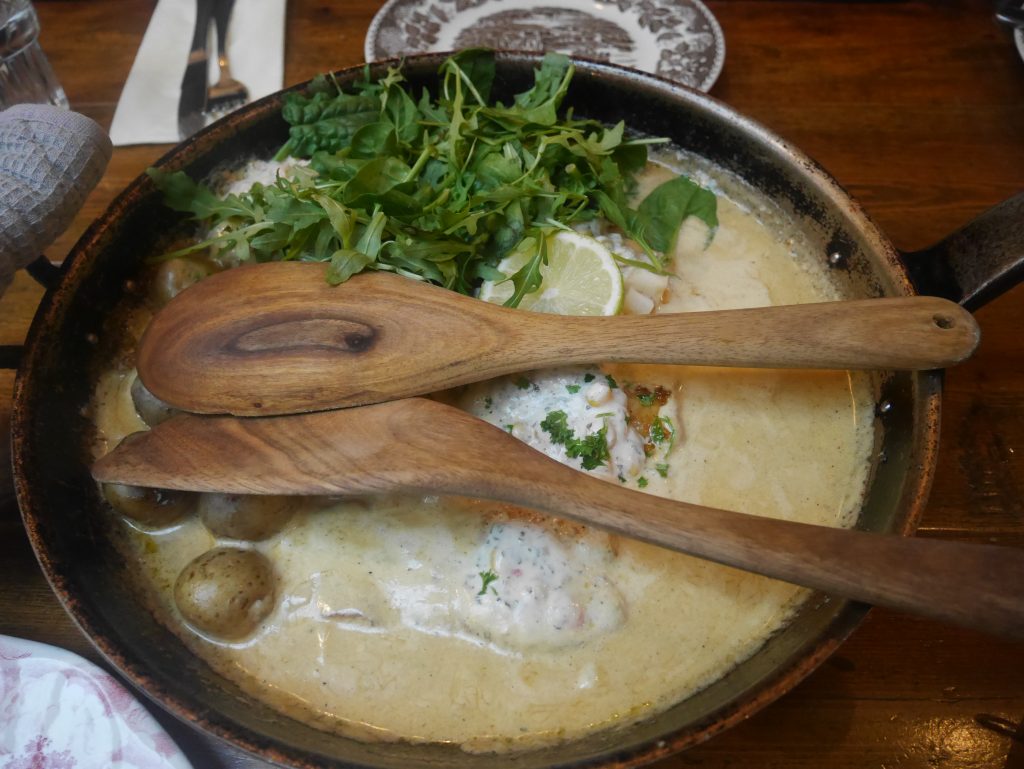 The night prior I went on a sort of craft cocktail tour. I heard the nightlife in Reykjavick could be crazy and I wanted to experience it. They party until 5am on the weekends. Which is rough for me but I managed to stay out until nearly 4am on both Fri and Sat.
I would never have tried fermented shark or black death on my own. But I held my breath and popped a piece of shark in my mouth. You're supposed to chew it 3 times and then do the shot. The shot was worse than the fermented shark to be honest.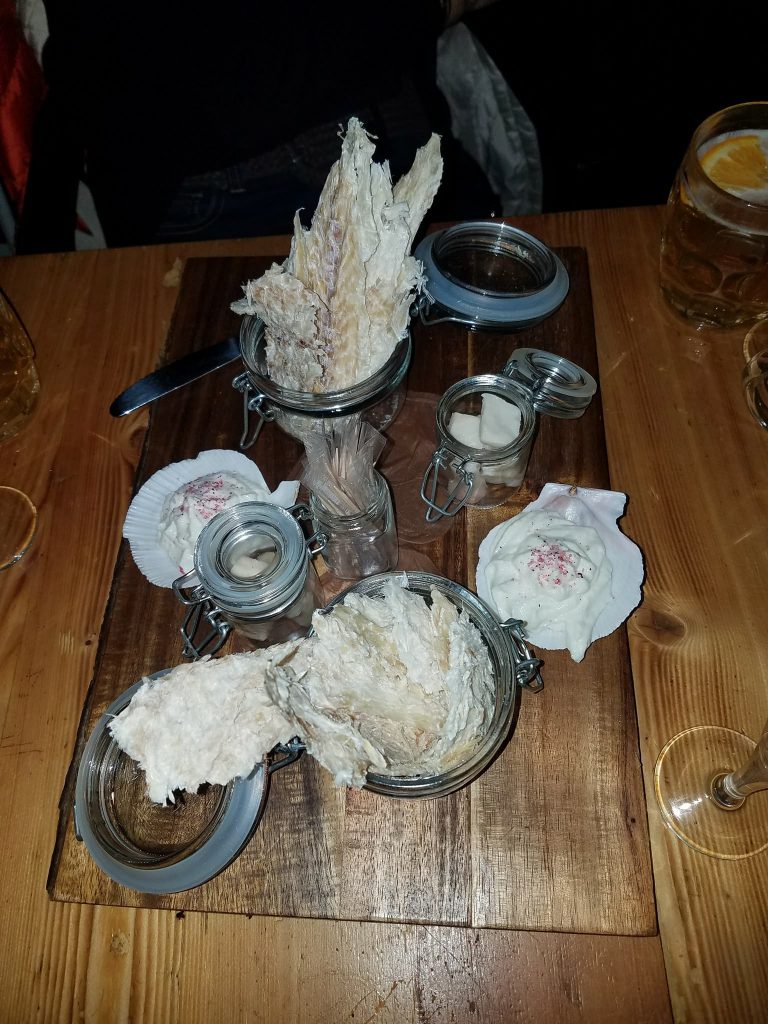 My favorite part of the tour was when we went to the Lebowski Bar. Themed after the movie the drink menu is all different White Russians. The one we got had cocoa puffs in it!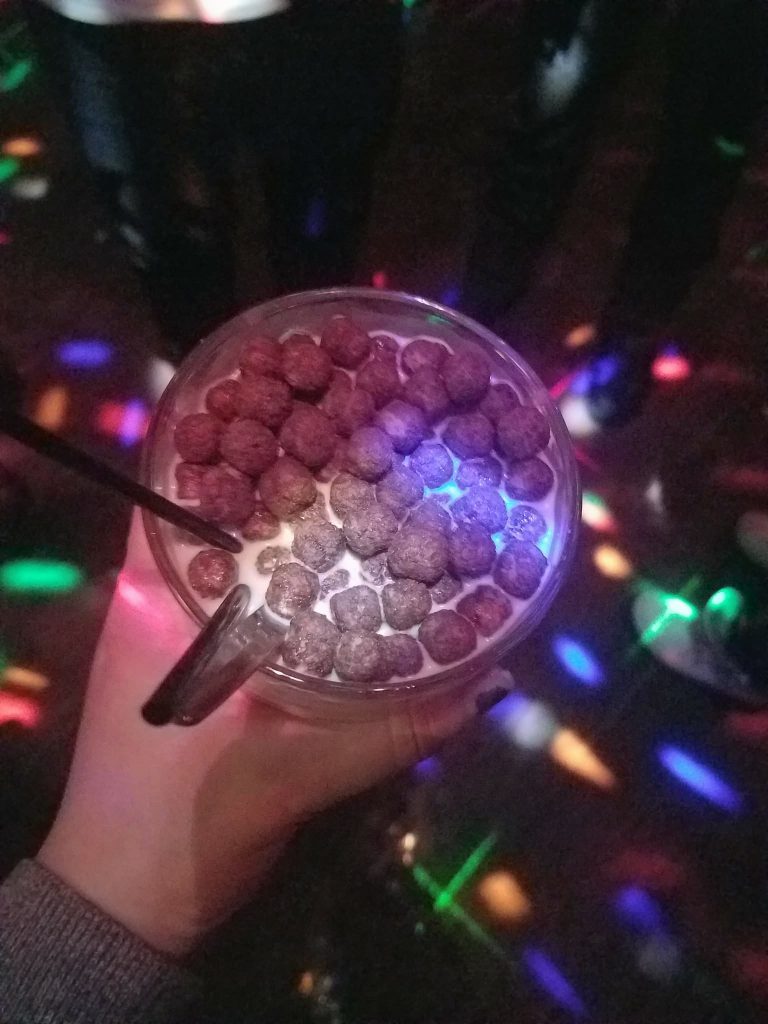 I highly recommend both of these tours. They seem pricey until you get to Iceland and realize how expensive it is. Then you know what you're really getting is a steal. Check the food tour here and the bar crawl here!
Hot Dogs
I had read that hot dogs were a big deal in Iceland. On my first day there I had one while walking around. I also had one during the food tour and the craft cocktail tour. The big famous one I went to more than once. You have to get it with everything on it or its just not worth it. The crispy onions really make it. No matte what time you go there will most likely be a line.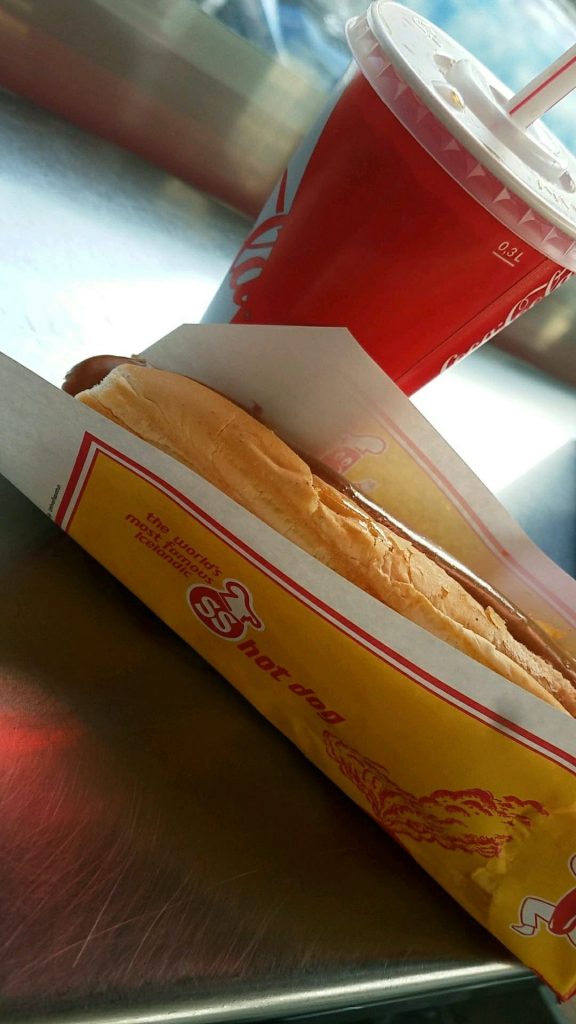 Breakfast is the most important meal of the day
Lucky for me my hostel had breakfast every day. It was a traditional Icelandic spread so it was a great way to try many things. From sliced fruits and vegetables to meat and cheese I had my choices. The best part was the fresh breads.
No Icelandic breakfast is complete without skyr. There version of Greek yogurt. With loads of nuts, granola and other toppings.
Unique Meats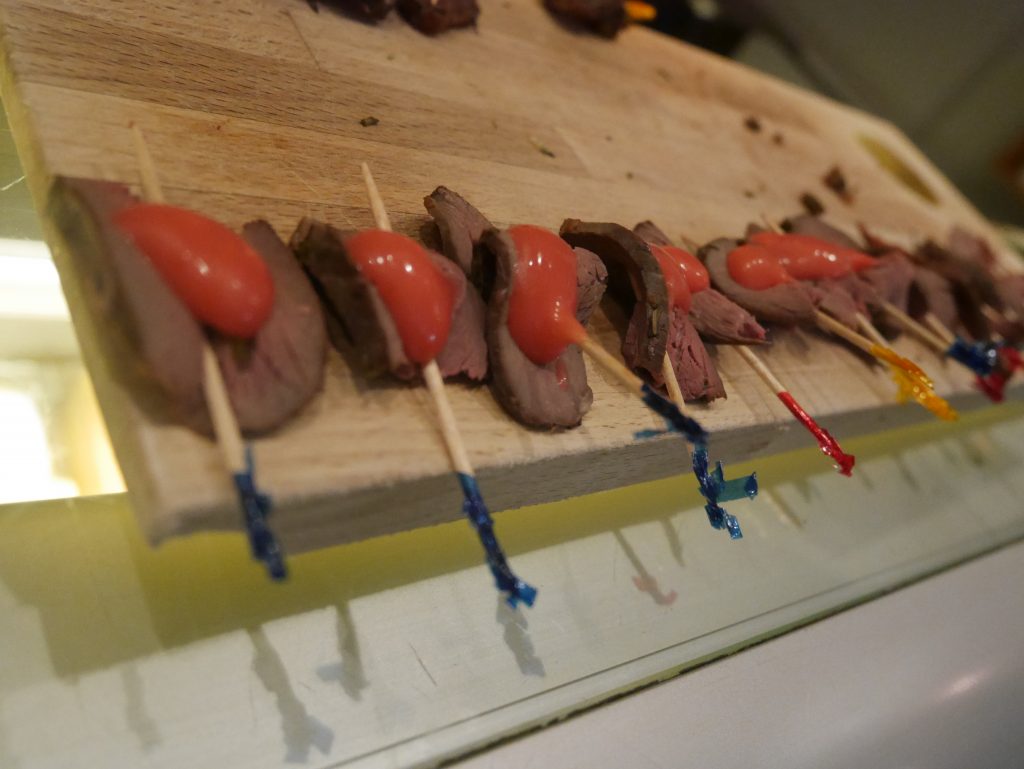 Like I said previously I tried horse while I was there. It was cured so it was tough and gamey. Not my type of meat. When I am home I rarely eat meat. I am mostly vegetarian. When I travel I love trying local cuisine and don't want to miss out on anything.
I made sure to try everything I never had before. I really enjoyed the Puffin. It was smoked and had a duck like flavor to it.
I tried whale as well. It is very controversial and I would not have sought it out on my own. After hearing about the locals talk about whaling I would never have it again or purchase it. Not that it is an excuse but I merely tried what someone else had. Not only am I not a huge fan of seafood I am adamantly against inhuman sourcing of animals for food. I realized when I was there that locals don't eat whale that it merely for the tourists. Lots of business do not support restaurants that serve whale. I actually feel terrible I even tried it.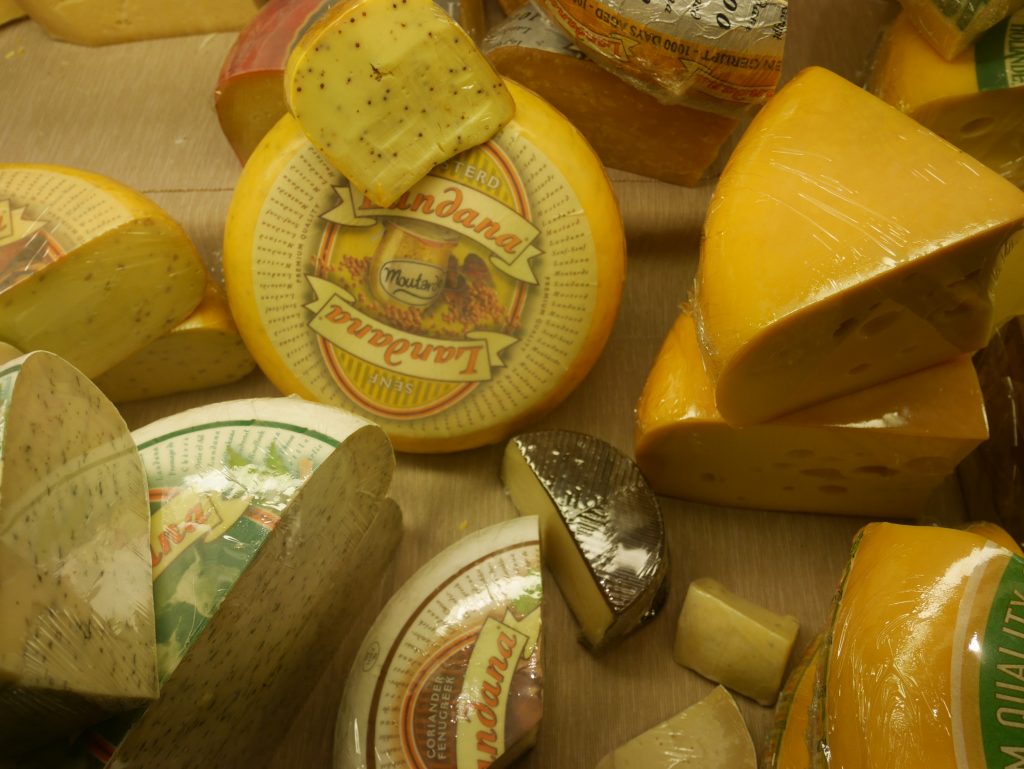 Time For Indian
Not every country can you fall in love with the cuisine. I certainly did not fall in love with Icelandic food. I am not a huge seafood fan and that is the base of a lot of their cuisine. After about four days of trying new things and eating things I normally wouldn't I tried to just venture off. One of my favorite restaurants while I was there was The Laundromat Cafe. I had an excellent beetroot veggie burger and carrot cake. Plus the cafe is an actual laundromat.
Iceland also has excellent Indian food. Two separate nights I went to Indian restaurants. I never tire of Indian. I just spent 3 weeks in Kerala, came home and had more Indian food. The first one was a no frills Pakistani resturant, Shalimar, that served loads of Indian curries as well. I had spent the whole day outside in the cold on a Golden Circle tour so I was thrilled to be eating warm, yummy food.
My last night I treated myself to some vegetarian Thali at Hradlestin. Obviously I am a huge fan of eating local cuisine but if they are going to have so many yummy restaurants you have to branch out.
Cheers!