I had been dreaming of Chicago for awhile. All I kept hearing about was how great the food was. I love deep dish so I was excited to head out for a long weekend to celebrate my birthday this October. It would also be the first time I flew during Covid.
My second love after food is, of course history. What a rich, history filled city Chicago is. From the multiple Worlds Fairs to Al Capone there is a story for everyone here. This is a city that burned to the ground and rebuilt itself fast enough to hold its second Worlds Fair. It also is home America's first serial killer, H.H. Holmes who operated during the second Worlds Fair.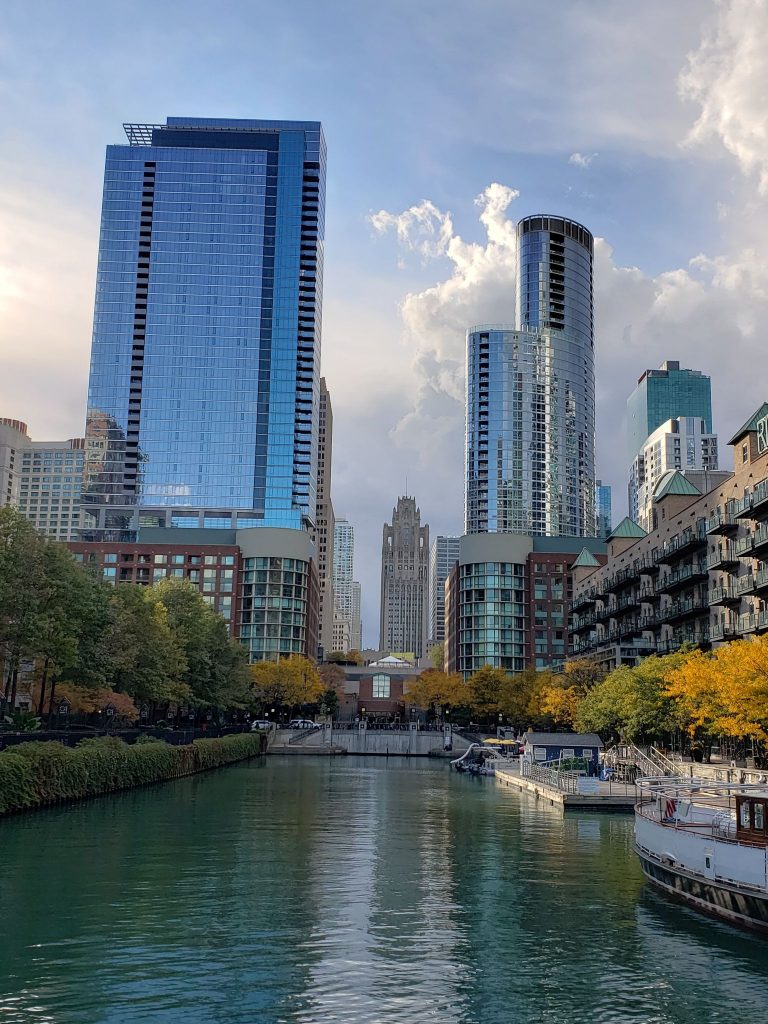 What is it like flying during Covid?
I was very apprehensive to fly during Covid. I had so many questions. Was I making a dangerous choice? Is it wrong to encourage travel? Will I be putting myself at risk? I had immense anxiety as I headed to the airport. However once I got there I felt much more relaxed. I generally fly out of JFK and it can be very busy. Now it is not. There was barely anyone in the airport let alone waiting at my gate.
It made finding food or an open store more difficult as most things are closed but I felt fine.
I flew Delta and I have to say their safety precautions are on point. They boarded from the back, up, to avoid passing too many people. They prepacked our snacks and gave us hand sanitizer. Every other seat was empty. The flight was about 50% full. Since the flight was only a little over two hours it was easy to not have to get up and walk around. They asked you only to get up if you needed to use the restroom.
I highly recommend flying with Delta is you are nervous about flying during Covid.
What to do with your time in Chicago?
There is so much to do in Chicago my 3 days was barely enough but let me tell you the things I think you should do!
First and foremost go on a Gangsters and Ghosts tour. This was the first activity I did and I can't recommend it enough. Our guide was fantastic and really brought the stories of organized crime and murder to life! It is an evening tour and sets the tone perfectly.  I really love true crime so learning about the dark side of Chicago was so fun. Book your tour here.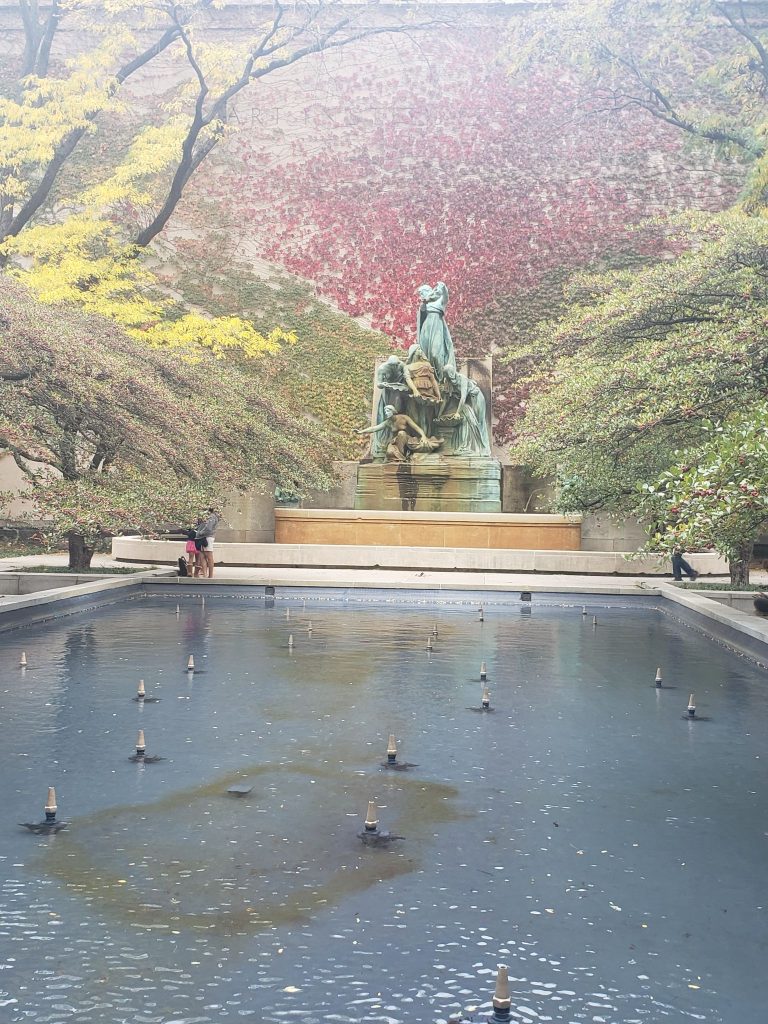 The Art Institute of Chicago is a world renowned museum. It is giant and has so many different exhibits. Best to choose your favorite sections and start exploring there. They usually have a rotating exhibits which are fun. When I was there it was Picasso. I highly recommend booking in advance due to Covid they only allow a certain amount of visitors at a time and they sell out. You could easily spend an entire day here if art is your thing. If you don't want to go inside it is worth wandering around the gardens surrounding it. It is a short walk from the famous "Bean" and the park surrounding the sculpture is full of art installations that are fun to check out.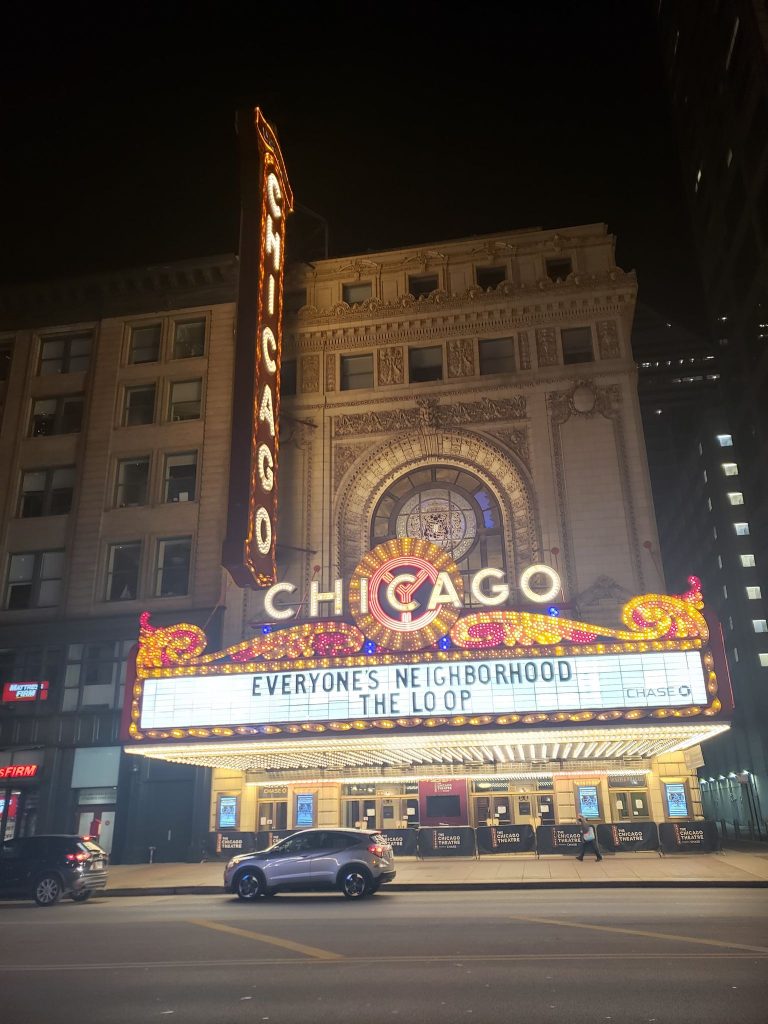 I always love doing walking tours so I jumped on a free walking tour of  "The Loop". This is the main area of downtown. It hits all the famous spots and some things you might never find on your own. I love pay as you like tours they often have the best guides and it is extremely affordable for anyone. You can check out Free Tours by Foot here.
Take an architecture cruise. Everyone told me this was the best thing they did when in Chicago and they were right. It is impossible to appreciate the buildings while walking around. The perspective on the cruise changes how you see the city. Chicago is beautiful and the architecture is so interesting. Sitting on the boat and being able to concentrate on each one as your guide explains the history behind the building and the type of design it is is honestly priceless. It was an incredibly chilly and damp day when I took mine and I still loved it. Plus the boat and free coffee and hot chocolate. This is the company I used. They are associated with the Gangster tour company and provided me with a discount code for the other tour.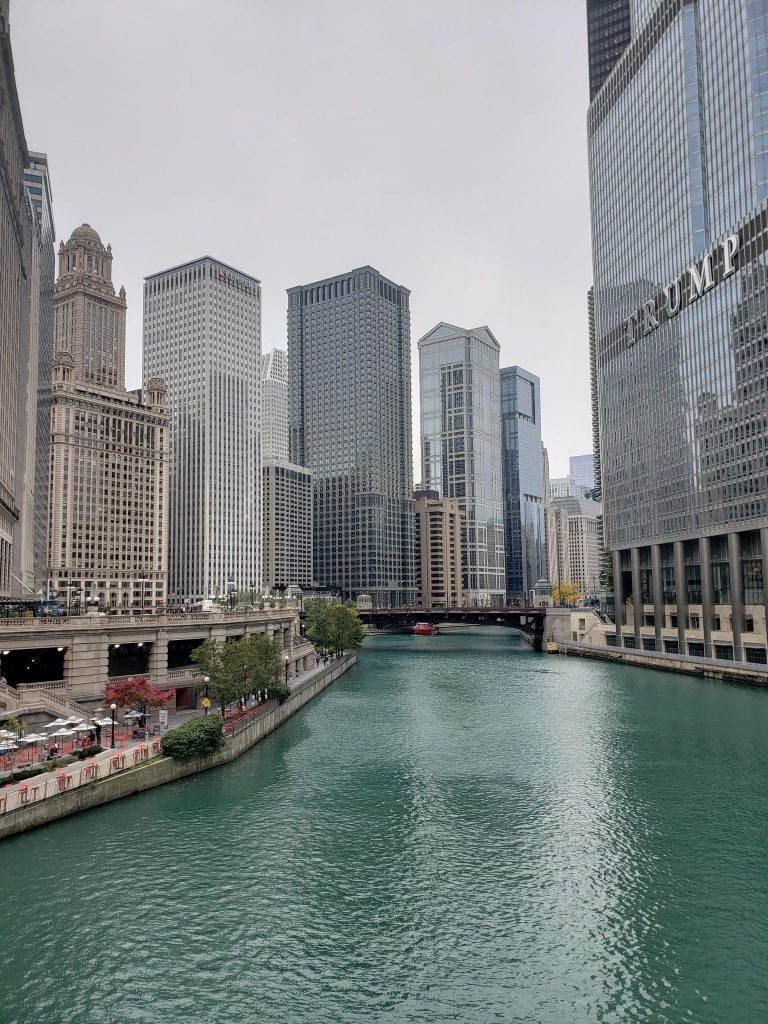 FOOD!
I came to Chicago to eat, lets be serious. I needed to try all of their famous food and then some. I absolutely love food tours because they help me get to all the basics in one shot. Chicago has so many staples: deep dish, Italian beef sandwiches, Chicago dogs and more. Due to Covid a lot of tours are not running but thru Urban Adventures I was able to do their Lonely Planet Chicago food tour. It was the perfect amount of food for lunch and it stretched out across 2 hours. I often do tours with Urban Adventures and they never fail to be awesome. They also offer private tours if you are apprehensive about groups right now. However it is a very small group and easy to socially distance during the tour.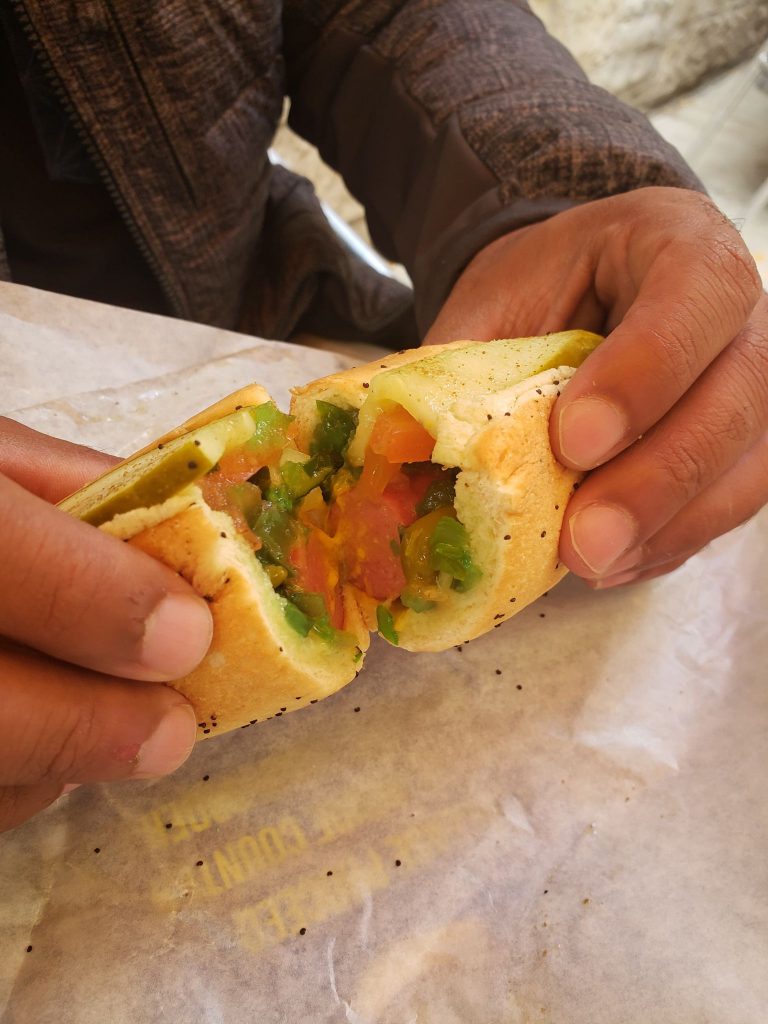 Where to eat?
PIZZA
My main goal was to try as many different pizzas as I could. There are like 3 main places that were recommended and I wanted to try each one to see which I enjoyed the most. I only made it to two because there is so much wonderful food.
I started my good journey by going to Giordano's. Apparently there is a rivalry between Giordano's and Lou Malnati's. They both have multiple locations now and are local chains. A common misconception about Chicago is that all their pizza is deep dish. As it turns out locals actually prefer a thin crust to a deep dish and most pizza places have options between deep dish, thin crust and Detroit style. It is incredibly hard to find a New York style slice but honestly I did not go to Chicago to eat the things I can get at home.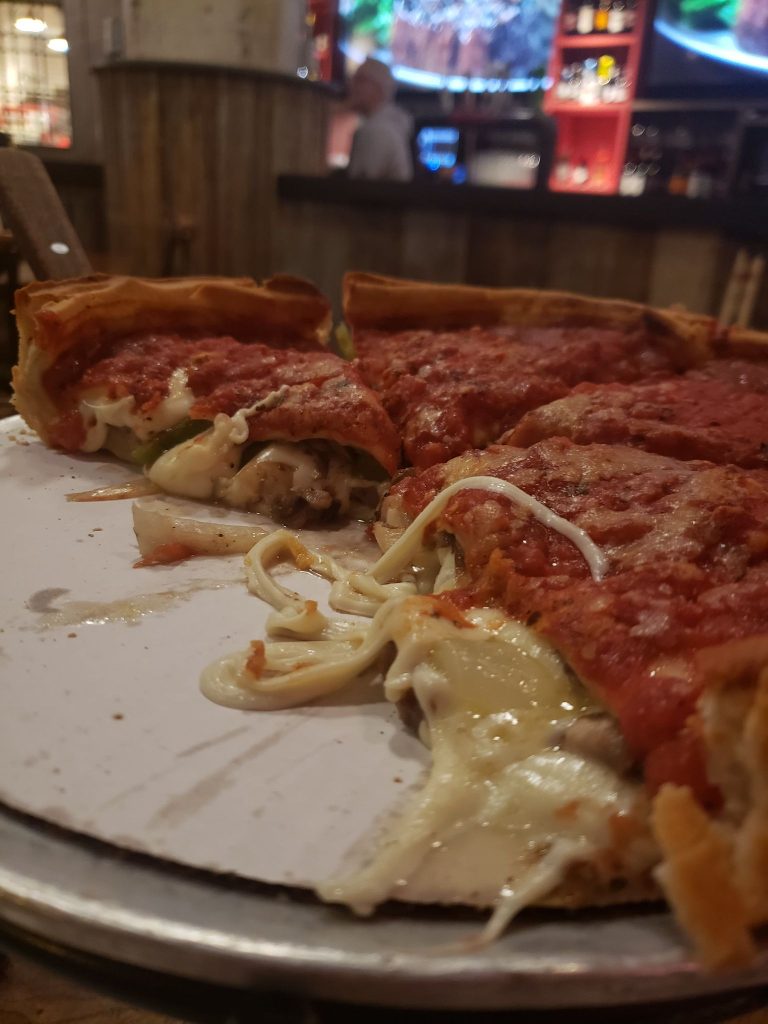 I truly loved Giordano's crusts and thought theirs was superior to Gino's which was the one we went to on the food tour. I did love that Gino's added a sausage patty under their cheese and sauce so thinly pressed you barely new it was there.
There is so much pizza in this city you can't really go wrong.
Italian Hot Beef
What is this you might ask? To be honest I had no idea prior to going to Chicago. It is basically thinly sliced beef with a banana peppers and oil mix served on crusty Italian bread. Traditionally no cheese on top. If you go to Portillo's there won't be any cheese on it. You can get them all over the city but if you want the original then you go here.
However for my birthday dinner I chose to have one at Angelo's Wine Bar. This restaurant is a bit out of the city so you will either need a car or an uber to get there but it is worth it. They had an excellent cheese plate, a wonderful menu and honestly I enjoyed their Italian beef sandwich more then the one I had at Portillo's, possibly because of the cheese.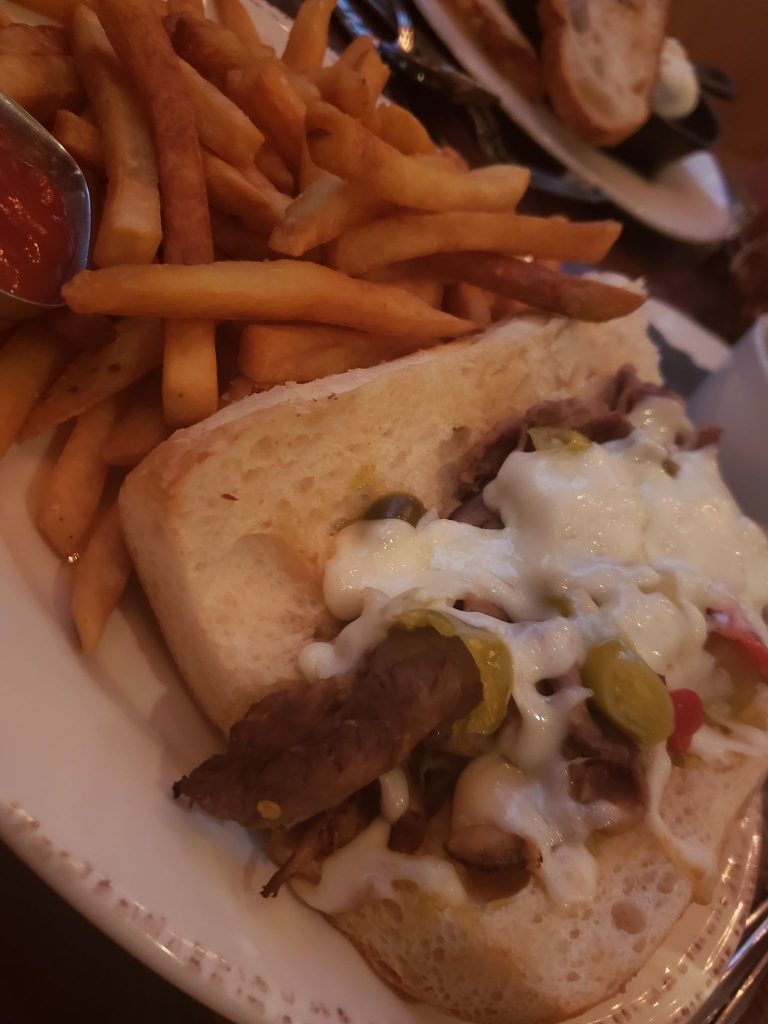 Wow Bao is a chain fast food joint that I had never heard of. It is Asian street food. Simple things like noodle bowls, buns and dumplings. There are a few in Chicago and they are great for a quick, cheap lunch. I was really impressed by their buns. They had a great selection and were really tasty.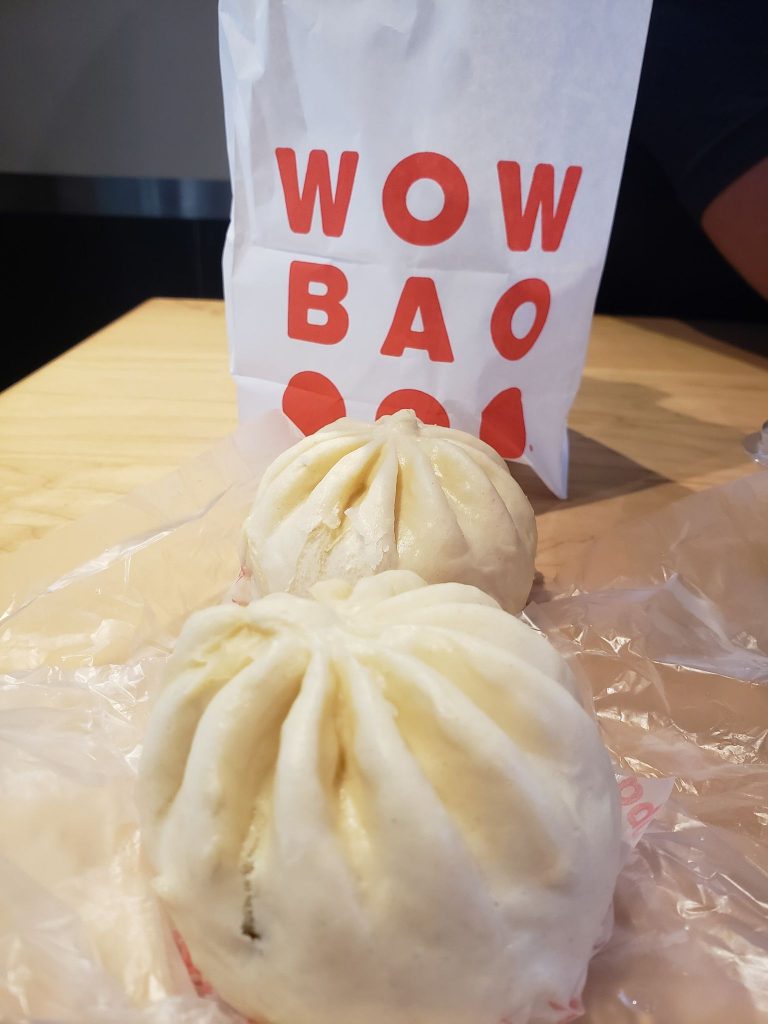 Since I always try to have brunch at least once when travelling I checked out Egg Harbor Cafe. This place was bright and sunny with floor to ceiling glass windows surrounding you and a really great breakfast menu. Good vegetarian options which is a nice change. They have fun coffee drinks too. My friends went twice because they enjoyed it so much while we were there.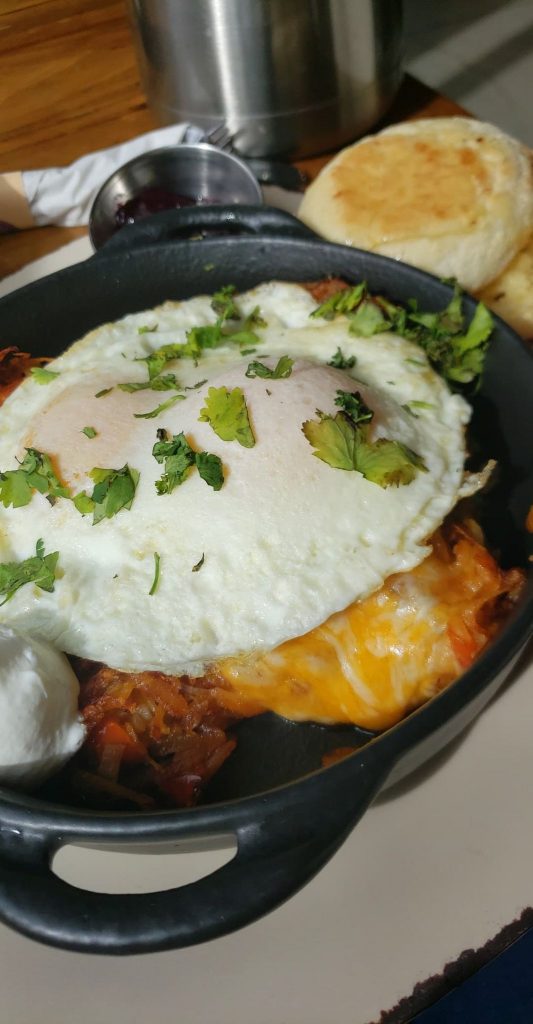 This barely scratches the surface of dining in Chicago. Due to Covid a lot of places were not open or at least not open for dine in. I highly recommend calling before heading out to any restaurant these days, no matter where you are. Hours are vary, days vary and sometimes something is open one day and then not the next. Travelling during Covid brings new challenges but it is easy to manage.
I fully intend on returning to Chicago at some point to further explore!