When you come to New York what is one of the first things you think of? Empire State Building? World Trade Center? Most likely one thing you think of is Broadway shows. I know I always think about going to shows.  I live an hour train ride from the city and barely ever go to shows.
     Why? Well the price of course. Broadway shows can really hurt your pocket. Depending on the run of the show and popularity you could be looking at well over 200 dollars for a seat. A lot of times that won't even get you on the floor. I recently bought tickets to see "Book of Mormon". My boyfriend had been dying to see it. If you have never heard of the play it was written by the guys who made "South Park" Matt Stone and Trey Parker. You can guess what type of humor it was.
     I had been trying to get tickets since his last birthday with no luck. Not only is it sold out for months in advance even the "cheap" seats aren't cheap. I finally shelled out nearly 200 bucks for pretty decent balcony seats. They were worth every penny.
     Although I do recommend not drinking anything. I paid over $100 dollars for two doubles. Yikes! I nearly returned the drinks. Instead I drank it slowly enjoying every last drop. For those kind of prices I better.
    So you are probably thinking there is no way you can afford to come to New York and shell out that kind of money for a show. Fear not! I have a few suggestions for you to save money and still enjoy one ( or possibly more) shows while you are here.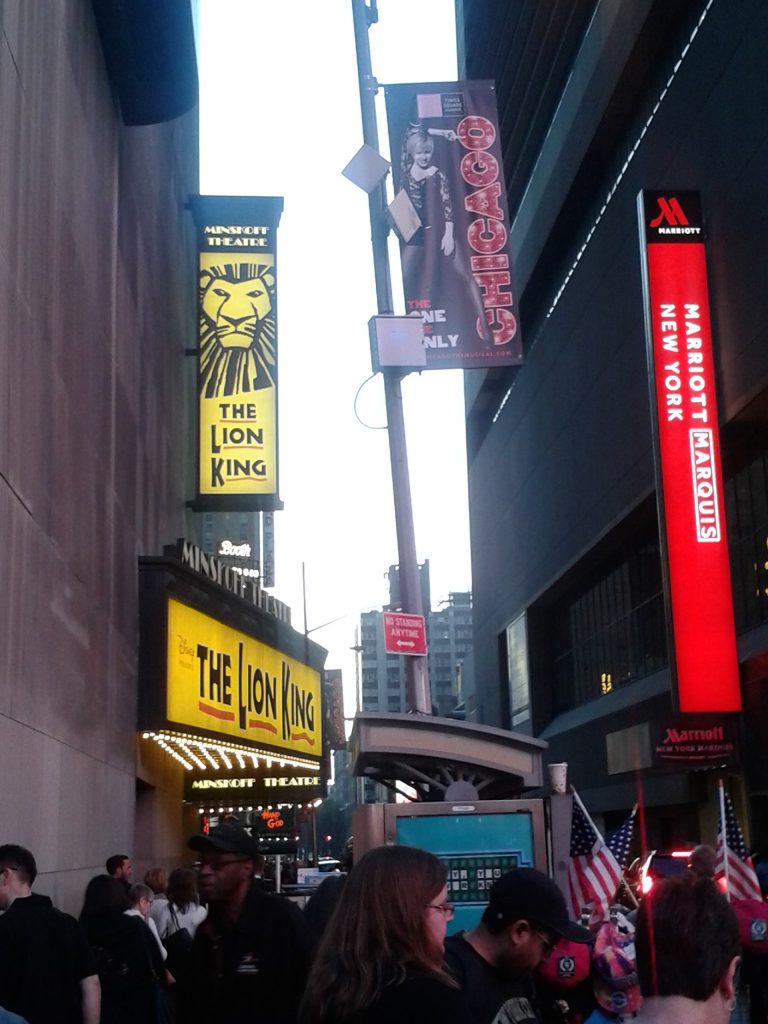 TKTS booth is a fairly well known option. If you have a flexible schedule then you just show up to the booth on the day you want to go and pick from what shows they offer. It means you may not get the show you wanted to see but you will get into something. They usually have a variety and offer tickets to popular shows as well. The prices are also discounted.
Rush Tickets or standing tickets are sold the night of the show at the theater and are subject to availability. Which means you could go and not get in if the show winds up being sold out. However you may be able to get in with standing tickets. This means you wont have a set but you will get to watch the show and the tickets are sometimes as low as $20. If you have it in your schedule to do this then it is really worth it. You can see some of the most popular and expensive shows for virtually nothing. Rush tickets work the same way but you usually have seats if you score those.
Just buy the cheapest ones some shows have really cheap seats aka $35 to see This is our Youth. What! That is a great price. The next price up for a show like that is $50. Although you will be high up in the nose bleeds it really doesn't matter where you sit. Save the money and spend it on something else. You will get the same experience no matter where you sit. On a side note I recently saw "Hedwig and the Angry Inch" Michael C. Hall did come out into the audience and give a lap dance while singing. So maybe if you want that experience it is worth spending the money to have his crotch in your face. Otherwise sit where ever.
****I also need to add that if you want to find discounts to a Broadway show you can google discount codes. I just went to see "Finding Neverland" and just by googling "discount code" I got nearly 50 dollars off my seats! To top it off we had forth row orchestra!
 Broadway doesn't have to break the bank. It is a worth while experience. The shows are really unlike anything else.  There is magic on Broadway.
If you have the budget then splurge on amazing seats. If not, don't fret, once you are in the building the magic doesn't depend on your seat.