I have been slacking a bit on doing my New York City trips. Crazy how hard it is to get away from my day to day life to make it an hour away. Alas it is. I generally don't work on Fridays and spend that day exploring NYC. Lately I have been swamped with work.
I did manage to get away a few times and will be writing about it as promptly as possible. The past few weeks have been crazy with planning the trip to Turkey and jamming in the World Travel Market in just before!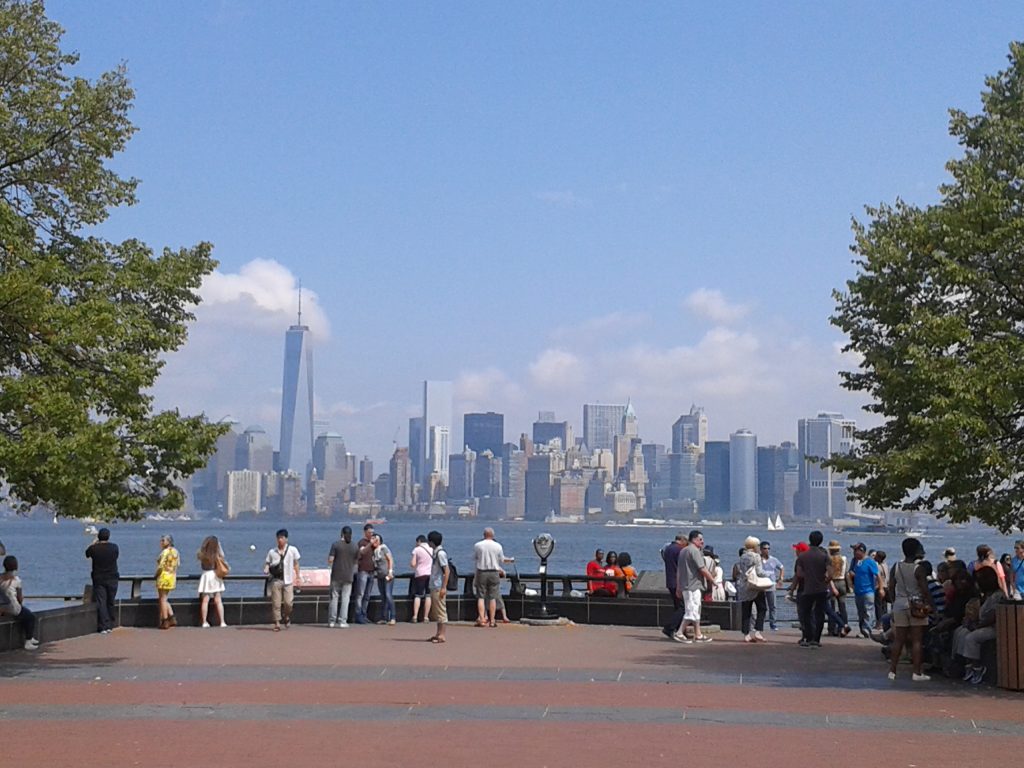 American patriotism frightens me because it is so often just associated with blowing up other countries to put them in their place. I do not believe there is anything patriotic about doing that.
What I do think is one of the most amazing concepts America was built on is the idea behind the Statue of Liberty. What Lady Liberty stands for is Freedom. Not just let me have some rights and do what I please kind of freedom but the idea that you can come here and be who ever you want to be. The idea that no matter who you were before you can be more then that now. America was the place to go to flee from oppression, racism, class-ism and poverty. How amazing is it to be part of an idea like that?
     Of course along the way and even in the beginning this idea has been corrupted. But that doesnt destroy the ideals behind it and the dreams it was built on. Millions of people came to America to build a better life for themselves and for their families and still do to this day. It is why I find harsh immigration laws so dumbfounding. I'm fairly certain Lady Liberty herself says "give me your tired, your poor, your wretched…" but I digress.
 Liberty is a site to behold. She is so much bigger, so much more beautiful up close. She photographs fantastically since she is set in front of the ocean and the skyline. It wasn't even done on purpose since the city was no where near as built up when she came to rest in our harbor. Originally the color of a penny I quite prefer her current sea green exterior.
     I went in late August and it was a really freakin hot day to be walking around Liberty Island. I had to keep stopping and sitting in the shade but they give you a really great audio guide for free and it helps make the experience.
However if you are not okay with that then you must book in advance because the tickets to get access to the inside are often all gone months in advance. It is well worth the extra few dollars if it is something you feel you can't miss.
      Ellis Island is still mostly abandoned. Giving it an eerie abandoned feel. The restoration of the main buildings didn't even happen until the 80's. There is a beautiful series of photos in the museum taken when the island was still deserted in the 1970's. Worth a look at.
Being in Ellis Island was a bit surreal for me. Hundreds of thousands of people arrived here looking for sanctuary and a new beginning. For some the journey would end there, they would never make it off the island. Due to disease and over crowding many died. Others went on to live and thrive in New York or other states spread across the U.S.
     Ellis Island is more then just an immigration point. It is a symbol for freedom as well. A place many people saw as a new beginning. Imagine showing up in a foreign country, knowing no one and most likely not even speaking the language. Every day hundreds of people did this. Braving the unknown for a better future.
     To me these are the most important landmarks in New York City. They embody not only the history of the city but also the ideals that make this country great.
If you do anything when you are here go to Liberty Island and spend the day reminiscing about the past and about the people who built this city and country into what it is today.
Now that is what being an American should be about.