Brussels is a city for people who love food. There is a never ending variety of delicious choices. We all know by now that the way to my heart is through good food ( and good beer). I travel to try new things and eat as much food as I can. Who doesn't? Is there another way to do it? It really is no wonder I fell in love with Brussels.
When I told people I was headed to Brussels I got a lot of people asking me why? They told me there was not a lot to do. Clearly they did not spend any time snacking while they were there. How can you get bored when there is so much to try!
Brussels is pretty little European city with an amazing food/beer scene that seems to go unnoticed.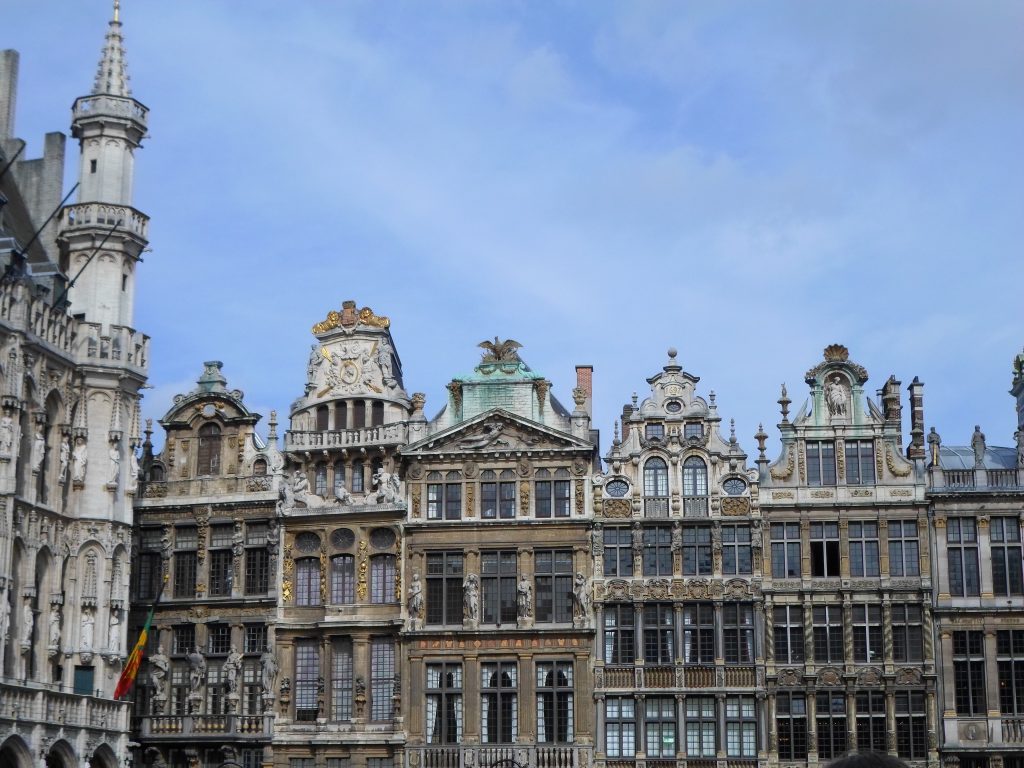 Here is my Brussels top 5
1)I know this is not a food but it has to be included on any must have list for Belgium. Obviously Belgium is known for its beer. They may have an even better selection then Germany. Sorry Germany but anyone who has ever spent the night in a Flemish pub knows that the selection is vast. I was lucky enough to have a friendly bar tender and a great tour guide for the city. The first bar we went to was The Monk where they had about 15 beers on tap and I got to try almost all of them. My favorite being the Belgium Tripel. They have an interesting malty flavor and the alcohol percent is often way higher then other beers! I'll take it.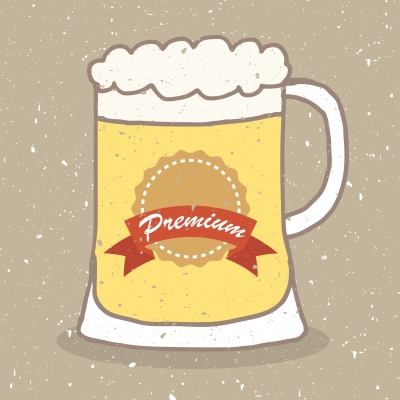 We spent the night bar hopping and ended up at Delirium. As in Delirium Tremens! You know the beer with the adorable pink elephant as a logo? In Brussels they have their own bar. Situated in a back alley amongst tequila bars and other pubs is the home to the great elephant. You can get all different types of Delirium! Ones I had never even heard of. Obviously I needed to try as many as possible.
2)  As much as Belgium is known for its beer there is so much more to try! Instead of sitting down and eating lunch, we decided it would be better to walk around and snack on everything this city had to offer. We started our food journey with hot dogs. After walking around for a bit I kept seeing signs for hot dogs and settles on a place called Hopdog. They put interesting things on their dogs like baked beans or corn. I settled on one with sautéed onions and BBQ sauce. I was not disappointed. There were tons of hot dog stands which a variety of toppings and sizes. Great for a snack but also easy to make a meal out of. Most of the stores had out door counters to order your food and keep going. Making it easy to snack on the go.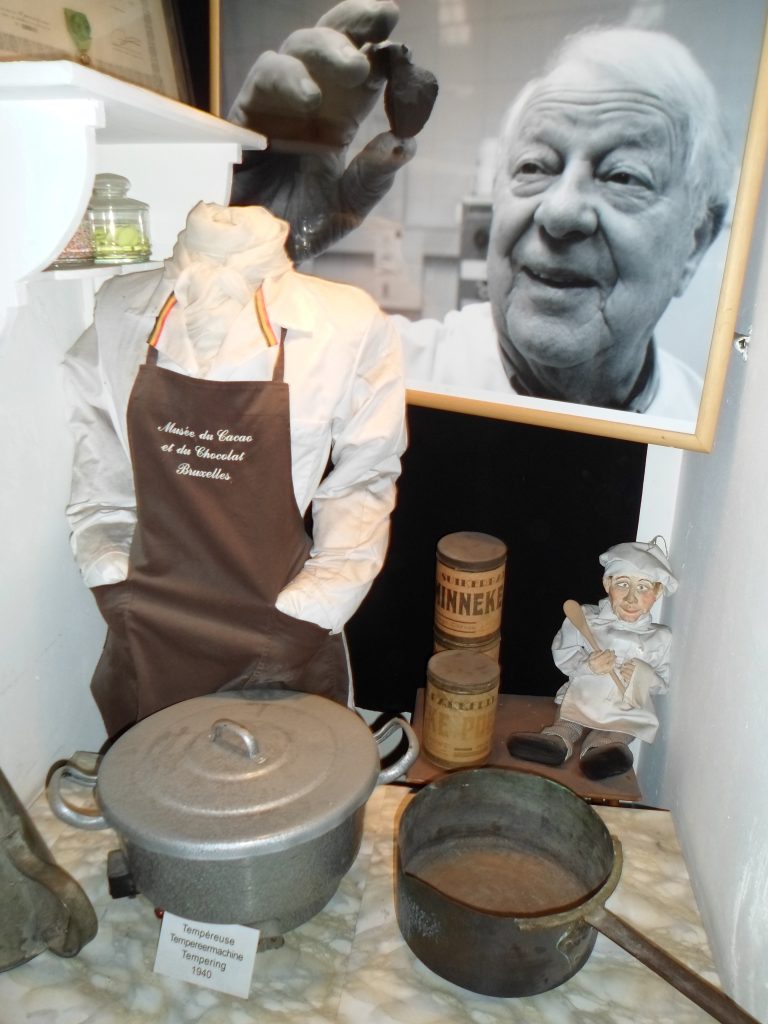 3) Our next stop was the chocolate museum. The museum was a bit disappointing aside from the hilarious English translations and tons of chocolate samples.Most of the translated signs were filled with awful grammar mistakes and terrible cultural assumptions about the people who discovered chocolate. Way to be racist Brussels.
However they do give demonstrations which are interesting. We got to watch a guy make the chocolate shells, how they make white chocolate (it is the absence of cocoa powder!) and the famous pralines ( the first bite size chocolate). The guy spoke little English and the translations were few and far between but you don't need to speak the same language to get chocolate. I ended up bringing home bags of chocolate, I regret nothing. Except for the stomach ache from too much chocolate. Next time I will remember to pace myself.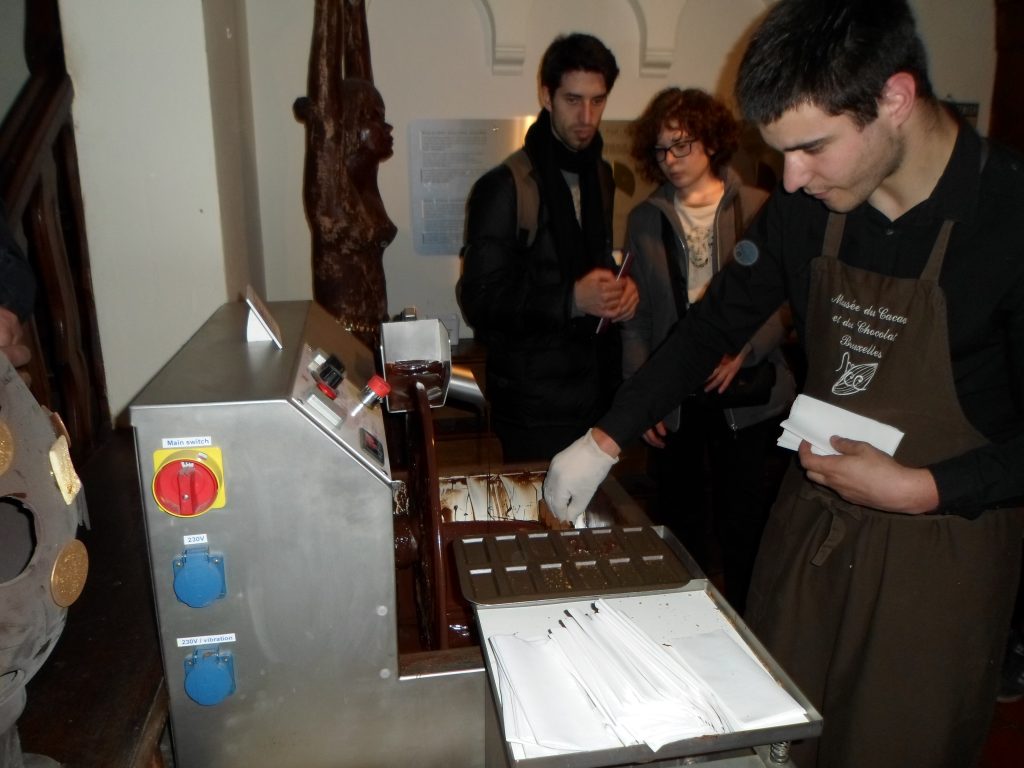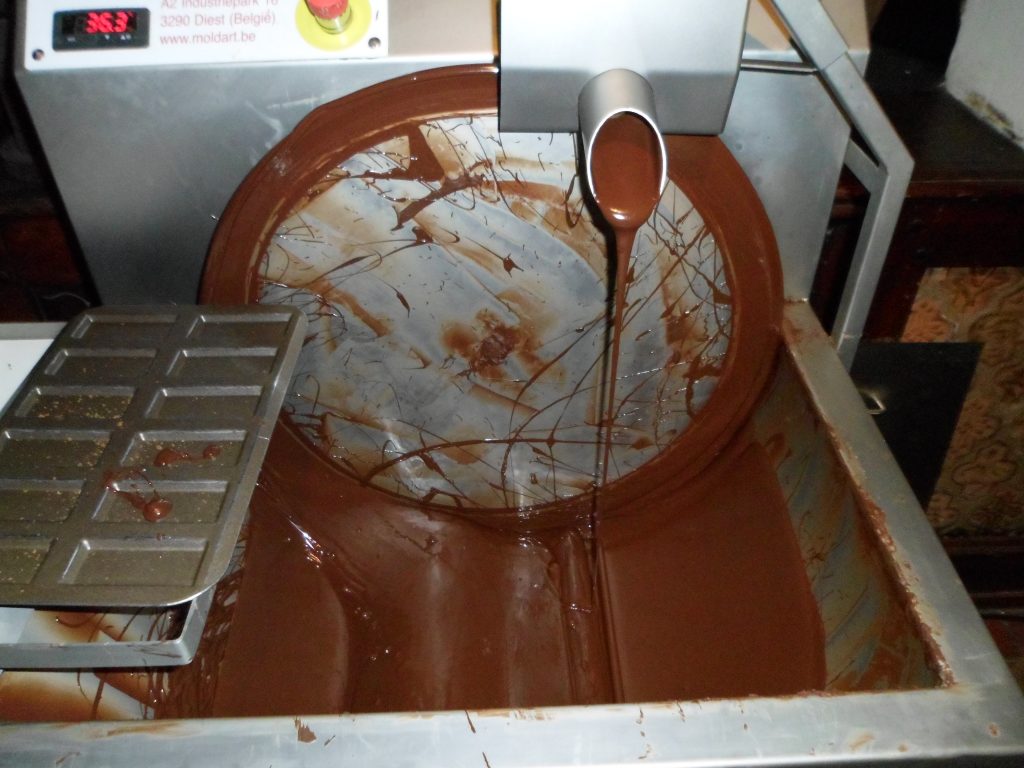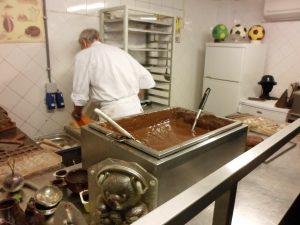 4) Ever heard of a Belgian waffle? I am sure that you think you have if you have ever been to IHOP or a diner. Let me tell you now unless you have eaten one in Belgium you have not actually had a Belgium waffle. What they are trying to pass off as Belgium waffles at IHOP or any diner are a sad facsimile. You can get a waffle any way you like whether you want whipped cream or Nutella smothered on one, its up to you. We tried it with Nutella and then we tried it plain ( just with sugar on it). Let me tell you plain is the way to go. It is so delicious it needs no flair! Waffle shops are on every corner, you won't be able to miss a chance to try one.
5) It is possible I have saved the best for last. "French" fries which according Belgium were not in invented by the French just French speaking Belgians are the favorite snack of the locals. The story goes that some American soldiers during WWI tasted some fries and started calling them French Fries because the people who served it to them were speaking French. Obviously not realizing that they were just French speaking Belgium citizens. It is a controversy that goes on still.
The lines at the fry shops go on for days.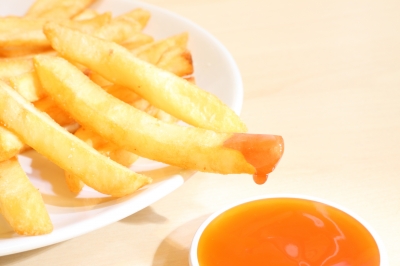 During this trip I spent time in England and Belgium both countries like to cover their fries in mayo, yes MAYO!
I don't get it but apparently it is all the rage.You have to say you don't want mayo in some places or they automatically put it there. A mistake I was not going to let happen. Besides for mayo they offer tons of dipping sauces which I find much more acceptable. I tried a curry sauce and a garlic dip. I wanted to try every dip but I had to control myself. Eventually I will go back to Belgium if only to try all the dipping sauces!
Have you been to Belgium? What's your favorite foreign snack while traveling?