I am so backed up on Thailand posts that I forgot all about the posts I wanted to do about Portland. I love doing my round up posts on my favorite things about each city I go to.
I loved everything about Portland. It was the first time I went to another city in the US and thought " I could live here forever". Unfortunately I have fastened roots to NY. Don't get me wrong I love living on Long Island. It is the best of everything, the beach, the city, suburbia…but Portland is such a cool city.
Where should I start?
1)BRUNCH
I LOVE BRUNCH.
It is my favorite thing in the whole world. Not enough places around me do brunch but EVERYWHERE does brunch in Portland. Not just on the weekends but every day. I had brunch all but one day when I was in Portland.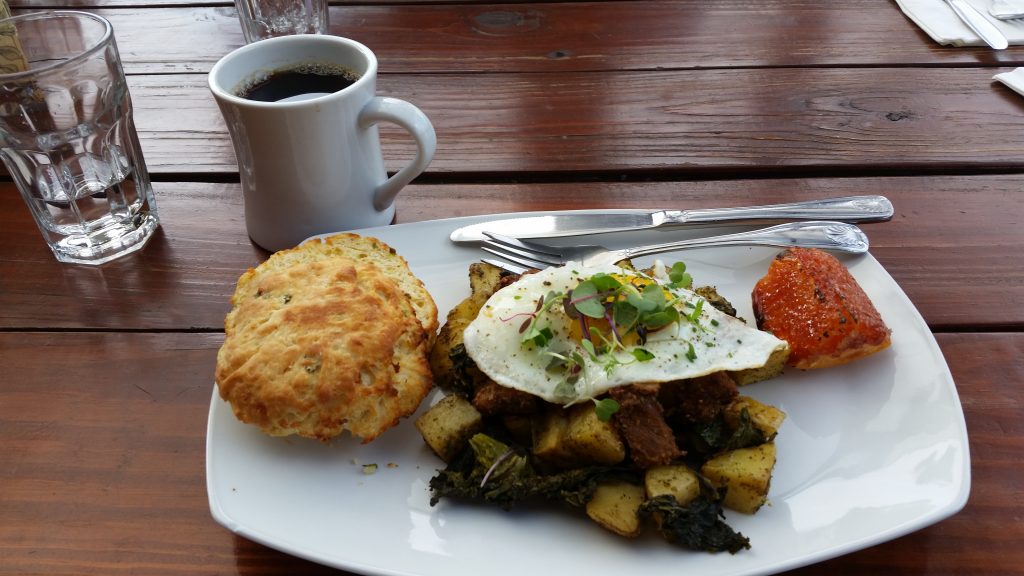 My favorite spot? I loved Mother's. It is located in downtown Portland and is extremely popular. I went in the middle of the day on a Friday and there was a wait. The food is gorgeous and the decor is Victorian. It was also recommended by every local I talked to.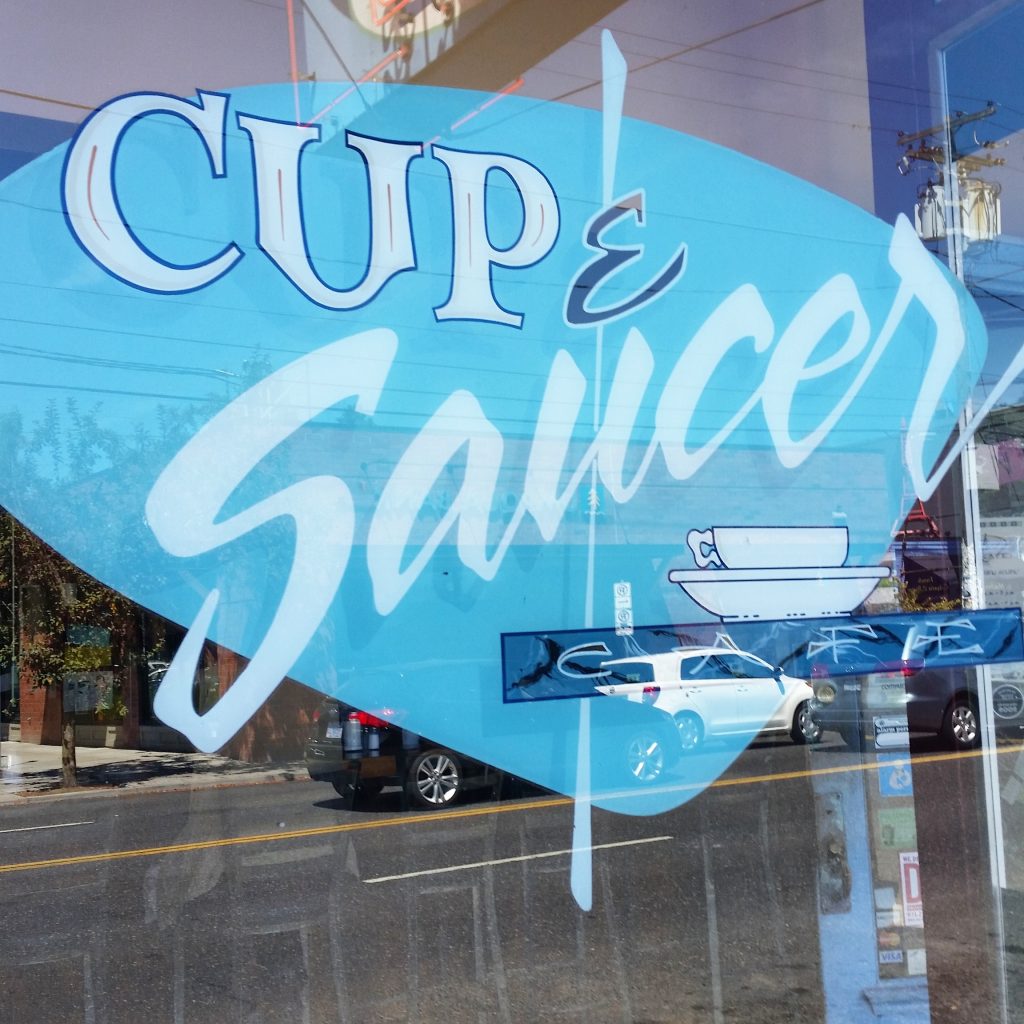 Also I must mention Cup and Saucer which is located on Hawthorne Street in North East Portland. The food was delicious and the atmosphere much more laid back. The cause behind what they do is more worth mentioning.  They only buy their coffee from Happy Cup Coffee who only employ people with disabilities.  Having nieces who are developmentally delayed this hits a chord close to my heart. While I was there the staff fed and interacted with a women who also had developmental disabilities. After she was done eating she got up and started busing tables. I found out they too make sure they employ people with disabilities. This is a great establishment with great heart.
2) COFFEE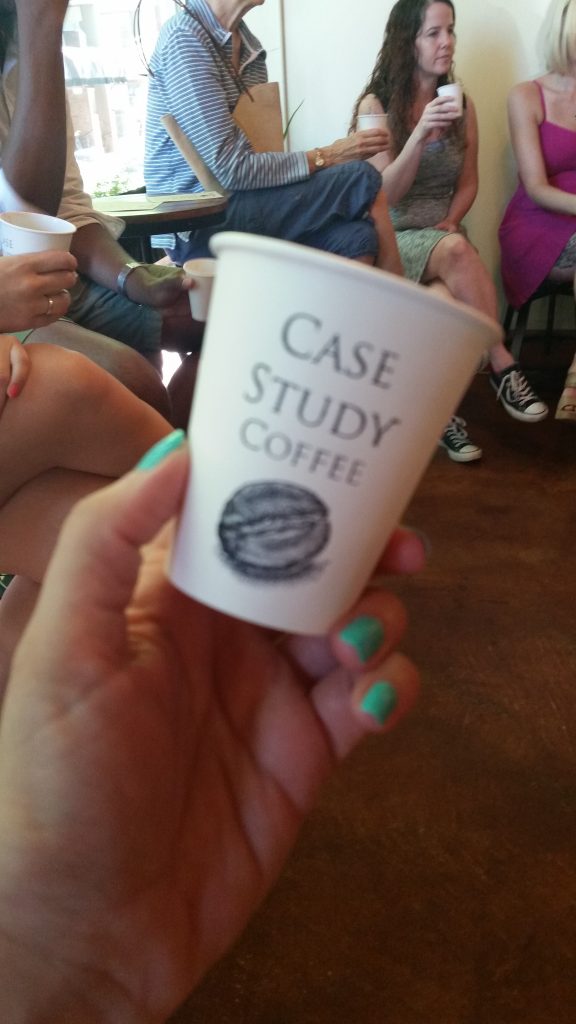 Any one who knows me knows how much I care about coffee. It is one of my favorite things. Finding a city that loves coffee as much as me made me want to make Portland my permanent home.
You are never too far from a cafe and don't need to look for a Starbucks or Dunkin Donuts because they have you covered with unique coffee spots.
When I was there I was lucky enough to be invited out on a Third Wave Coffee tour and it was a highlight of my trip. Check out that article here.
3)FOOD TRUCKS
Brunch might be my favorite type of meal but the food trucks of Portland make for a great lunch or dinner break. This city has over 300 food trucks serving anything you can imagine.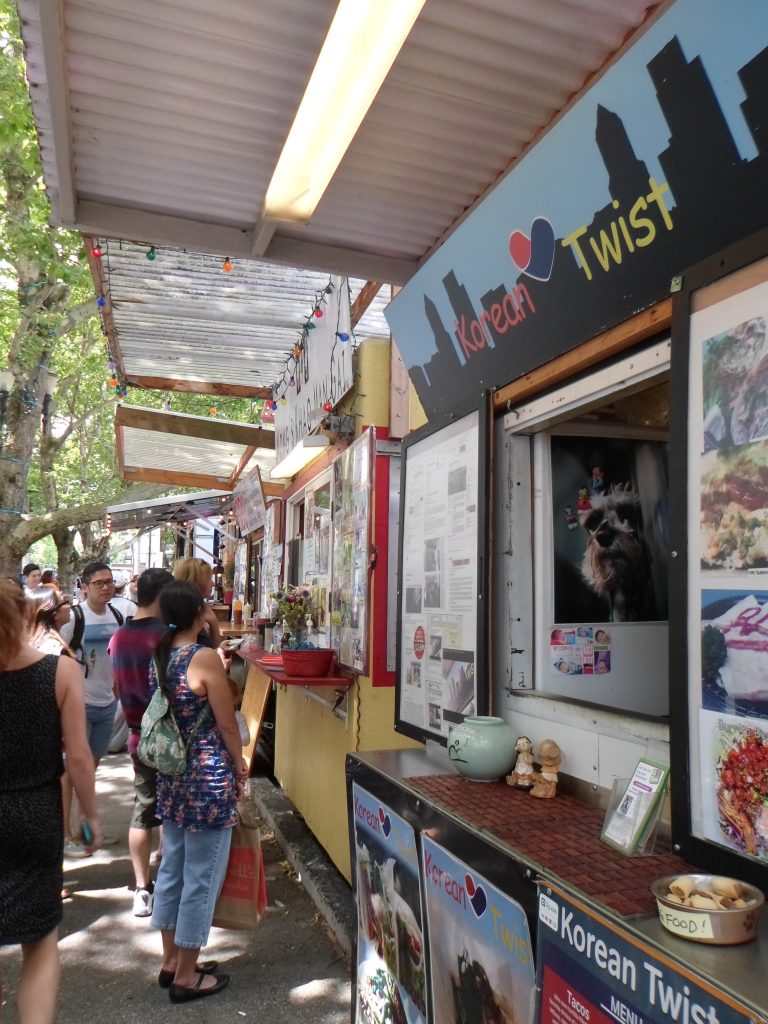 Little food truck pods have taken residence all over the city and you can find any type of cuisine you can imagine. It is a great way to try lot of different things that you may never have thought to try with out breaking the bank. The food is delicious, fresh and doesn't break the bank.
Check out my post on food truck tours! If you are headed to Portland it is a must do.
4)KEEP PORTLAND WEIRD
Never has a truer sentiment been uttered. Portland is weird. It has weird things all around the city. This is what makes Portland so great. It wants to be weird. It is politely stating it doesn't want to change and it likes how it is.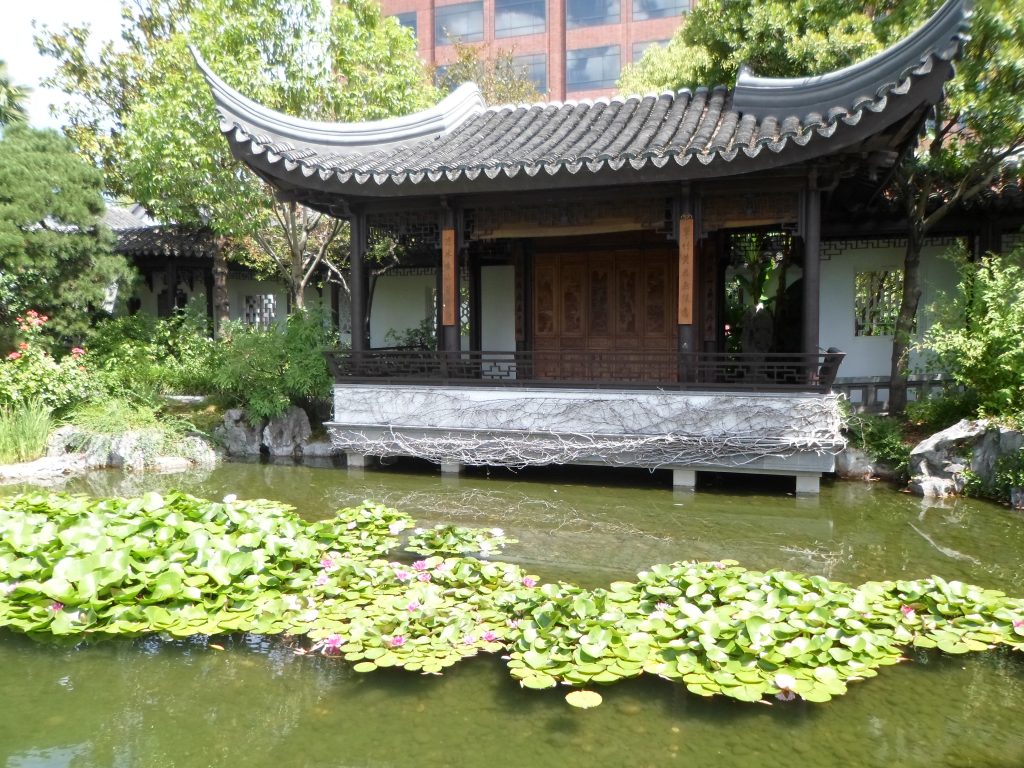 For example, right in the middle of downtown Portland is a perfect Japanese garden. Fully loaded with pagodas and lily pads.
5)BEER
If all this food and coffee wasn't enough of a reason to get you to go to Portland at least come for the beer. There are so many micro breweries and beer halls you could go to a different one every day and never see them all.
I spent an afternoon day drinking at Fatheads. After falling and putting a hole in my knee while hiking I ended up at Base Camp which has an excellent selection of both food and beer. My only problem is IPA's are super popular there and I hate them. I managed to continuously find a good porter or stout at most places but there IPA selection is intense so if you enjoy those you will always find many to choose from.
6)BIKES
One of my favorite thing about Portland is that everyone bikes every where. It is more likely a person would have a bike then a car. The city is so bike friendly. My cousin shares a giant house about 30 minutes from downtown Portland and bikes everywhere. In fact all her roommates had bikes and there were 10 sitting in her back yard for use at any time.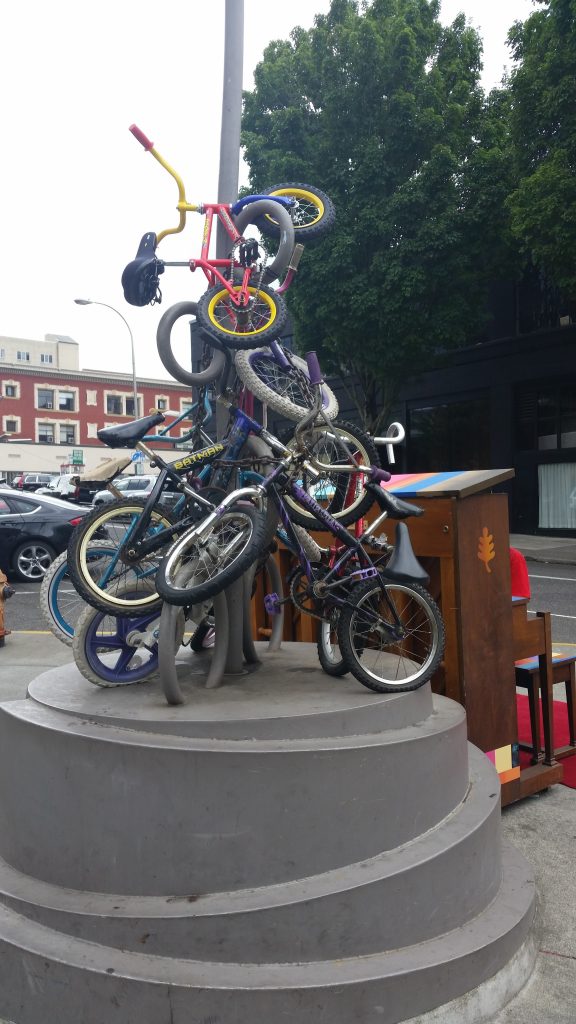 Not only does it save you so much money when it comes to car insurance, gas and maintence it is so much better for the environment. Plus it is a great way to stay in shape with out even really having to try.
7) HIKING AND THE GREAT OUTDOORS
My cousin went to school for Urban Planning. Spent a few months hiking the PCT and ended up never wanting to leave Portland. She works for an REI and waits tables. Every chance she gets she is hiking or climbing a mountain. It seems she is not alone.
Hiking, camping and the great outdoors are all part of living in Portland. There is no shortage of camp grounds or mountains to explore.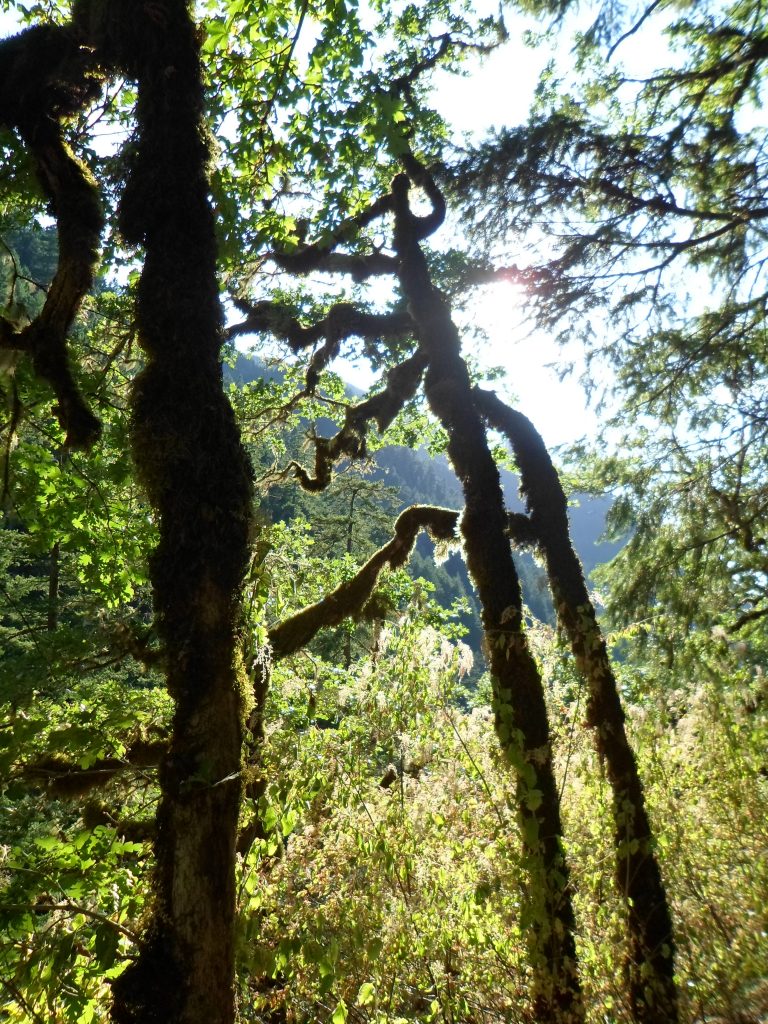 I spent an afternoon hiking thru Columbia Gorge. It was stunning. The forest looked enchanted in the afternoon haze and when we reached the waterfall I could not believe how clear the water was.
Granted I fell and bled for a few hours but it was well worth it.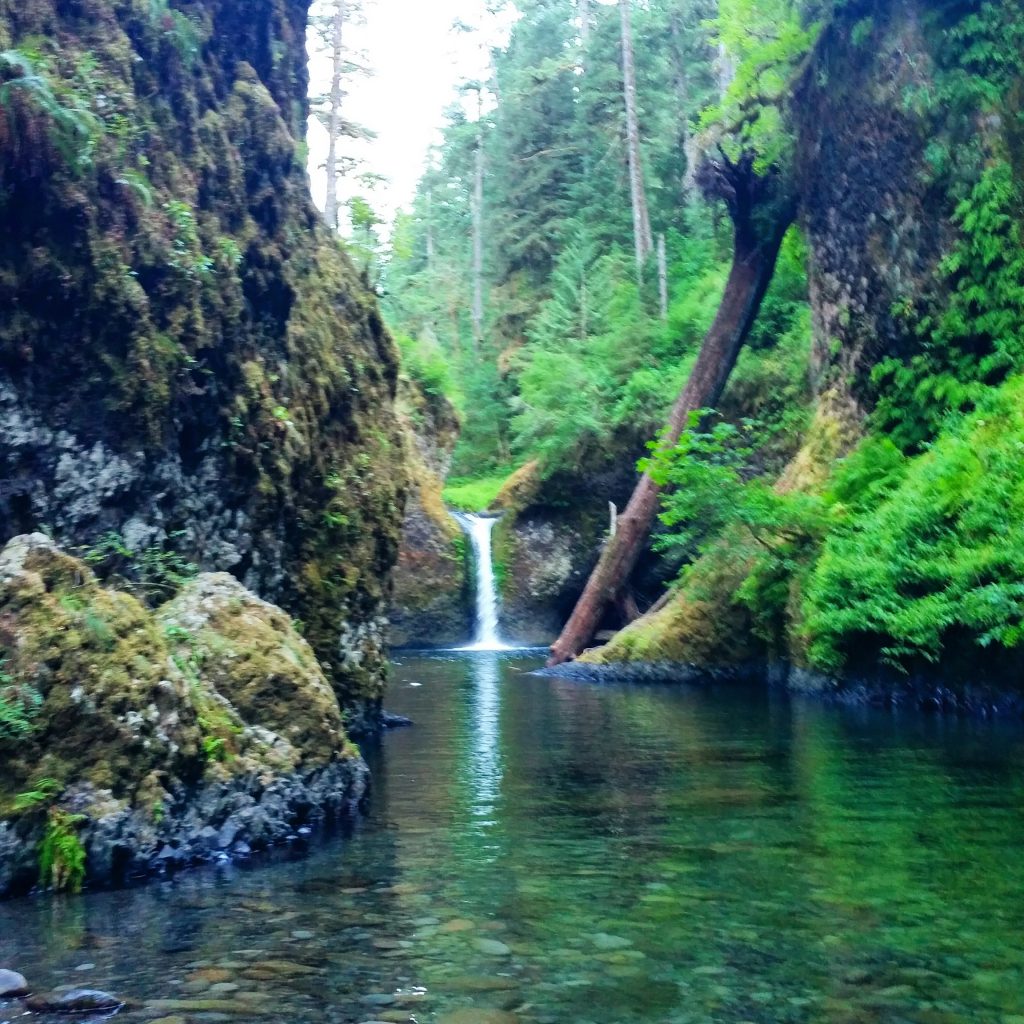 Portland is a big city that has a small town feel. I am looking forward to my second trip there when I hit it up on my upcoming road trip.